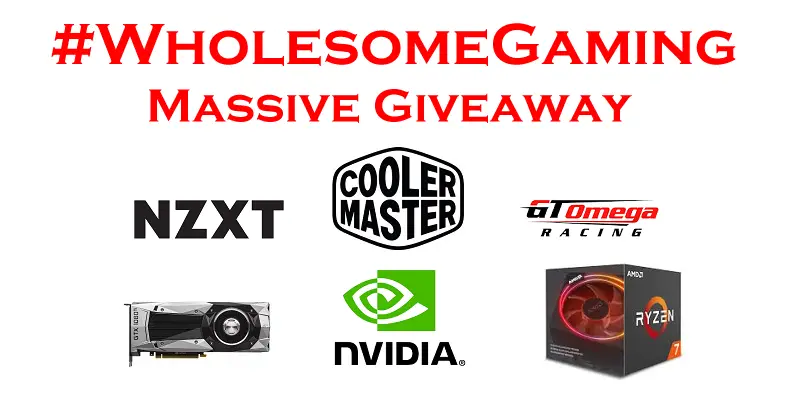 You must have been aware that the companies do time to time giveaways of their products in order to attract more people to their company and also to thank the customers. Well, there is one giveaway in the way that is about to start. But this is not a simple one because there is not just one company in this giveaway as from the title you would expect.
CoolerMaster started a trend on Twitter by tweeting with #WholesomeGaming tag and is giving away a keyboard to one lucky person. It tagged Corsair to throw away a mouse of theirs in order to join the party and asked the companies to tag other companies when they agree to give a component for this giveaway. Corsair seems to be missing from the list currently but as the list has gone very long, I just can't find it. Before Corsair entered this giveaway, other companies sent green signal throwing away components from their companies.
NZXT replied with the PUCK it indicating that it will be giving away their magnetic PUCK, Aorus has agreed to giveaway two motherboards tagging Nvidia which is going to giveaway one GTX 1080 Ti. XSplit also entered the trend by giving away one XSplit license for the lifetime, AMD also joined and will provide a Ryzen 2700X gaming CPU for the system, while EVGA is seen throwing away three components in it: EVGA Z370 motherboard, a DG-77 Case and a TorqX Carbon gaming mice.
Alphacool, on the other hand, will provide a CPU cooler to cool the processor, Cherry MX will be providing their Cherry MX Developer kit which is equipped with 110 MX switches meanwhile G.Skill agreed to giveaway 2x 8GB TridentZ RGB Ram for the system. Arctic agreed to giveaway a monitor stand that can support up to 3 monitors and might provide their BioniX Fans also, GT Omega Racing which is a well-known brand for gaming chairs will be providing a gaming chair and a backpack, Antec also joined the team and will be providing a PSU to power the Rig.
The list is very long and one complete Rig will be easily built on these components but as there will be multiple components of each type, there will be more than one lucky winner. Now you must be wondering if it is applicable in your country or not? CoolerMaster confirmed that it will be a worldwide giveaway but how you can enter the giveaway is still unknown. We will soon gather the information about it and let you know how the giveaway will work. Stay tuned for this awesome collaboration!