Xtremegaminerd.com is supported by the readers. The purchase you make through our links may get us some commission and doesn't cost you an extra penny.
---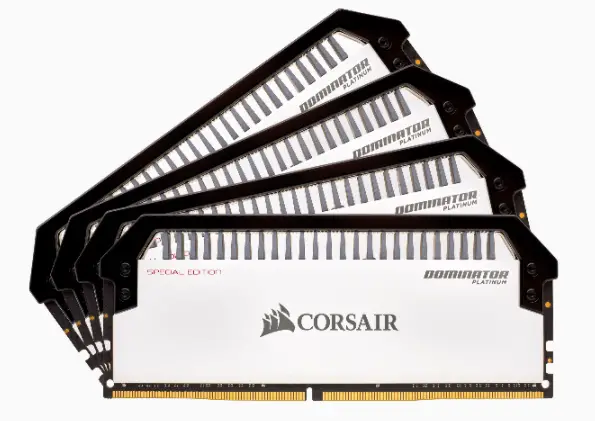 Corsair has brought a new addition to the DDR4 RAM lineup by announcing its latest Corsair Dominator Platinum Special Edition Contrast DDR4 memories which will be available in 32GB size in either 2x 16GB or 4x 8GB configuration.
Corsair has already produced several different types of memories including low profile Vengeance RAM as well as RAM with RGB LEDs. This time Corsair has put both the performance and aesthetics in their new memory by bringing a new design that should appeal to most PC builders.
The latest Corsair Dominator PSEC(Short form) features up to 3466Mhz of speed with 1.35Volts with the timing of 16-18-18-36. This new edition is XMP 2.0 compatible and will make it easy for overclocking the RAM modules to max without manual tweaking from BIOS and should be compatible out of the box to the motherboards that support this much frequency.
Design of these memory modules is really gorgeous with aluminium white heat spreader that has black bars with embedded White LEDs in them. These will be perfect in computers where the overall theme is Black/White or something similar. These memories are designed with a 10 layer PCB and patented DHX cooling to improve the heat dissipation overall. This should allow overclocking up to their full potential which you would definitely want when you are going to pay some good amount of money on them.
The Corsair Dominator PSEC will be available initially on Corsair's online store of US, UK and Germany. The 2x 16GB kit will be available for $440 while the 4x 8GB kit will be priced at $480.