Xtremegaminerd.com is supported by the readers. The purchase you make through our links may get us some commission and doesn't cost you an extra penny.
---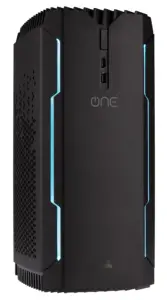 Do you remember the Corsair One Gaming PC which was one of the great success last year having the size of a console but delivering the performance 3X? That Corsair One pre-built system now has two more new versions that are upgraded to meet the demands of the current generation and can play games at 4K without any problem.
The original Corsair One Pro featured the i7 7700K, water cooled system, GTX 1080 but now the processor and the graphics card have been upgraded to i7 8700K and GTX 1080 Ti respectively. There are some more small changes which shouldn't affect the performance of the PC that much like the higher clocked memories which were originally 2400Mhz in the Corsair One pro but now they are clocked at 2666Mhz which isn't a huge improvement but still a fine thing.
These two new models also use water cooling for overclocking the CPU even though the system is very compact. Corsair has renamed the two new models as "Corsair One Pro Plus" and "Corsair One Elite". The difference between the two is the memory size. Corsair One Pro Plus comes with 16GB DDR4 memory while the Elite one has 16GB more which is more future proof. Except that everything is same but the PSU capacity has been reduced to 400W from 500W when compared to the original Corsair One Pro which I don't know why they did this.
Overall, this upgrade is an essential part of the evolution of PC and is necessary if you want a compact system that can deliver good performance at higher resolutions. Corsair One Pro is still a good PC for 1440p gaming without a doubt and the two versions of 16GB and 32GB are available for $2,299.99 and $2,499.99 respectively, while the new Corsair One Pro Plus and Elite are available for $2,799.99 and $2,999,99 respectively.
If you go and build a similar PC by yourself right now, I don't think you can do it in less than that because of the inflation in the prices of graphics cards and memories.