Corsair has now put one more case into its Carbide Series with one more SPEC case, but this time there is no numbering for this SPEC case and Corsair named it SPEC-OMEGA. Corsair produced it in 3 different colours: Black, White and Red. 
The case will cost you $100 and is already present on Amazon.com and Newegg although a little bit overpriced on Amazon. Let's see what exactly Corsair offers in this new case.
Exterior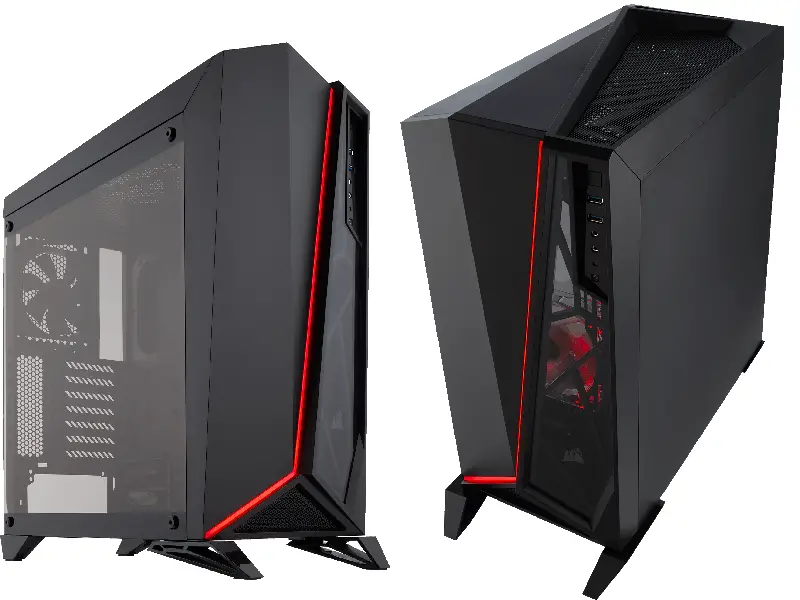 From outside it looks more like a Corsair SPEC-04 but there are some more angular designs in it. It doesn't have any plain simple panels at the front and top. There is a LED line going from top to bottom which gets lit upon starting the system and the front panel is consisting of 3 different materials: Opaque panel, Tempered Glass and Ventilation mesh. 
But the ventilation is very limited only at the bottom for intake and it won't be able to take a lot of benefit from the front as a lot of air is blocked by the panel which is covering more than half of the front area. If Corsair would have made the other half as a mesh, then it would have been better. However, the top panel has a large ventilation area for proper exhaust. So no problem there.
The body is made up of steel and the case roughly weighs around 7.5kg. So, it's heavy and because of the tempered glass at the side panel, it also accepts the latest trend.
Interior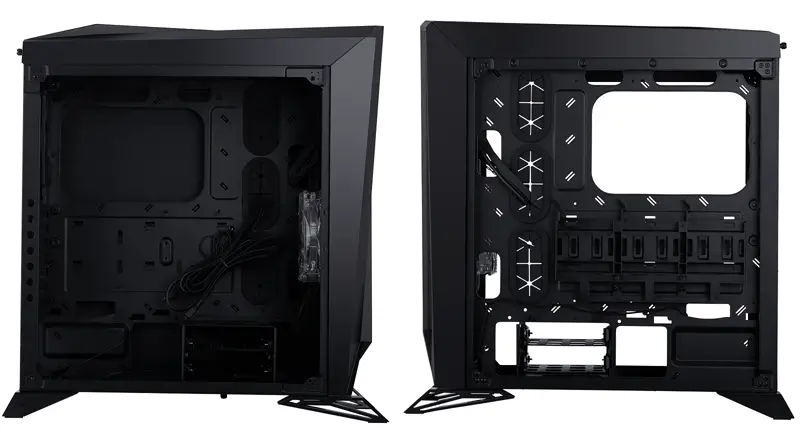 Interior of this case is a mixture of cases like SPEC-04 and Corsair 470X. But it is by no means exactly like any of the Corsair cases both from outside and inside.
There is enough room for installing components like long graphics cards having the length near to 300mm and enough room for big CPU coolers with clearance up to 170mm.
The storage system is also fine. You can install 2x 3.5″ HDD's and 3x 2.5″ SSD's. The storage area is beside the PSU mount for hard drives and that of the SSD's is behind the motherboard tray and cable management is also done well with a lot of space at the back.
The motherboard tray has a big cutout and should pose no problem whatsoever in installing a custom CPU cooler without removing the motherboard.
Cooling Support

The case comes with only 2x 120mm fans pre-installed. One at the front which is LED fan and one at the rear which is Non-LED. So, you will need to add more fans for better cooling but the fact that the front intake is limited because of blockage can make it suffocate.
However, Corsair has still provided a great support for adding more fans and radiators. The front can support radiators up to 360mm and up to 280mm at the top. Some of the specs on Corsair's official page has mistakes, so I made them clear here by doing some research.
Conclusion
I think for $100, it's a good case. It's not the best bang for the buck but it's not overpriced like some of the cases we saw in the last of 2017. When compared with a case like NZXT S340 Elite, it definitely has some good support over the latter but doesn't come with a PSU shroud which for many is a requirement for proper cable management. But when the radiator support is considered, it has more advantage.
Loading ...