Xtremegaminerd.com is supported by the readers. The purchase you make through our links may get us some commission and doesn't cost you an extra penny.
---
Corsair has a wide range of mid-tower cases and it is famous for its Carbide Spec series cases. Recently I built a PC for my friend with a Corsair Spec-04 case which I am going to review soon but Corsair just launched another case in this lineup without informing publicly. This is the Corsair Spec-05 mid-tower case that is priced at $50.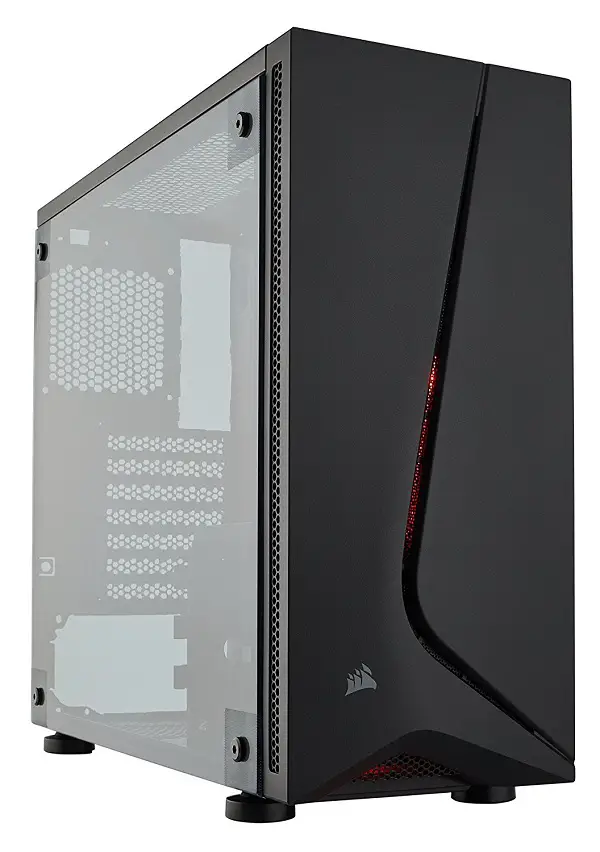 I searched for it and I was surprised to find out that it is actually available for purchase on a lot of sites. I even found out it on Amazon India where usually computer parts arrive very late after their launch. Therefore, I was able to find out the pics of the case and the features it brings on the table. Looking at the exterior I thought it would be a decent mid-tower case because of its simplicity although nothing fancy or revolutionary but when I took a look at its interior I was disgusted not because it is the worst design ever but because there is literally nothing new and it is exactly as you would see in a Corsair Spec-01 case.
Related:- Best Mid-Tower Cases
There are just minor differences in design and Corsair removed the Optical drive cages from the top and rest is almost the same. There are a lot of routeing holes which is just fine but without any rubber grommets. The hard drive cage is present at the front bottom where you can install up to 3x 3.5″ hard drives and a pre-installed 120mm RED LED fan at the front. There is no rear fan present but you can add up to 5 total fans in the case which is just common in the Corsair Spec cases.
What I didn't like in the case was the small motherboard tray cutout which is the thing I hate the most in any case. How are you supposed to install an aftermarket CPU cooler after installing everything inside? It's very difficult. Also, the compatibility with the components is also similar to the previous Spec cases. The only main difference is the outward appearance where Corsair has now put a differently designed front panel with very limited airflow and an Acrylic side panel although there are many cases present with tempered glass side panels.