There are very few wireless mechanical keyboards on the market and Corsair released their latest K63 wireless keyboard with Blue LED lights this year only where you can get the features of the wired K63 without plugging it into your system. The problem is that most of these keyboards lack features here and there but Drevo keyboard is preparing for the new BladeMaster keyboard which is going to have all the possible features you would have seen on a mechanical keyboard and along with that, it will have some special features which I am going to talk about soon.
The company has made the BladeMaster keyboard an ultimate choice for those who don't want to compromise with anything. For those who want performance and aesthetics both at the same time, here is the chance you can get yourself the BladeMaster keyboard which features wireless working and RGB lighting effects. The company has started the campaign already where you can support it by paying the price of this keyboard and get yourself one. The BladeMaster is available in two versions: BladeMaster PRO and BladeMaster TE. Both of these feature some different specs. The main focus of our article is the BladeMaster Pro which is for enthusiasts and for a cost of mere $99, it features a great Space grey body with Cherry MX RGB switches.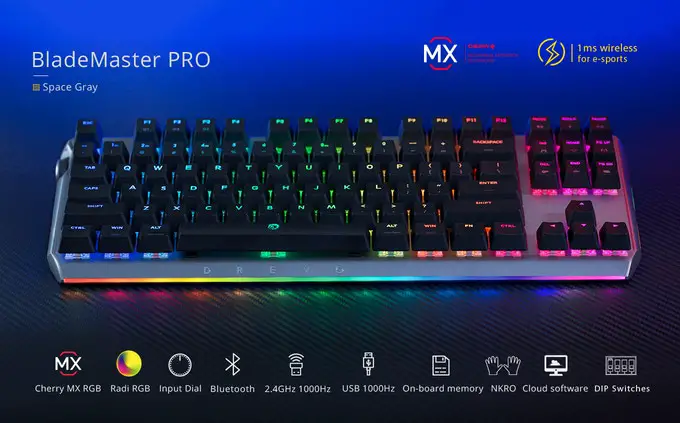 There are options for Cherry MX switches from which you can choose one for yourself. These include: Red, Brown, Black and Speed Silver switches. The keyboard support wireless working through Bluetooth 4.0 or 2.4Ghz wireless mode with a response time of 1ms/1000Hz report rate. The keyboard is rated to work around 20 hours with all the lighting effects On and around 64 hours if you switch off the lights. This feature alone defeats many wireless keyboards which don't have RGB lighting due to the cause of battery saving.
Related:- Best Keyboards Under $100
The keyboard features a special Genius-Knob which the company made for high-end gaming which is present at the left-hand side of the keyboard. It can be used for Macro, keyboard keys as well as Media controls. The company has shown the working of this knob in two Gifs in PUBG and MMORPG where it is being used for different purposes. So, this new addition should boost the attention of those who want ease in gaming.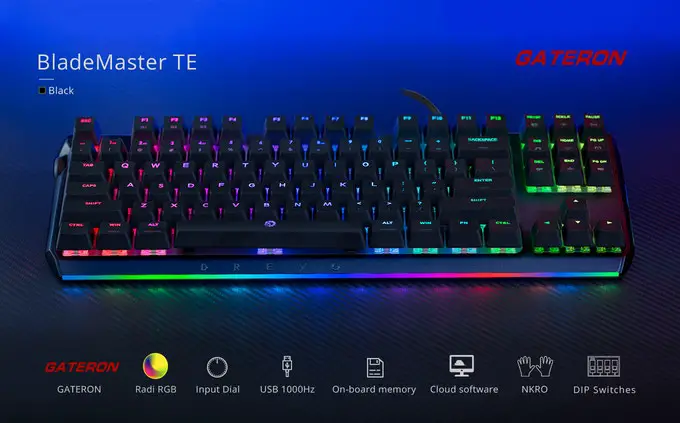 Now coming to the second version which is BladeMaster TE, it is a budget keyboard for those who can't afford the Cherry MX switches and this one uses the Gateron Switches. It's not a wireless keyboard rather it is a wired one and costs only $55 but still, it has RGB backlighting. It might not be of your interest but the BladeMaster Pro is something which you should definitely check out on their Official page.