Xtremegaminerd.com is a participant in Amazon Associate Program and is supported by the readers. The qualifying purchase you make through our links may get us some commission and doesn't cost you an extra penny.
---
Ek is a famous Slovenia based computer manufacturer which produces great water blocks for CPUs and GPUs. It has several options for all budgets from soft tube liquid cooling to hard tube liquid cooling. After the launch of AMD 2nd Gen Ryzen processors on 19th April, EK too announced one additional service with which now it will compete with other companies who build pre-built PCs.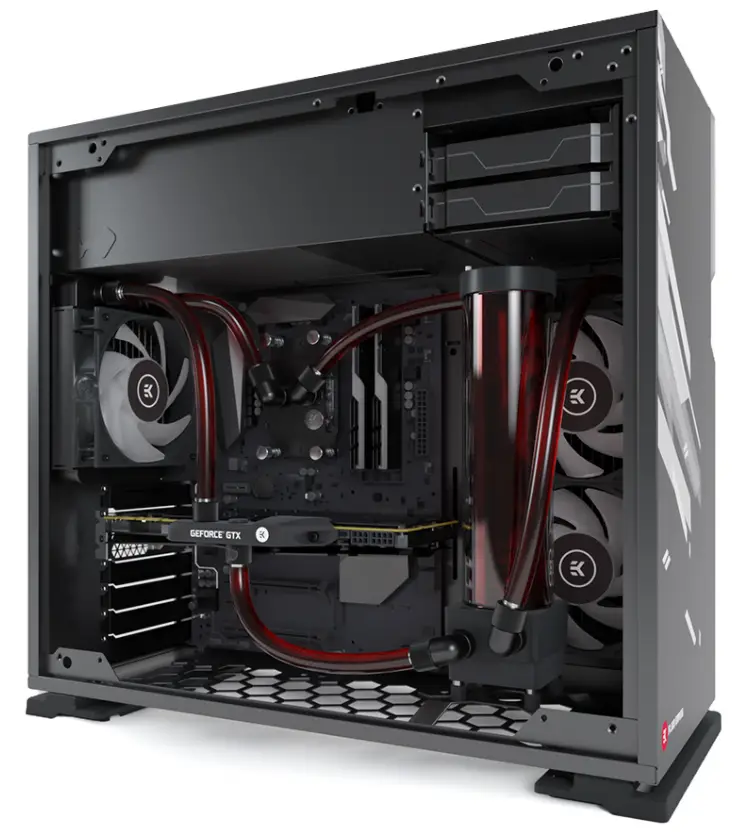 Yes, you heard it right, EK is now producing pre-built PCs which are named as Fluid Gaming Systems that will use the Ryzen 2nd Gen processors along with soft tube liquid cooling. The company is now set to start this service as well along with its other products. One of the reasons EK is providing this service is because not everyone has the time to build a gaming computer with liquid cooling and even if they have, not everyone is an expert who can do it in mere 15 minutes as it takes time and EK has the experts to do this for you.
"Check out these CPU coolers which will unlock the potential of your CPU"
EK has produced different configurations all of them having Ryzen 2nd Gen processors that range from Ryzen 2600 to Ryzen 2700X. So, you can choose the right one for you. There are currently 3 configurable pre-built systems that EK is providing. The first one is called the HERO which features Ryzen 5 2600, 16GB G.Skill Trident Z 16GB RAM, MSI B350 Tomahawk motherboard, Samsung 960 Evo 250GB SSD, Seagate 1TB hard drive, Nvidia GTX 1060, EVGA Supernova 650 G3 PSU, Windows 10 Home and soft tube liquid cooling. This system costs $2099.49.
The next setup is the CHAMPION which features Ryzen 7 2700X, MSI X470 Gaming Pro Carbon motherboard, GTX 1070 Ti, EVGA SuperNova 850 G3 PSU and all the other parts similar except double storage in SSD and HDD. This one costs from $2749.99. The next is the LEGEND which features GTX 1080 SLI, EVGA SuperNova 1000 G3 PSU, 1TB SSD and 4TB HDD. This PC costs $4260 and all of these systems have 2 years of warranty for parts and labour which you can increase to 3 years by paying around $163.
You can configure these systems by choosing your favourite Ryzen 2nd gen processor, GPU, RAM, storage etc. But you can't change the case which is the InWin 101C tempered glass edition. These systems will come with both the CPU and GPU cooled by liquid loops and there will be a reservoir in which you can fill up the coolant of your choice of colour. You can check out these systems here.