EK is a famous Slovenian computer manufacturer which in the past few weeks has launched several water blocks for different computer components. Just yesterday I wrote about its water block for the EVGA GTX 1080 Ti FTW3 graphics card and today they have a new water monoblock for the latest chipset from AMD that is X470 for the Asus Strix X470-F motherboard.
As Ryzen processors launched recently and X470 chipset motherboards are now available worldwide, enthusiasts would definitely love high-end overclocking and for this EK is keeping up with the latest trend providing you with the best solution possible. A monoblock covers the whole VRM section of the motherboard and the CPU by which you get better temperatures and stable overclocking.
The Strix X470-F motherboard from Asus can now utilize this monoblock for better performance that will result in higher clock speeds on the Ryzen 2000 series CPUs. As VRM section is a crucial part of a motherboard, cooling it along with the CPU will make you break records of those who are using AIO cooling.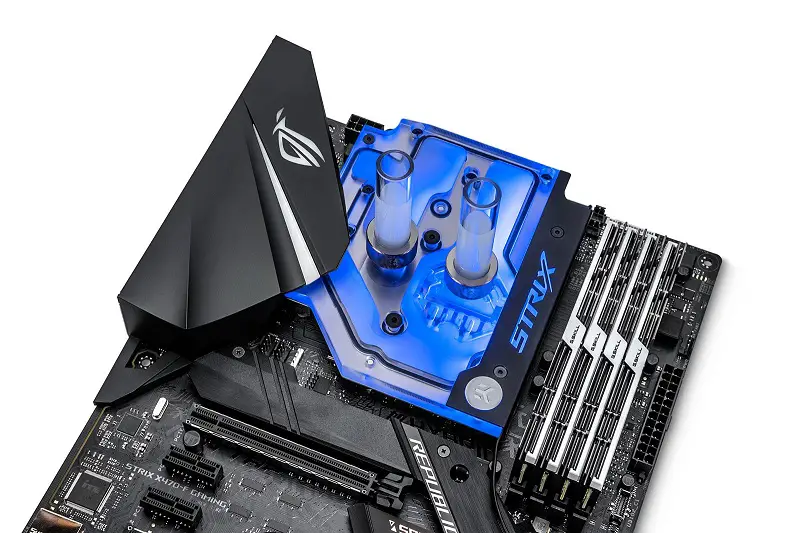 The monoblock is made up of a nickel-plated electrolytic copper base for better heat conductivity and the top is made of quality acrylic glass material. The block is also equipped with a 4-pin RGB LED strip that can be connected to the motherboard's LED header and you can have your RGB lighting effects on the monoblock for appealing aesthetics.
The EK-FB ASUS Strix X470 RGB Monoblock is currently available for pre-order from the official EKWB's website and is priced at $154.99.