EK Water Blocks, a brand known for custom PC liquid cooling, has released a new liquid cooling solution for CPU and motherboard VRM which meant to be compatible with ASRock X399 motherboards. It includes a 4 pin RGB LED strip that is fully compatible with ASRock RGB LED which means that the user can get the aesthetic full lighting customisation experience that they want.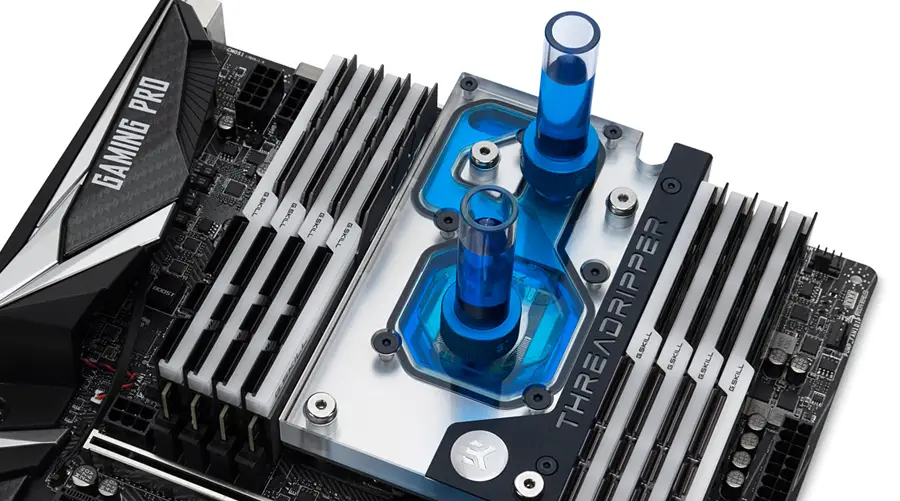 Similarly to the Gigabyte and MSI boards, EK Water Blocks designed and engineered this monoblock with the help of ASRock. It has excellent CPU cooling performance thanks to the completely new cooling engine where the water block directly cools the AMD Threadripper CPUs on the TR4 socket and the VRM or power delivery. Liquid goes straight to the important areas which means that it is a great solution for professional overclockers when overclocking to an extreme extent. An additional passive heatsink is included for VRM and the network chip components that are placed between the memory DIMM slots and I/O shield.
The specialised designed water block for ASRock X399 motherboards also has a redesigned cold plate with a fin area that covers nearly all of the IHS surface. It makes sure that the monoblock covers all of the Ryzen Threadripper CPU's IHS allowing a better thermal transfer.
The base of this monoblock claims to be made out of nickel-plated electrolytic copper while quality acrylic glass material is on top. To speed up the installation process and simplifying it, the main nickel plated mounting screws and breast screw-in standoffs come pre-installed. All of this is made in Slovenia.
They also have an MSI version and a Gigabyte version but the EK ASRock X399 itself is now available for purchase through the EK online store and Partner Reseller Network for the price of $139.99 or 125.95€.
Related:- EK recently released water blocks for the Titan V.