EVGA is well known for its cases, graphics cards as well as the CLC coolers which made the company enter into the CPU cooler market and got successful. Now, it has launched another liquid CPU cooler which is CL11, a 120mm CPU cooler without any RGB stuff but very affordable for those who want to start using liquid coolers without spending over $100.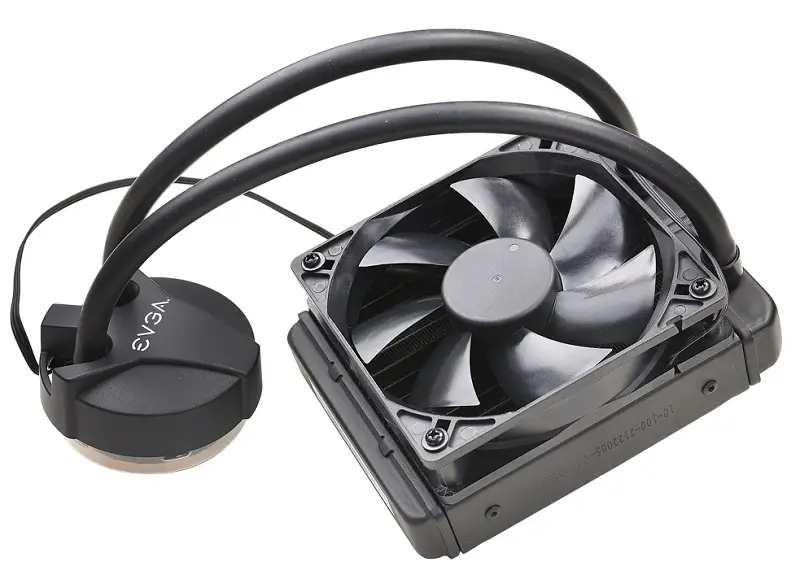 This CPU cooler features a 28mm thick radiator which is thicker than most of the common radiators we have seen from different vendors. This will make cooling better. The cooler uses a 120mm air balance fan and unlike the frame of the CLC liquid coolers fans, it has very normal and common frame.
The radiator dimensions are 156x122x28mm while that of fan are 120x120x25mm. The pump of the cooler works according to the speed of the fans and there are no clear specs of the pump mentioned. The water block has a big copper base and produces noise of 20dBA at max speed while the fan runs at 1800RPM +-10% at max producing an airflow of 58.87CFM with a noise level of 32.1dBA which is very normal.
The cooler has no custom sleeves like the high-end AIO coolers and also no RGB as I stated. By this, EVGA has managed to cut down the price up to a fair amount and it is available at their store for $59.99 which is a good price for budget PC builders. But there is one big drawback that comes with this cooler: It isn't compatible with any AMD socket motherboard which is really disturbing.
With this cooler, customers are going to get a 5-year Limited warranty from EVGA and it should become available on other online stores soon.
Offer Till 31st March