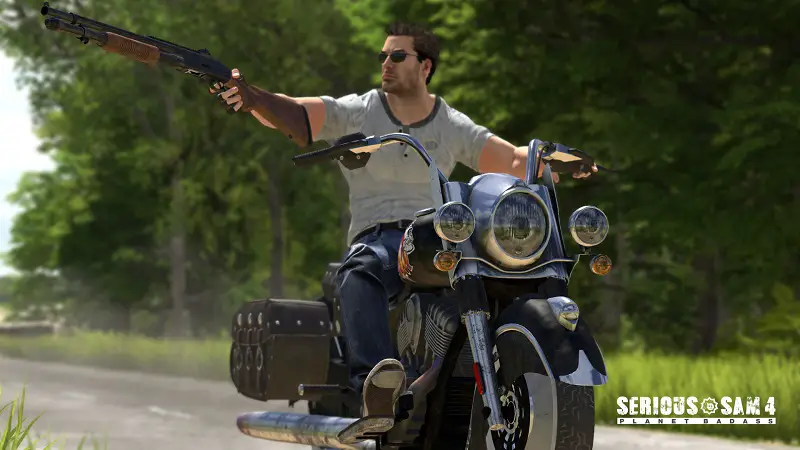 Well when I first saw the teaser, my first impression was "am I dreaming?", yes, I was really shocked because believe it or not, in upcoming few days, we might witness a new title is getting added in one of the most famous gaming series which is none other than SERIOUS SAM. 
I can clearly remember that it was back in 2002 when I first played the first title of the series "Serious Sam: The First Encounter" in a Pentium P4 machine, and from that time onwards this is one of my favorite series. Serious Sam 4 has been around for a very long time in form of an idea or concept or rumour and it can be traced back to 2015 from which we can speculate how long it has been in the air and now it is officially confirmed and it was revealed at the Reboot Develop conference in Croatia, and the game goes by the name of Serious Sam 4: Planet Badass. Here is the teaser for you guys:
Apart from its dramatic teaser where we see our hero AKA Sam riding a motorcycle and at the first glance I am quite amused with its graphics, no other details are currently available except the teaser and the monster which we can except. From the teaser, we also came to know that the developer of the game: Croteam is going to reveal more details about the upcoming game in E3 which is taking place in June this year.
The upcoming title is supposed to reignite the classic series and will take you on an adventure full of action. Looking at this graphics even for a glimpse it can definitely be said that to run this game to its fullest you might require a nice power-packed computer. But as there no other details available about its system requirements except for that it will be requiring 64-bit OS and a processor which is the only extra bit of information currently available on Steam.