While Final Fantasy XV is about to release on 6th March on PC, Computerbase.de has benchmarked the game by the software given by Square Enix with different graphics cards to know what it will take to run the game properly. The game as recently announced by Microsoft will be now able to play with Cross-Platform compatibility with Xbox One. But there are some problems with the game itself which is causing gamers to get upset upon.
As stated on Steam official page, the game requires a GTX 1060/RX 480 as a recommended graphics card for 1080p 30fps. It's become apparent and true on high settings. Yes, you will get only 30 fps if you play the game with RX 580(As predicted by the benchmark). And this in itself is not good as GTX 1060/ RX 580 are those graphics cards which can provide 60+fps on ultra settings in almost every game and by seeing 30fps in a game on high settings is not looking good.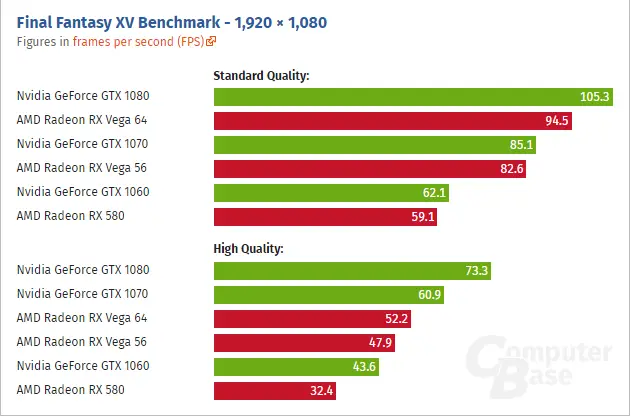 So, what's the reason?
The reason is the preset graphics settings. The game(benchmark ) uses three different fixed graphical settings for the game that are: Low, Standard and High but doesn't allow you to customize them, unlike the other games where you can turn something on or off. But still, what are the settings that are eating most of the fps on high settings? Because as you can see from the above graph, it's clear that RX 580 provides 32 fps on High quality while on Standard Quality it provides 59 which is almost double.
This is because of GameWorks which are having multiple different visual settings that don't turn off on high-settings. Remember the Hairworks of Witcher 3 and Rise of the Tomb Raider? Yes, these are exactly those which eat up the fps drastically but you can easily turn them off in other games while maintaining all other settings on high or ultra but this isn't possible in this game. The worst thing is that they aren't set on medium, rather they are set on high on High graphical settings.
It should be noted that this is an initial phase where you can test the game on your PC by running the benchmark but Square Enix should take this into consideration and fix it before the game releases.
EDIT:- The article is in context of benchmark software and not the game itself. So, I will put the benchmark word where it should be.