Fornite is the most popular game right now on almost every platform and it hasn't stopped where it was a month ago. PUBG was taking a long lead over the most popular games on PC but as soon as Fornite was made taking the core concept of PUBG, it became even more popular because of the cartoonish graphics and free to play concept. While the concept of Free to Play makes it look like that how Fortnite makes money, you will be astonished to know that it has surpassed major games like Candy Crush and Pokemon in revenue.
"If you like Fortnite, you will love these shooter games too"
Sensortower reported that Fortnite has already made over $15 million with iOS. It's been only three weeks that made it a big success on iOS too. In the past week, it made $6.4 million which is record-breaking when compared to the most popular games like Candy Crush, a six-year-old game which makes $5.8 million per week. And not to forget the fact that Candy Crush is a well-established game for years.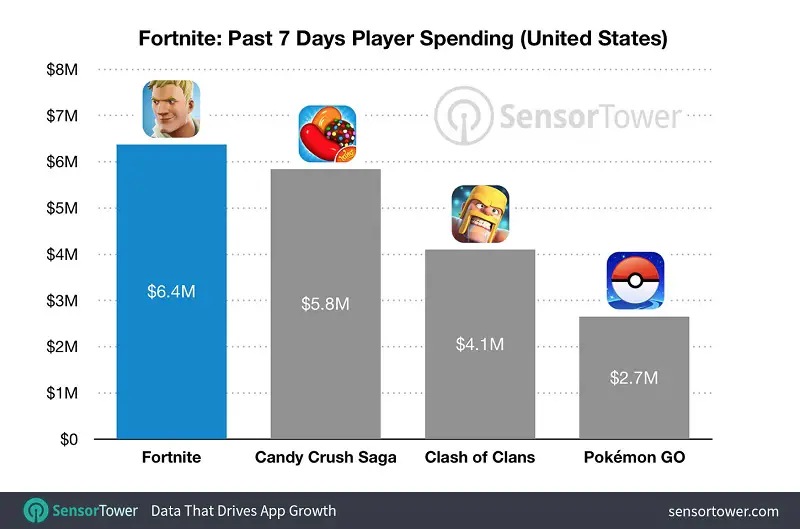 One of the reasons for the game to be downloaded so much is that it's free but the method by which it makes money is different than the other mobile games. Games like Candy Crush make money by allowing you to proceed to the next level by paying money but Fortnite provides Cosmetics in return for money. You buy cosmetics and in-game dance animations and the game earns revenue from it. Pretty straightforward.
Another good reason that makes people play Fortnite a lot is because it is available in cross-platform. Whether you play it on Mobile, Console or PC, your progress will be saved on all the devices irrespective on which platform you play on. This feature is absent in PUBG which is the Mother of Fortnite.