We recently came to know that Epic Games and Sony are going to bring the Fortnite bundle to the gamers on July 16, 2018. However the news is not published through advertisement or any news, instead, it was posted on the official Facebook page of PlayStation Italia a few days ago.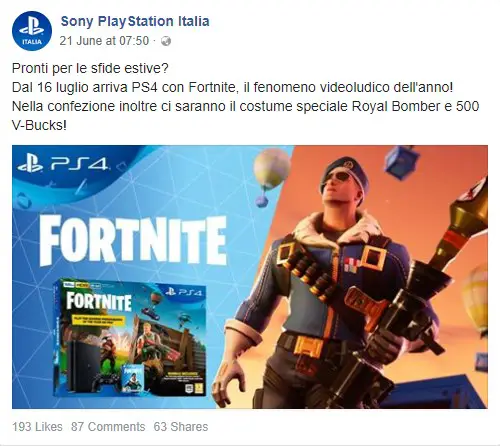 Fortnite is pretty much in every news for past few days and here we see another such story which is delightful enough for the gamers as along with this bundle players will get an exclusive Royal Bomber Skin and also they will get 500 V- Bucks.
Earlier we see supervillain Thanos entering the world of Fortnite then we also experienced the introduction of the latest Fortnite season, which definitely shows us the work of the devs who are always trying to bring something new in the game, they want to indulge their players as more as they can. Fortnite for Android might be up next and already the game has already earned around $100 million on iOS and recently we might also experience new campaign mode, enemy types in the Save the World game mode.
As the bundle is not announced officially from Epic Games thus the exact price is not confirmed yet but we can definitely say that the price is going to be more than that of PlayStation 4 500GB variant.