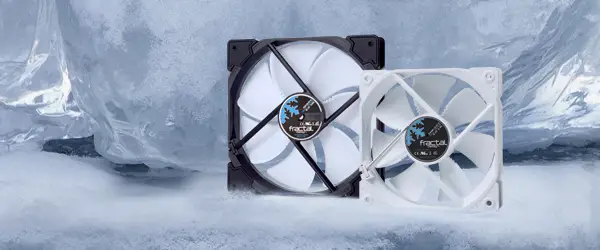 Fractal Design is constantly releasing new accessories or PC components for past few days and recently they have expanded their existing line-up of PC Case fan series by adding an option for users to choose between 120mm or 140mm Dynamic X2 fans along with PWM support along with a full white non-PWM version also.
Apart from the addition of the new fans to the Dynamic X2 series, they have also released four new fans in the Venturi series which comes with the classing Fractal colour taste in the combination of Black and White. These are available in both High Flow (HF) or High Pressure (HP) along with an option of 120mm or 140mm and they might be the perfect solution for your cooling requirement.
Related:- Best PC fans
The Dynamic X2 series from Fractal Design is made to serve your over-all requirement of airflow inside your PC case and also comes with 100,000-hour life expectancy owing to the new Long Life Sleeve Bearing. Along with an added option of PWM Support, one can control their RPM for either high performance or silent operations. Moreover, the Dynamic X2 incorporates aerodynamic elements of airplane wing designs for significant noise reduction and they are available in color combination of black, white, or the classic Fractal Design color and are priced at $12.99 for the Dynamic X2 GP-12 PWM, $13.99 for the Dynamic X2 GP-14 PWM, $11.99 for the Dynamic X2 GP-12 – White Edition and $12.99 for the Dynamic X2 GP-14 – White Edition.
While the Venturi High Flow Series fans, HF-12 and HF-14 are designed for low-restriction airflow environments making them a definite choice for a PC case fan. The HF-14 comes with two sets of solid vibration-dampening rubber corners one is for the 140mm fan while the other for 120mm fan mounting holes. These high air flow fans are ideal for users who want to have the perfect balance between high performance and silent operation. On the other hand, Venturi HP PWM fans, HP- 12 and HP-14, are aimed for high restriction airflow scenarios which makes them the perfect option for large heatsinks, on radiators. They are available with the same colour option as the Dynamic X2 series and are priced at $17.99 for Venturi HF-12 White, $ 18.99 for Venturi HP-12 PWM White, $18.99 for Venturi HF-14 White and $19.99 for Venturi HF-14 PWM White.
The Venturi series are priced little higher compared with that of the Dynamic X2 series but they are meant to perform perfectly in highly restricted airflow area, whereas the Dynamic X2 is ideal for a low restricted airflow area. Thus the choice depends on users PC Built and if you are willing to know more about these fans then check out this link.