Xtremegaminerd.com is supported by the readers. The purchase you make through our links may get us some commission and doesn't cost you an extra penny.
---
A few weeks back, Fractal Design introduced two new versions of the Original Meshify C to its showcase and now it introduced a new version today namely Meshify C White-TG with everything same except the colour. The new case now comes with white exterior and black interior that will provide the consumers more choices to choose from. I personally like white cases over black and Fractal Design did a good job in bringing more versions of the case that is favourite to many.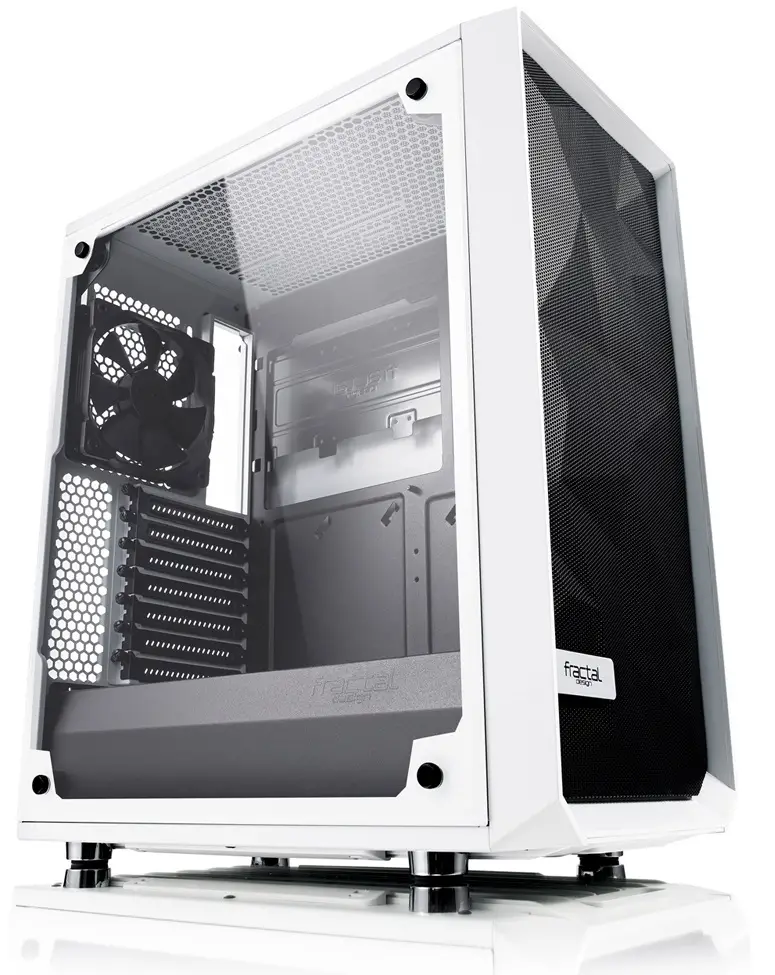 The case is of mid-tower form factor with a tempered side glass panel to have a clear look into the interior. The original Meshify C has a tinted tempered glass but this one is non-tinted giving more clarity. The front panel is having the angular mesh design which is according to Fractal Design more efficient in airflow. While many cases we saw last year were about front panel having tempered glass or opaque panel, this one is very good for airflow which you would want to use for overclocking.
The top of the case has a dust filter and good ventilation that is suitable for using radiators. The case comes with 2x 120mm fan pre-installed similar to the other versions. One is at the rear and one is present in the middle of the front panel. It can take 2 more 120mm fans or 360mm radiator at the front and up to 240mm radiator at the top.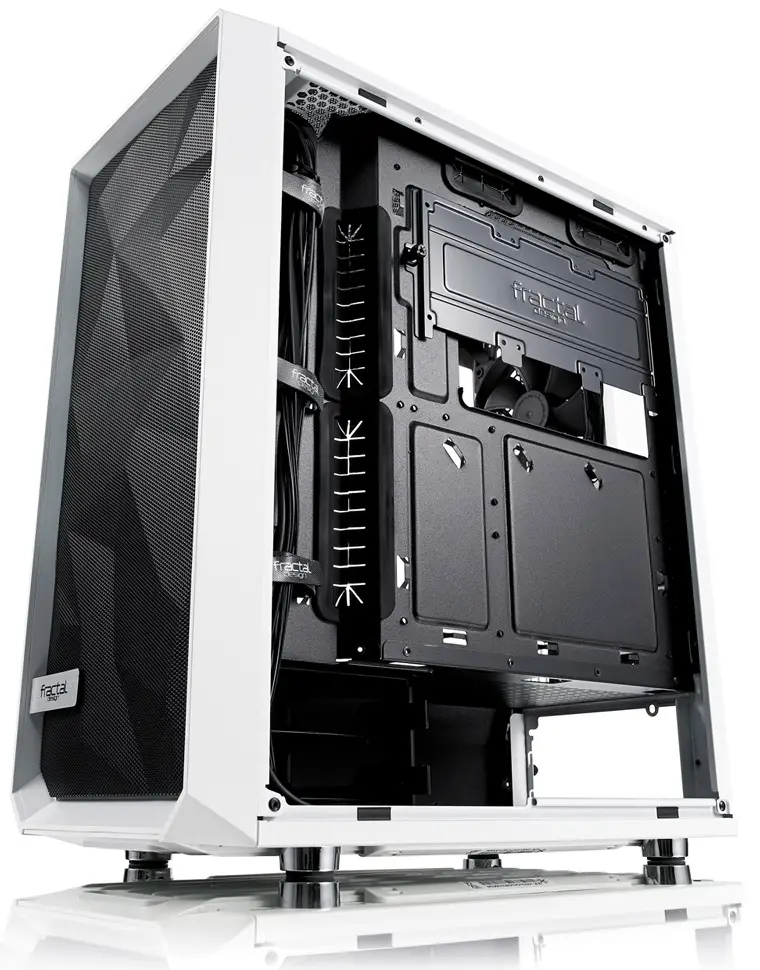 Cable management of this case is decent with three straps present on the left side where you can take all the cables together for a clean and tidy build while the two big rubber grommets will help you hide the cables better. For installing SSDs there is space for up to 3 SSDs on a metal cover behind the motherboard tray which is removable through a single thumbscrew and will make it ease for installing a custom CPU cooler without taking out the motherboard. For installing hard drives, there are two hard drive bays inside the PSU shroud similar to the NZXT S340.
The case is priced at USD89.99 or GBP79.99 or EURO89.99 and is present now with different Fractal Design distributors.
Key features
Streamlined high-airflow design
Performance and capacity of a larger tower in a remarkably compact mid-tower size
Newly designed angular mesh front panel maximizes air intake
Tempered glass side panel offers users a clean and clear view of their components
Distinctive new styling with stealthy black-on-black aesthetic
Flexible storage options with room for up to 5 drives
Sturdy steel drive trays with vibration-dampening rubber grommets cushion hard drives for smooth, quiet and reliable operation
Two preinstalled Fractal Design Dynamic X2 GP-12 120 mm fans deliver optimum airflow with minimal noise
Open interior layout creates an unobstructed airflow path from front intake to rear exhaust
Easy-to-clean filters on the front, top and base with full PSU coverage and convenient front access
Full length power supply shroud conceals drive cage and excess cabling for unrestricted airflow and a clean looking interior
Up to 35 mm of space behind motherboard plate with grommetted pass-through holes for clean cable routing