Gelid solutions has started a giveaway today and will give out the Gelid Phantom Black CPU cooler to 7 lucky winners. The giveaway starts from today i.e., 14th of August and will end on Saturday, August 29th 2020 at Midnight UTC. The giveaway is open worldwide and anyone can enter.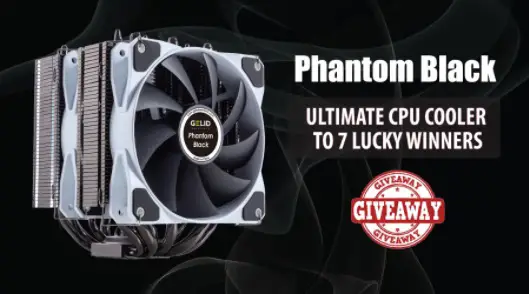 The giveaway was done after a voting process which Gelid Solutions LTD organised on 7th of August on Twitter to let the users choose from the 3 coolers for the giveaway. 36.4% chose the Phantom Black and Sirocco, so Gelid decided to giveaway Phantom Black.
The Gelid solutions is an infamous company in the computer hardware industry but like many new brands, the company has managed to sell a good number of CPU coolers especially in Germany. Gelid Solutions Ltd. is based in Hong Kong and has multiple manufacturing facilities in China and Taiwan.
The company produces thermal solutions for computers and manufactures CPU and GPU coolers, Thermal compounds, chassis fans and PC cases.
The Phantom Black CPU cooler features dual heatsink towers with 7 heat pipes for better heat dissipation. It has two 2x 120mm fans for exhausting the hot air and is compatible with most of the Intel and AMD sockets. The cooler can equip a third fan if needed and costs around 50 Euros on Amazon.de