Motherboards
Gigabyte Aorus X370 Gaming 5 motherboard review
Xtremegaminerd.com is a participant in Amazon Associate Program and is supported by the readers. The qualifying purchase you make through our links may get us some commission and doesn't cost you an extra penny.
---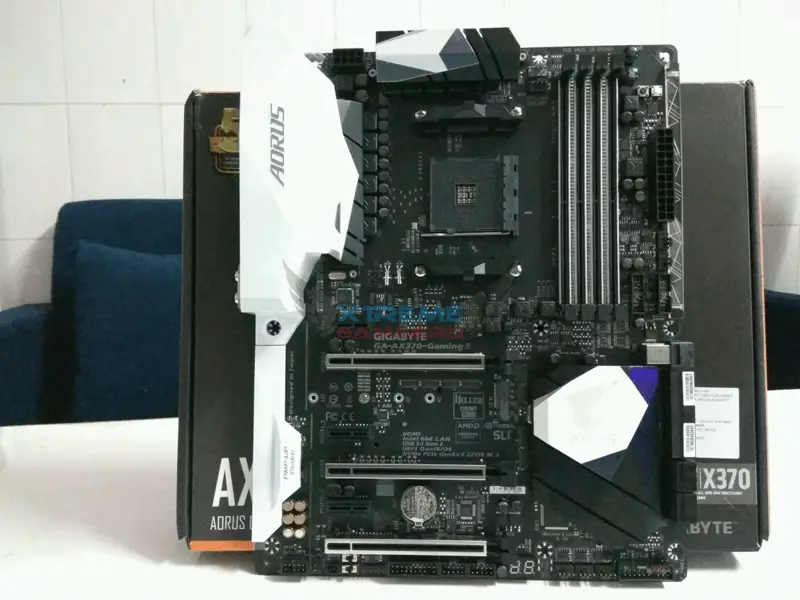 Gigabyte Recently launched some Am4 motherboards in the Auros series which are divided into two categories AB350 and AX370. The AX370 chipset motherboards are fully unlocked and fall in the high end category. The AX370 Gaming 5 is however a mid-high end motherboard with some great premium features that are offered for Amd R7 Ryzen processors.
The Gaming 5 edition motherboard has a full black PCB with white accents and a lot of RGB led's. The motherboard is equipped with LED lights everywhere from bottom to RAM slots. The right side of the motherboard near the 24 pin power connector has a glass type design for LED effects that will match with the rest of the LED's on the motherboard.
It's a full ATX form factor motherboard that has 4 DIMM slots, 3x PCIEx 16 slots that run at X16, X8 and X4 bandwidth. The X16 and X8 slots are PCIE 3.0 but the last one is PCIE 2.0. The motherboard supports 2 way Nvidia SLI as well as 2 way AMD crossfireX. To be honest for less than the price of this motherboard, Intel Z170/Z270 chipsets offer the same and even better but as the Amd Ryzen are somewhere equivalent to the extreme Intel core i7 processors, we cannot complain with the features we are getting with this board. The X99 platform is even more expensive than this although it has 4 more DIMM slots. But this motherboard is still comparable.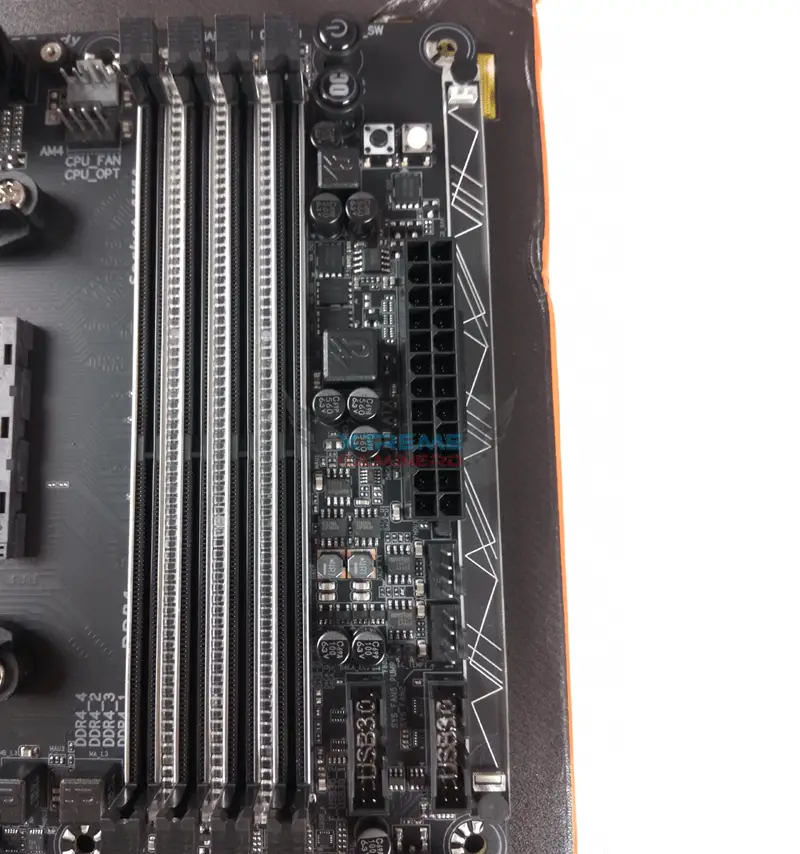 The 4xDIMM slots have LED lights between slots that will illuminate in different styles when you configure them from the bios or software. At the right side, you will find the standard ATX 24 pin power connector and 2x USB 3.0 front headers. There are 2x 4 pin fan headers for installing case fans or powering custom liquid loop.
The top right corner has two buttons for overclocking and power ON/OFF that will make troubleshooting the motherboard easy.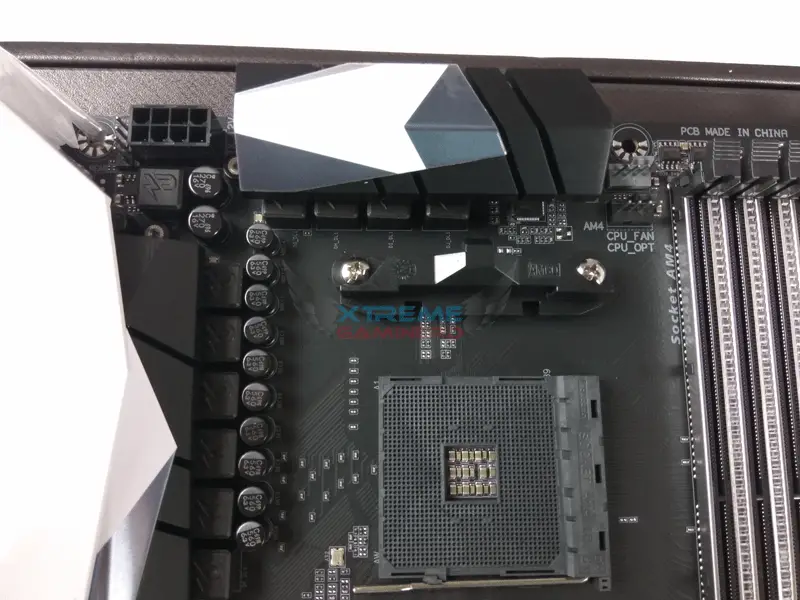 Here is the AM4 socket which is similar to the AM3 socket but is a little bigger. The top left corner of the motherboard has the 8pin power port for powering the CPU and near it is a 4 pin system fan header which you can use for the rear fan. As a lot of motherboards don't have the fan header at top left corner, the rear fan has to be connected to the middle fan header of the motherboard which isn't that clean.
At the top right side, before the DIMM slots, you have two 4 pin fan headers. The CPU_FAN header is at the top and the CPU_OPT is for radiator fans.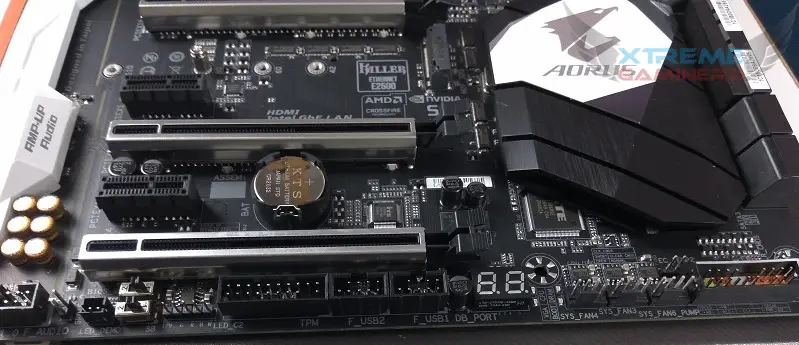 The PCIEX16 slots are having stainless steel covering to support heavy graphics cards and there are a total of 3x PCIEx 1 slots for expansion cards.
There are two USB 2.0 front headers, 2x 4 pin system fan headers, 2x pump header, RGB led ports, Audio front header andsome more headers for different purpose. The front panel power, reset, hdd Led you have clear markings along with coloured area for ease in connecting wires.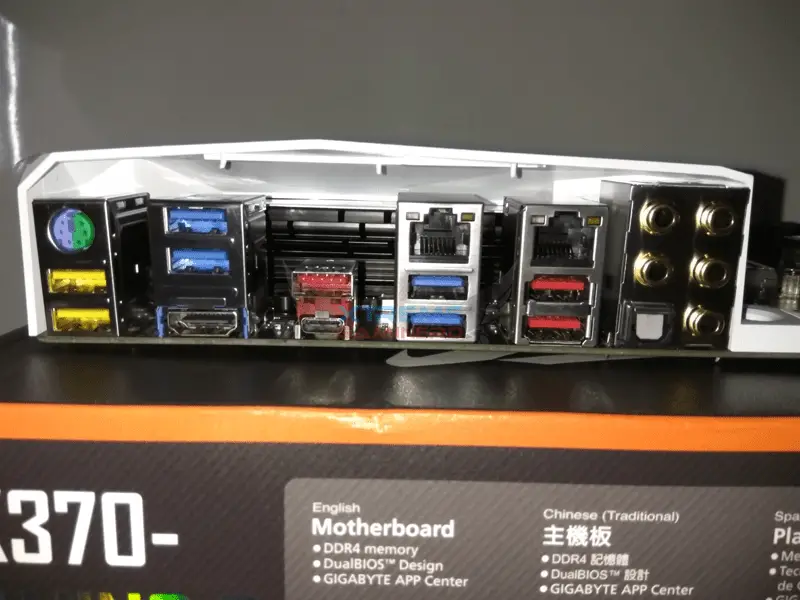 Taking a look at the I/O panel, we have a lot of differently coloured USB ports. These USB ports are not usual USB 2.0 or 3.0 ports but are 3x USB 3.1 Gen 2 Type-A ports and 6x USB 3.1 Gen 1 ports that are much faster and better upgrades over the traditional USB 3.0 ports.
There is 1x USB Type-C port as well below the Red USB port which is 3.1 Gen 2 Type-A. For display we have 1x HDMI port and no other display or DVI ports.
For PS/2 mouse and keyboard, we have one combo port for connecting either at a time and for audio, we have a total of 5 audio jacks for mic and speakers.
The motherboard is equipped with 2xRJ-45 ports for internet connectivity. Although one is enough as a lot of people do use wireless connectivity by the use of PCI wifi card.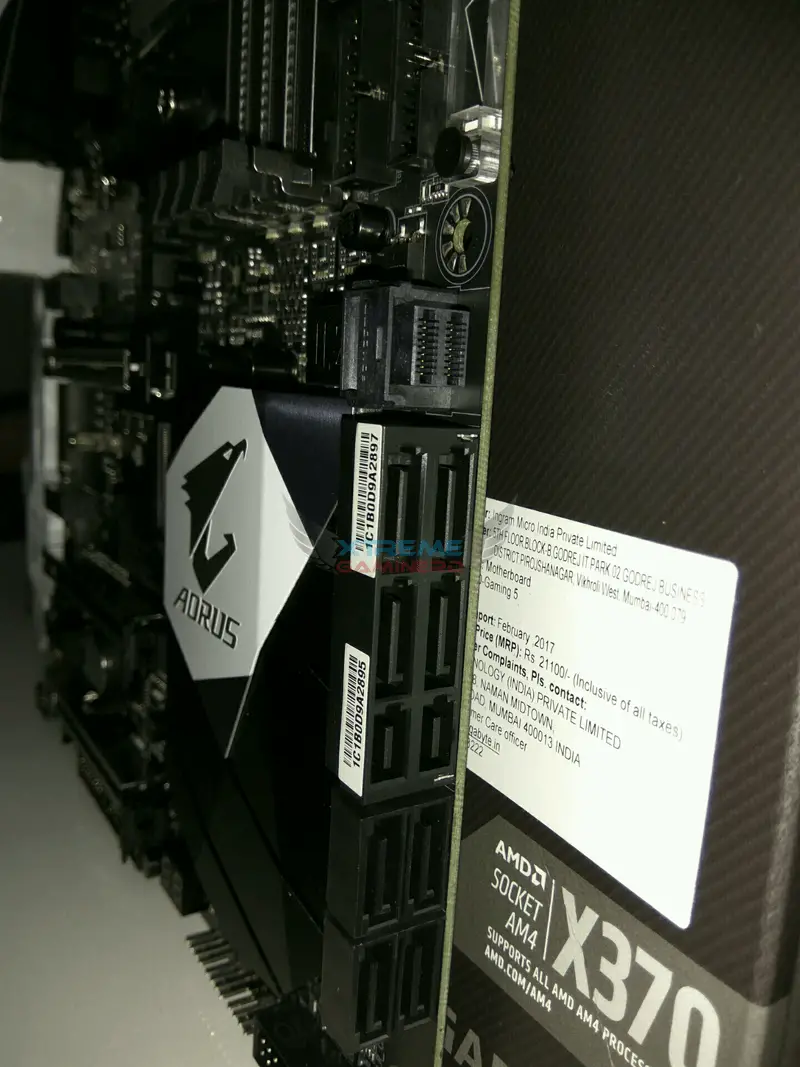 Now for storage, we have a total of 8x Sata 6Gb/s ports and 2x Sata Express connectors. There is 1x U.2 connector and 1x M.2 socket 2 connector for NVME SSD's which are faster than the Sata SSD's.
Now all what is left is testing. I couldn't test it because I don't have newer AM4 cpu cooler mounting kits for installing any of my cpu coolers. Well, I am going to test the AMD Ryzen R7 1700X on this board which will be benchmarked in different applications and games in coming days.