The motherboard with AM4 socket which is made for the latest Ryzen APUs has got some minor changes which we got to know from a leak. The Gigabyte Aorus X470 Gaming 7 Wifi is the board which was shown at the CES 2018 which is soon going to be released. However, there are some minor changes which one cannot notice in just a first look.
The board has some aesthetically different appearance on the top heatsinks than what it was shown as in the CES which is actually not a change to be worried of. This time the motherboard has been leaked online and is spotted on Videocardz. The pricing without images has been revealed on Amazon according to the report of VideoCardz. However, right now it's not available for purchase. Maybe some testing is going on and we hope it will be soon listed when the X470 chipset motherboards are launched.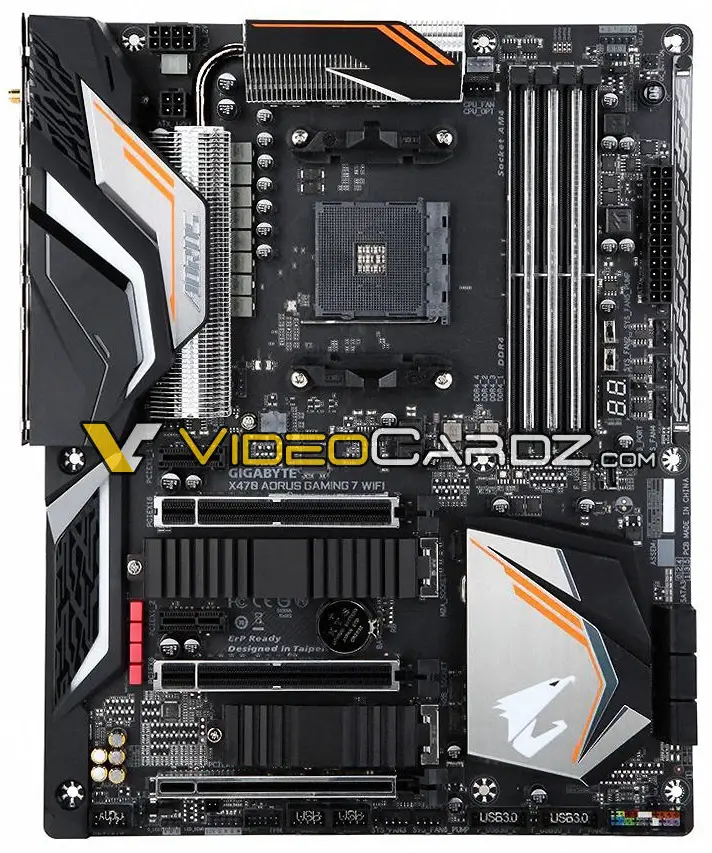 The board has been priced at $239.99 which is expensive than most of the previous gen X370 chipset motherboards but the budget versions of Gigabyte Aorus motherboards will fall under $200 making them budget friendly for a lot of people who are excited to use the Ryzen APUs on newer chipsets.
Gigabyte AX470 Gaming 7 Wifi has a quality heatsink with copper heat pipe for better heat dissipation not found on most of the mid-high end motherboards. It is made very durable and have steel armour on its PIC-Ex 16 slots and Memory slots. It also packs some really good features for troubleshooting and the aesthetics are improved by using the RGB lighting effects which can be controlled by Gigabyte App Center.
As the motherboard is named "Wifi" at the end, you will have inbuilt-wifi in it along with an antenna which will allow you to use wireless internet without any Wifi USB device or Wifi PCI card.