Gigabyte, which is a popular graphics card and motherboard maker is now entering the memory market by launching its latest DDR4 memory kit that will feature RGB lighting. As almost every memory maker today have a particular type of RGB lighting equipped memory kit, it was obvious that when a brand as popular as Gigabyte would launch the new memories, it would do so with RGB lighting as well.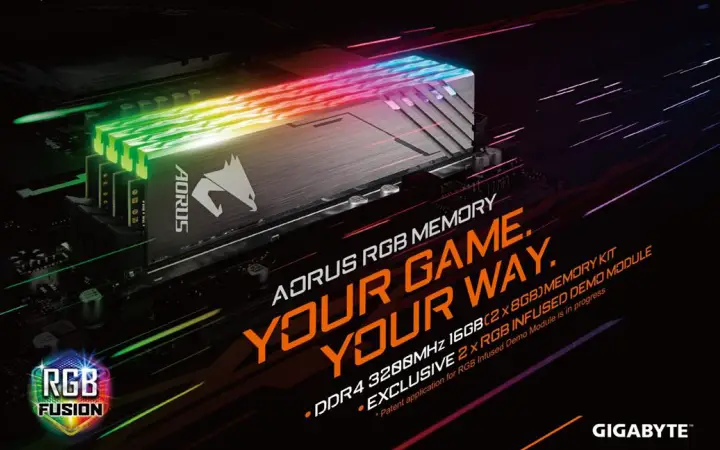 Gigabyte's new Aorus RGB LED RAM will feature an Aorus Logo on its aluminium heat spreader which you can also find on Aorus motherboards. The Aorus RGB memory is a dual channel kit that is clocked at a 3200Mhz frequency with a CAS Latency of 16-18-18-38. It will operate at 1.35V and will be fully compatible with the RGB Fusion software from which you can customize the lighting effects.
Related:- Best RGB RAM
However, Gigabyte is not bringing the new memory modules alone but will provide two blank memory modules or dummy modules too that will fill the space between the DIMM slots. Suppose you buy 2x 8GB kit of Aorus Gigabyte memories, you will get 2 dummy modules so that you can fill up the other two empty DIMM slots if you are using an ATX motherboard with 4x DIMM slots. These dummy modules will also have RGB LED lighting effects that can be controlled using the RGB Fusion software as well. It means that you won't have an incomplete look inside your case.
The new kit will launch somewhere at the end of June at a price of $229.