The _rogame, a frequent leaker on Twitter informs that Gigabyte has registered new V2 B550 motherboards which will have some changes over the original V1 B550 motherboards. These will be refreshed versions of the already existing Gigabyte B550 motherboards with changes in VRM. The date of registration of notification is 08/13/2020 and was published the next day.
These V2 B550 motherboards include:-
B550 AORUS PRO V2
B550 AORUS Elite V2
B550M AORUS PRO V2
B550 Gaming X V2
B450 AORUS ELITE V2
B450M DS3H V2
The Twitter user gave an example of what you can expect from these V2 motherboards by showing the changes in the B550 Aorus Elite where now the B550 Aorus Elite V2 will have a Big 6+2 power stages VRM instead of the True 12+2 power stages VRM which we have on the V1.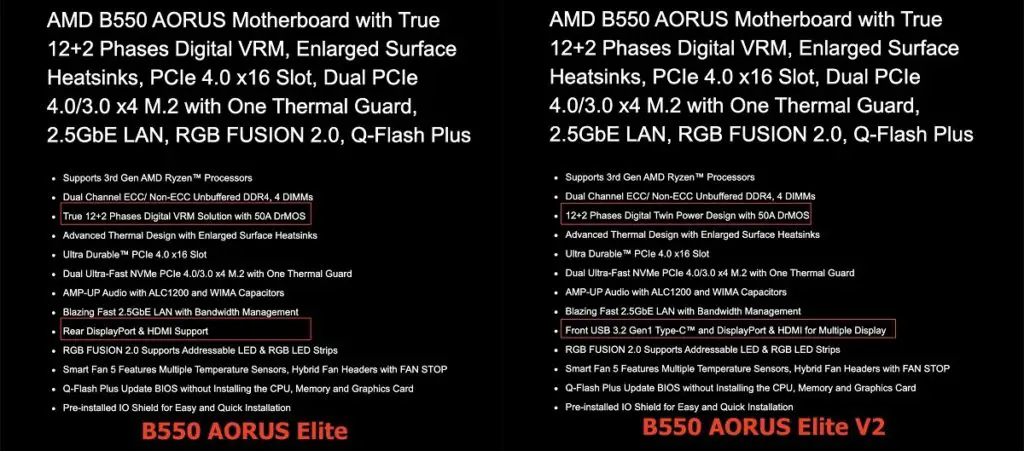 The V2 motherboard will also feature one less USB 3.2 Gen1 port but they added internal USB Type C header for the front panel. So, this is literally a downgrade rather than an upgrade of the existing B550 motherboards. Gigabyte might be doing this in order to provide even more affordable B550 motherboards.