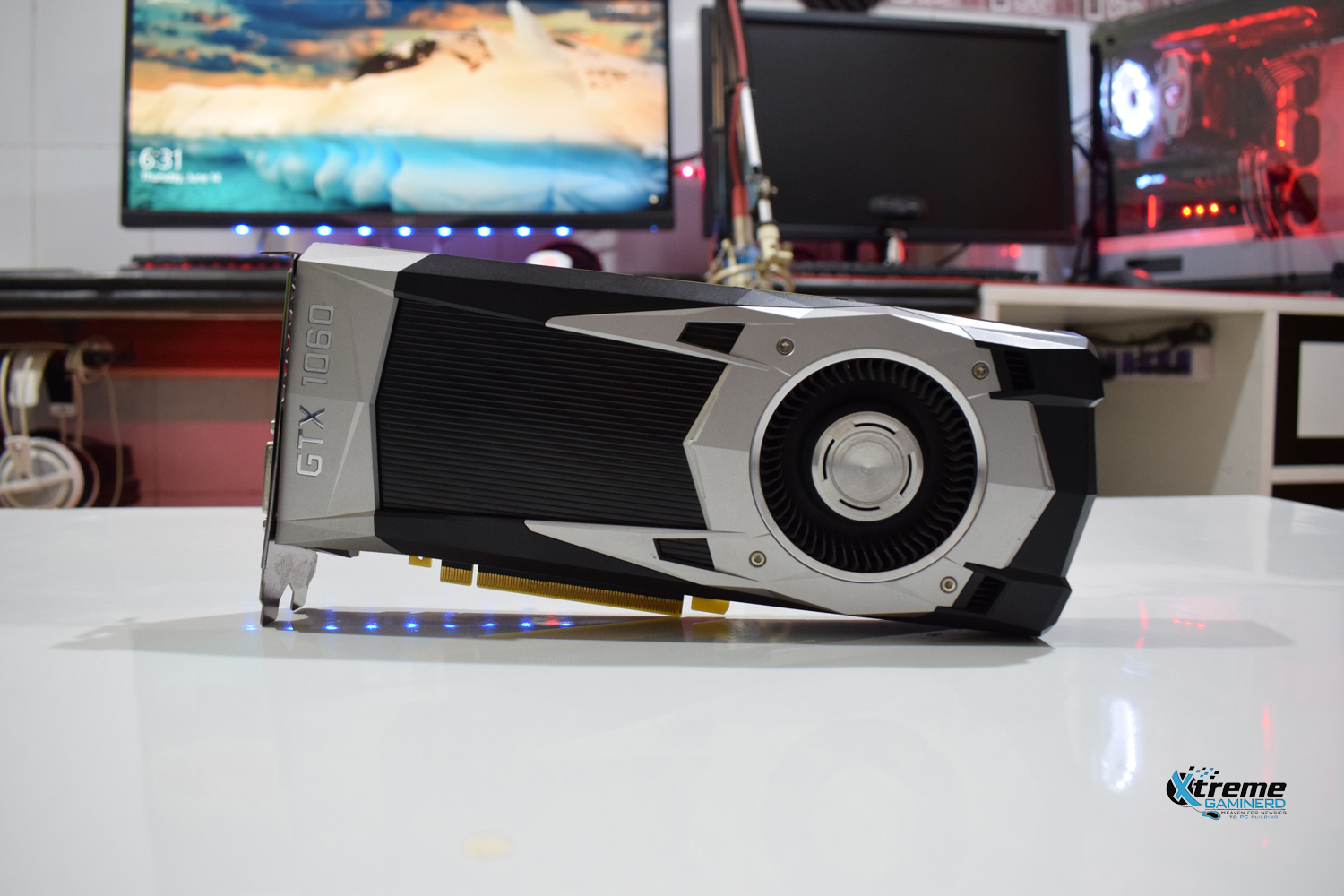 It's been almost 2 years since the release of GTX 1060, the well-known mid-high-end graphics card from Nvidia. When it was revealed, it was considered somewhere in between a mid-end and a high-end GPU because it was revealed after the GTX 1080/1070, and not because it doesn't perform well at 1080p. It was easily a good replacement for the GTX 980 4GB which was considered a high-end GPU a few years back and was expected to play almost every game at 1080p ultra settings.
As more and more games get released every year, the normal expectation is that the older the GPU gets, the less likely that GPU will play the new games smoothly as compared to the previous generation games. It's because Game developers try their best to bring improved graphics and game mechanics which use a huge amount of horsepower. This makes an old graphics card struggle to keep up with the demands of the current titles.
2 years is a long time for technology to evolve and in that it is pretty obvious that the technology 2 years ago will be slower than it is right now. This made me wonder, "Does every computer part slows down in a couple of years making older technology a poor choice?". 
Although Nvidia didn't release its "Turing" based graphics cards as it was rumoured for the past few months, the Pascal architecture is still the latest from Nvidia and every graphics card in this series has lived up to its name. Among them, is the GTX 1060 which I tested recently to see if it has become a "mid-end GPU" from "mid-high-end GPU" in 2 years. Nvidia recently sent me their Founders edition GTX 1060 6GB which I coupled with my i5 6600K(Again a 3-year-old technology) to see if we can still play all the games at 1080p ultra settings with 60+fps. So, this is not a review but a test of a 2 years old technology which people might think have gone below the standards.
GTX 1060 Specs
| | |
| --- | --- |
| GPU Architecture | Pascal |
| NVIDIA CUDA Cores | 1280 |
| Frame Buffer | 6 GB GDDR5 |
| Memory Speed | 8 Gbps |
| Boost Clock | 1708 MHz |
TEST RIG
CPU: Intel Core i5 6600K
Motherboard: MSI Z270 PC Mate
CPU Cooler: Arctic Freezer 33 eSports One
RAM: Corsair Vengeance LPX 2400MHZ(2x 4GB)
Storage: 320GB+500GB WD HDD
PSU: Antec VP450
Cabinet: No cabinet(Open environment)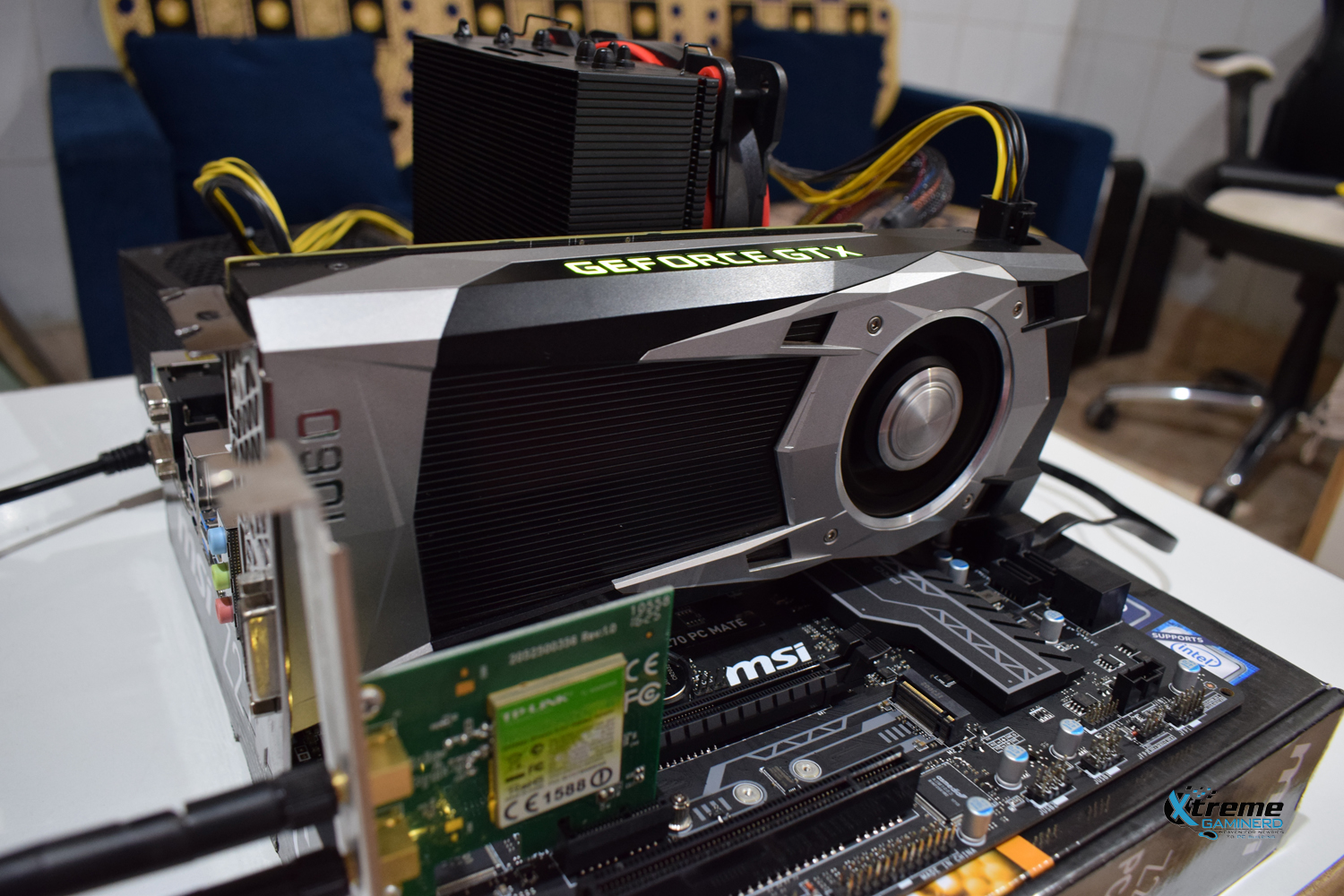 Games Tested
While there are endless possibilities of testing games with a particular RIG. I chose 4 games that put different types of load on a gaming machine. This not only makes the benchmarks interesting but also gives you an idea of how a machine will perform in similar games.
1. The Witcher 3- Puts stress on CPU+GPU
2. Playerunknowns Battleground- Puts stress on CPU+GPU
3. CSGO- eSports game
4. Rise of the Tomb Raider- Puts stress on GPU
These 4 games except PUBG even though are older than the GTX 1060, are still good titles to test a GPU. I have several other GPU intensive games that could be tested like DOOM 2016, GTA V,  Shadow Warrior 2 and Some Casual games like Tekken 7, Friday the 13th, Rocket League etc. but I think that these 4 will be enough for this test.
Of course, when games like Battlefield V and Shadow of the Tomb Raider get released, I will be testing them with GTX 1060 to see whether it can provide 60+fps on max settings.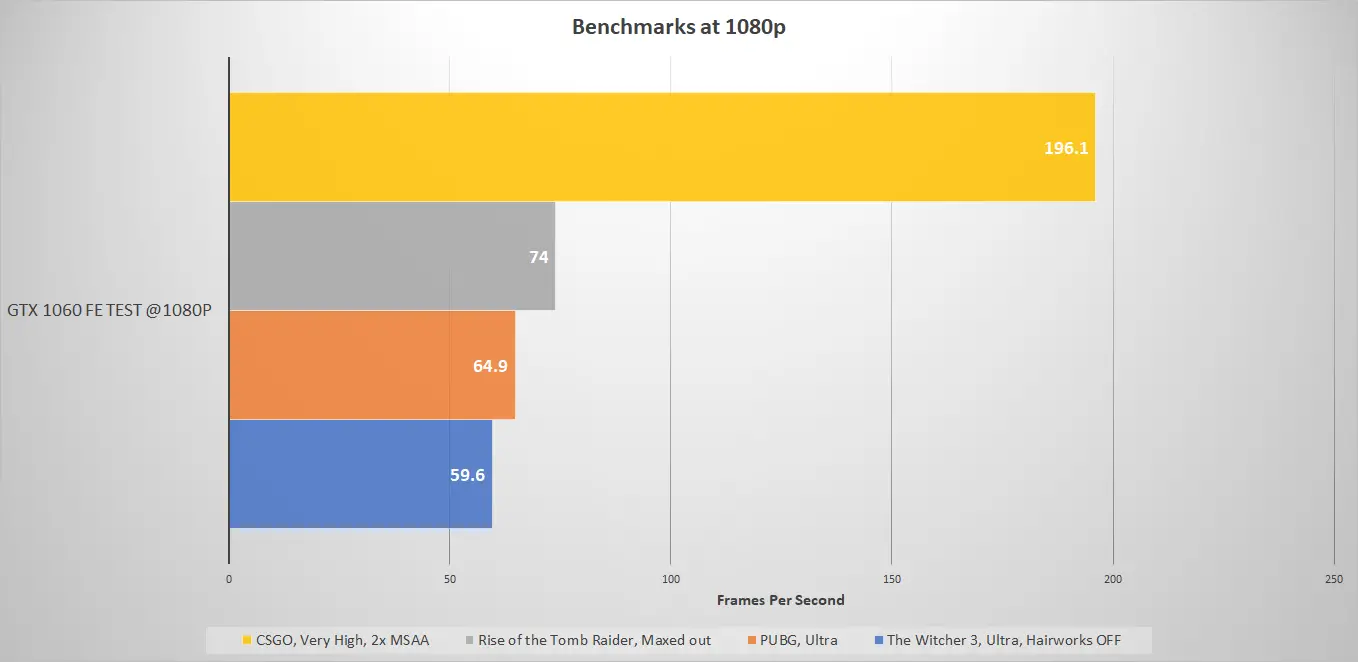 I didn't overclock anything. Everything was set to default including the CPU, Memory and GPU. Still, every game was able to hit above 60fps on an average on max settings. PUBG, in particular, was very successful in the test. Not a single time, I dipped below 60 fps in the game and it was buttery smooth at all times. As this game is very stressful to both CPU and GPU, GTX 1060 passed the test successfully.
eSports game like CSGO, CPU+GPU intensive game like Witcher 3, GPU intensive game like ROTR, all were running without breaking a sweat.
Conclusion
If you thought that GTX 1060 may have been below the current standards, then you need to change your mind because even if we get the latest GTX GPUs from Nvidia, GTX 1060 will still not let you down in gaming. 2 years back when the GPU was released, I thought that in the next couple of years, we will need to upgrade to get 60+fps in games on ultra settings. But in my opinion, GTX 1060 can do a great job even in the next 2 years. So, if you have a 1080p monitor and a GTX 1060, I don't think you should make your mind to upgrade to a higher-end GPU. This thing is a future-proof and still the best GPU for 1080p Gaming.