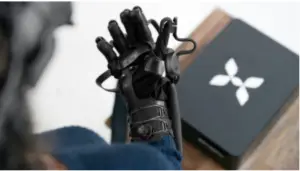 Not too long ago in November 2017, a company called AxonVR (now known as HaptX) revealed its very first product which was a set of VR gloves. They promised to replicate how things feel in the real world when coming in contact with it in the virtual space. If this project with such potential succeeds, it will definitely raise the immersion to VR to another level.
HaptX claims to use a "patented microfluidic technology" which is supposed to be capable of accurately replicating the shape, texture and movement of objects. The fluid is designed to displace your skin physically. For example, carrying a plastic bag should feel different than carrying a normal gym bag.
"I know you love to play games. So do we. Why not take a look at the best PC controllers?"
Many reviews claim to say that the haptic feedback is amazing. Even the latest HardOCP youtube video claims that they felt each and every individual raindrops. "It's not wet or anything like that, but it's perfectly timed, perfectly positioned, and your brain accepts it," said Destin Sandlin, "It was the exact moment I realized that they've done something amazing."
Later in the video, Sandlin states that the actual main part of the overall experience is the force feedback. Things such as the pulling back of his finger as he grips and pulls on a windmill helps him discern between heavier and harder objects.
On the palm, there lies a 120 sensor which is enough to make people shocked when they found out how stimulating it could be. HaptX tested it by having a simulation of a spider crawling across their hand and questioned the people on what they felt.
The progress is heading towards the right direction but there are still some improvement areas to work on. The glove itself is pretty big and requires a bundle of thick cables connected to it. This will need to be a bit of refinement before they can hope for any kind of mass appeal. Of course, assuming that it will be affordable.