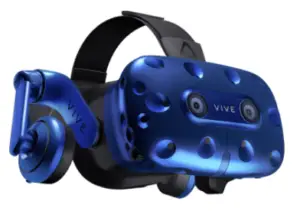 The HTC Vive Pro has been recently gaining popularity among the virtual reality communities. With that said, HTC has redesigned their Link Box. It shouldn't be a huge update and improvement in performance but rather a minor change. This new version has a power button added to it but in return, it loses an HDMI connector.
The Vive Pro was announced at The International Consumer Electronics Show earlier this year. Following the announcement came an increased resolution, dual microphones, dual front cameras and integrated headphones with built-in amplifier. All these features aim to allow creators to expand on new and creative ideas.
"Playing VR games with a controller is fun. Try these Controllers"
The reason the Link Box exists alongside with the HTC Vive Pro is to provide the power needed to the headset and allow connectivity via Bluetooth. It also makes life easier for the people who use more than just one headset. The original version is compatible with the Oculus Rift and mixed reality headsets so we assume that the new version will also work well. Some photos of the new Link Box has been shared on Twitter by Steve Bowler from Cloudgate Studio. A new power button and a mini DisplayPort is clearly seen in the photos.
The original version of the Link Box also has a mini DisplayPort but on the newer version, it is the only option for display input since the HDMI connectivity is removed. Another cool and simple thing HTC did was that they labelled with clear text the sides for connecting the headset and the side that goes to the computer. It aims to make the Link Pro more user-friendly. The removal of the HDMI port should not be such a problem since many graphics card can work with more DisplayPort connections than HDMI connections.