Xtremegaminerd.com is a participant in Amazon Associate Program and is supported by the readers. The qualifying purchase you make through our links may get us some commission and doesn't cost you an extra penny.
---
In the war between AMD and Nvidia for the past years against the domination of computer graphics market, Nvidia undoubtedly is one step ahead of its archrival AMD. Both of these brands have different marketing strategies and Adaptive Sync which is branded as FreeSync by AMD and G-Sync by Nvidia is one of them. It is a technology for improving GPU performance by ensuring that each frame of data is presented to the monitor as soon as it's ready and if this technique is absent then games will either have screen tearing (if V-Sync is disabled) or they may repeat frames of animation while waiting for a frame that isn't ready yet. And if the same thing happens frequently in a row it will create a visible stuttering effect as the game will be skipping the frame it was unable to display and will move forward with the next frame and this skipping of frames is known as Stuttering.
Manufacturers like AMD and Nvidia have come up with certain solutions to overcome this particular problem, however, their solutions are not alike. AMD's FreeSync is indeed a nice solution and moreover, it is absolutely free, but on the other hand, G-Sync, as named by Nvidia, comes with a premium price point and display monitors that supports G-Sync have a price difference of around $200 than its counterpart. The cheapest FreeSync supported panel will cost roughly $110 while the starting range of a G-Sync supported monitor costs around $330. Nvidia is the first to develop the G-Sync using a custom silicon as desktop monitors don't come with a controller which will allow it to accept variable refresh rate. But as AMD came with the FreeSync solution, there's no reason for Nvidia to make it exclusive but due to its dominance over the market, they are forcing users to go for the G-Sync capable monitors.
However, these factors might soon get changed as three years back. Intel confirmed that they are intending to support the AMD FreeSync which is also known as VESA Adaptive-Sync and in current time they are working on their discreet GPU which might come with the VESA Adaptive Sync. Out of curiosity a fan of Intel's discrete GPU asked Intel's Chris Hook, Director of Marketing, Discrete Graphics and Visual Technologies about their plan of supporting Adaptive-Sync and according to his response, they will.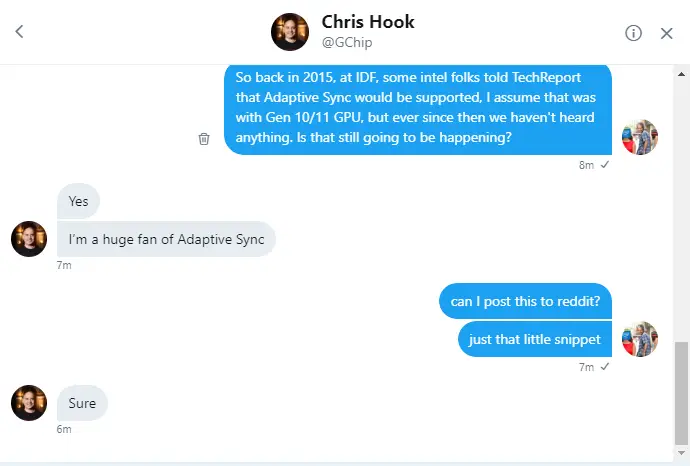 If the upcoming discreet GPUs of Intel are able to perform well in term of their performance and features and make room for Intel to provide a tough fight with the other two manufactures then there might be a situation where Nvidia's G-Sync will be forced to follow the trend. And now we need to keep patience till Intel releases its GPU's. Afterall who wants to buy a monitor depending on their Graphics Card?