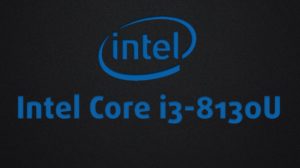 Specs of the new Intel Core i3 8130U have been revealed and the specs of this particular chip look impressive and may give AMD a good competition in the market of budget Laptops. AMD recently revealed about their Raven Ridge chips that ranged from 2 cores to 4 cores and 4 threads to 8 threads respectively.
Now, the common thing between the i3 8130U and the AMD Raven Ridge chips like Ryzen 2200U and Ryzen 2300U is that they all have a TDP of 10-15W which is very power efficient and will consume very less power compared to the previous generation. I3 8130U as compared to its predecessor i3 7130U will have a higher range of clock speeds. While the i3 7130U was locked at 2.7Ghz, the i3 8130U is clocked at a base clock of 2.2Ghz which is much lower but provides the boost clock up to 3.4Ghz.
Also, it has been equipped with One more MB cache memory. The more the cache memory, the faster will be the CPU but all the other specs are identical, especially the Intel HD graphics 620 having the same GPU frequency of 300-1000Mhz. You can know more about the specs of i3 8130U here.
As there has been a shortage of graphics cards and the trend of building a PC on your own is declining, Gaming Laptops and pre-built PCs are right now a good alternative. In times like these, if AMD and Intel release processors like these and prepare for more Mobile devices, then we may see some people shifting towards Laptop gaming but as soon as the market becomes normal in terms of availability of graphics cards, It's more probable that PC gamers who love to build computer on their own would go back to their favourite thing.