Recently we saw an Intel Coffee Lake H i7 processor on SiSoftware.net that outperformed its previous generation i7 processor by 35%. Now, we again have information about one more processor that is going to be used in mobile devices i.e., laptops. This new chip is Core i5 8269U. It was first rumoured that the chip is Cannon-Lake U but Wccftech confirmed that it's the Coffee Lake U and is based on 14nm++ architecture.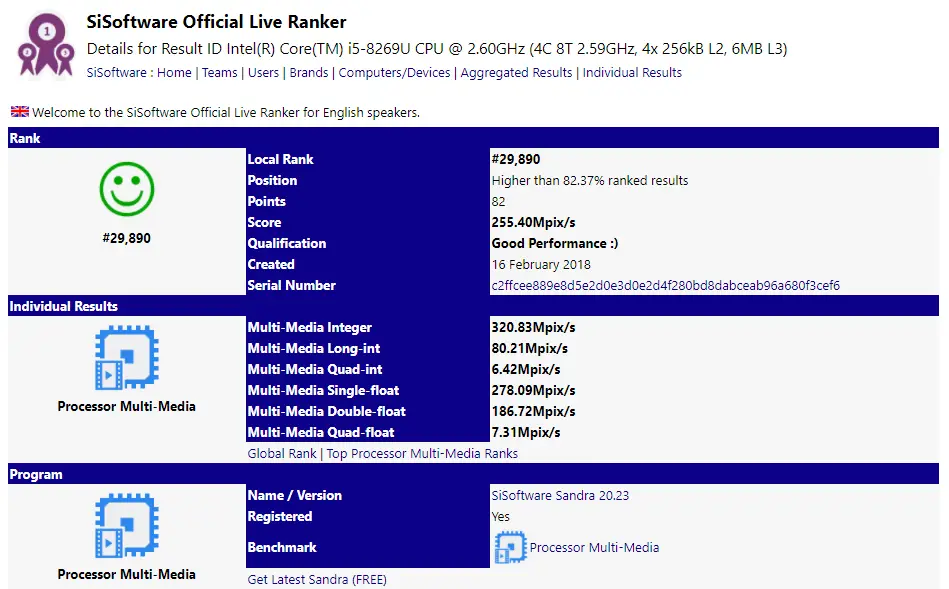 The processor's performance is leaked on SiSoftware where we can see the benchmarks. The processor scored 255.40Mpix/s overall and is qualified as a "Good Performer". The specs of this CPU shows that it is a four core and 8 thread CPU which is equivalent to a traditional Skylake/Kabylake i7 processor in terms of core/thread count. The base clock of this chip is, however, faster than most of Core i5's used in mobile devices and sits at 2.6Ghz. Boost clock is unknown and we don't have any data about it currently.
The processor has 6MB of L3 cache and 4x 256kb of L2 cache which is very similar to the desktop version of Core i5s of previous generations. This chip should be available soon in laptops as new processors are being introduced from both Intel and AMD and the competition between these two is getting tougher.
Related Topic:- Asus targets to sell 2 million laptops this year.