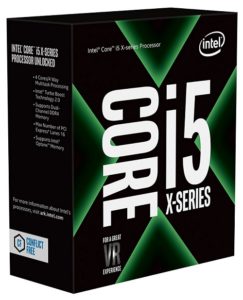 Intel in what turned out to be one of its biggest decisions has retired its quad-core Kaby Lake-X processors before it could have completed 12 months. Alongside multi-core Skylake processors, Kaby Lake represents the optimized step of the newer "process-architecture-optimization" mode and  Microsoft officially supports Kaby Lake on computers running Windows 10 per support policies.
The company has revealed their plans for the chips End of Life(EOL) status. In an announcement, the Core i5-7640X and Core i7-7740X have been discontinued with the end of line dates in a document. The chips were designed within the interest of the marketing strategy as the chips were capable of delivering incredibly impressive overclocking performance. The reason which enforced Intel to finalize the discontinuation of the chips was due to the poor sales and the kind of response it got from the market.
AMD's Ryzen and Threadripper chips have already broken through in the market with excellent reviews and with such great deal, Kaby Lake-X processors will be succeeded by 8th-gen Coffee Lake CPUs as per the paperwork stating that "Market demand for the products listed in the 'Products Affected/Intel Ordering Codes' tables below have shifted to other Intel products".
Related:- Best Processors for Gaming
As recommended by the experts, you shouldn't buy the Intel Core i5-7640X and Core i7-7740X which remains available on Amazon since Skylake-X and 8th-gen Core processors have already outperformed these along with AMD Ryzen and Threadripper chips. Instead of choosing a pricey one, go for Core i7-8700K costing $350 on Amazon or better if you love AMD, then Ryzen 2700X should be the priority.