A few days ago we reported that the latest 9th Gen Intel Core i7 processor is going to drop the hyperthreading and will increase the core count. On the other hand, the Intel Core i9 9900K will bring 8 Cores and 16 Threads on the mainstream desktop. As the launch of these processors is near, we have some leaks about their performance and specs.
"Check out the Best Gaming CPUs in 2018"
Intel Core i9 9900K although looks similar to the Ryzen 2700X on paper in terms of Core and clocks but the latest benchmark leak on 3D Mark shows that it's way faster than the 2700X. The CPU score in the Time Spy benchmark for the i9 9900K is reported to be 10,719 points while the score of Ryzen 2700X is 8,405 points. Similarly, it beats the Intel Core i7 8700K by around 2500 points. This shows the capability of the Intel 9th gen processors but what I am interested to see is the benchmarks of the Core i7 9700K and i5 9600K because there are some big changes done to the i7.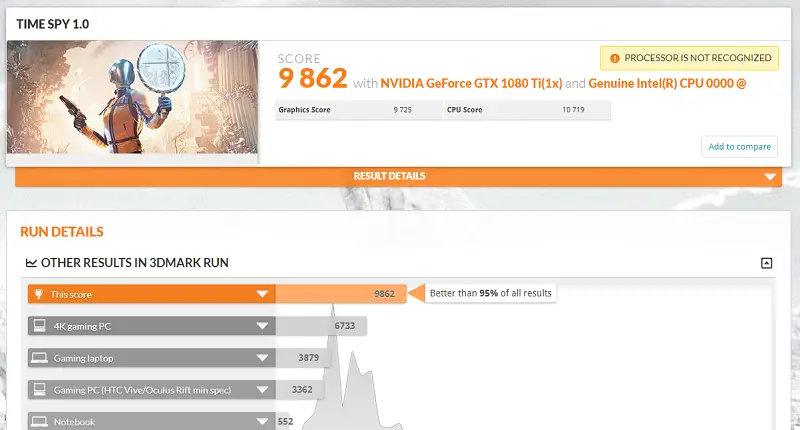 The i9 9900K is although clocked at a base clock of 3.6Ghz and a boost clock of 4.7Ghz on all cores, the benchmark chart shows some different specs. On the leaked page, it doesn't mention the model number of the processor because it is not yet in the market officially. The base clock shown on the page is 3.1Ghz which is 500Mhz slower than the reported specs we mentioned before. Either it means that the 9900K was benchmarked after downclocked or it may also mean that the real base clock of the 9900K is 3.1Ghz because who would want to benchmark after downclocking?
I am not 100% sure about the report but as many sites have reported it, we don't have any other option except to accept the leaked benchmark. It was tested on a ROG STRIX Z370-F GAMING motherboard which shows that it is compatible with the motherboard using 8th gen Intel processors. It's a much-needed thing because most of the time Intel just releases new processors that don't fit or work on older boards. By this, the builders will be able to upgrade without changing their fully working motherboard.
So, what do you think about the latest i9 processor?