Xtremegaminerd.com is a participant in Amazon Associate Program and is supported by the readers. The qualifying purchase you make through our links may get us some commission and doesn't cost you an extra penny.
---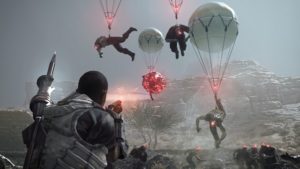 With the recent release of Metal Gear Survive, a game developed by Konami, there have been many controversial topics about it already. Taking into account the latest news about microtransactions, players have been enraged upon discovering that if they wanted an extra save slot in Metal Gear Survive, it was going to cost them $10.
Back in 2015, long time Metal Gear fans may have still not forgiven Konami for the way the series creator Hideo Kojima left the company. The studio announced Metal Gear Survive around six months later. The game has had fairly mixed reviews when it came out of beta a week earlier.
Additionally, many have complained about the dull gameplay with annoying survival mechanics and unrefined combat. This has caused a lot of controversy about Konami's desire to earn as much money as possible from the buyers. The game itself comes with a single character save and to unlock extra slots, the player must use the in-game currency "SV coins."
The pricing starts at $0.99 for 100 coins and it goes all the way up to $49.99 for 6000 SV coins. As mentioned earlier, the extra save slot will cost 1150 coins which is the equivalent to $9.99. Cosmetic items and character/experience boosts can be bought with the coins similarly to other games with microtransactions. However, most titles allow you to earn the currency through normal gameplay but Metal Gear Survive does not. Note that they do however award you with a bit of coin for logging in.
Many players, however, argue that since Metal Gear Survive only costs $40 instead of the usual $60, the extra $10 for a save slot isn't a big deal and is not a move motivated purely by greed. Some also say that one save slot is more than enough so getting another one is not worth it.
Metal Gear Survive is currently available on the following platforms: Windows, PlayStation 4 and Xbox One.