Recently I was digging on the internet as I was going to get a new keyboard and mouse as my existing keyboard was submitted for RMA. I was looking to get my hands on a mechanical keyboard if along with it I was also searching for a wireless mouse but the same should have certain features which include nice response time, along with some configurable switches and most importantly the power efficiency should be good.
.And after searching for quite some time and searching through a lot of products, I came around the Logitech G603 first and after having an in-detailed look at its features and specification, I came to the conclusion that this one will be able to satisfy my needs.
But in the case of the keyboard, I was not able to make my mind up and was thinking of getting my hands on Corsair K68 but then again I was thinking about how the mouse and the keyboard will perform side by and I don't have any doubts about their performance either but it seems that I was not able to accept them as one.
However, I came around a Logitech keyboard but it was wireless but the specification was exactly the same as what I was looking for, it was the Logitech G613. However, I was in real doubt about its performance, response time, and other features. But at last, I decided to give them a try and in this review, I will try my best to evaluate their performance which might be helpful to users who are trying to get a new keyboard and mouse.
So let's start with the mouse first. Logitech G603 was released back in the year 2017, but if one is looking for a wireless mouse with nice specifications and features and at the same comes within budget. Priced at $65, the Logitech G603 comes with a superior battery life of 500 hrs and also offers a max DPI of 12000. It is equipped with the latest revolutionary HERO sensor from Logitech and LIGHTSPEED wireless technology which provides accurate and consistent performance.
HERO sensor is the latest optical sensor from Logitech G which is capable to deliver superior performance and also has power efficiency 10 times that of previous-gen sensors. Being equipped with LightSpeed Technology, the G603 is capable of delivering wired mouse-like performance eliminating the problems of latency, stability, and connectivity. Moreover, the G603 offers multiple connectivities (LightSpeed and Bluetooth) on the go which allows to connect and control multiple devices just with the press of a button.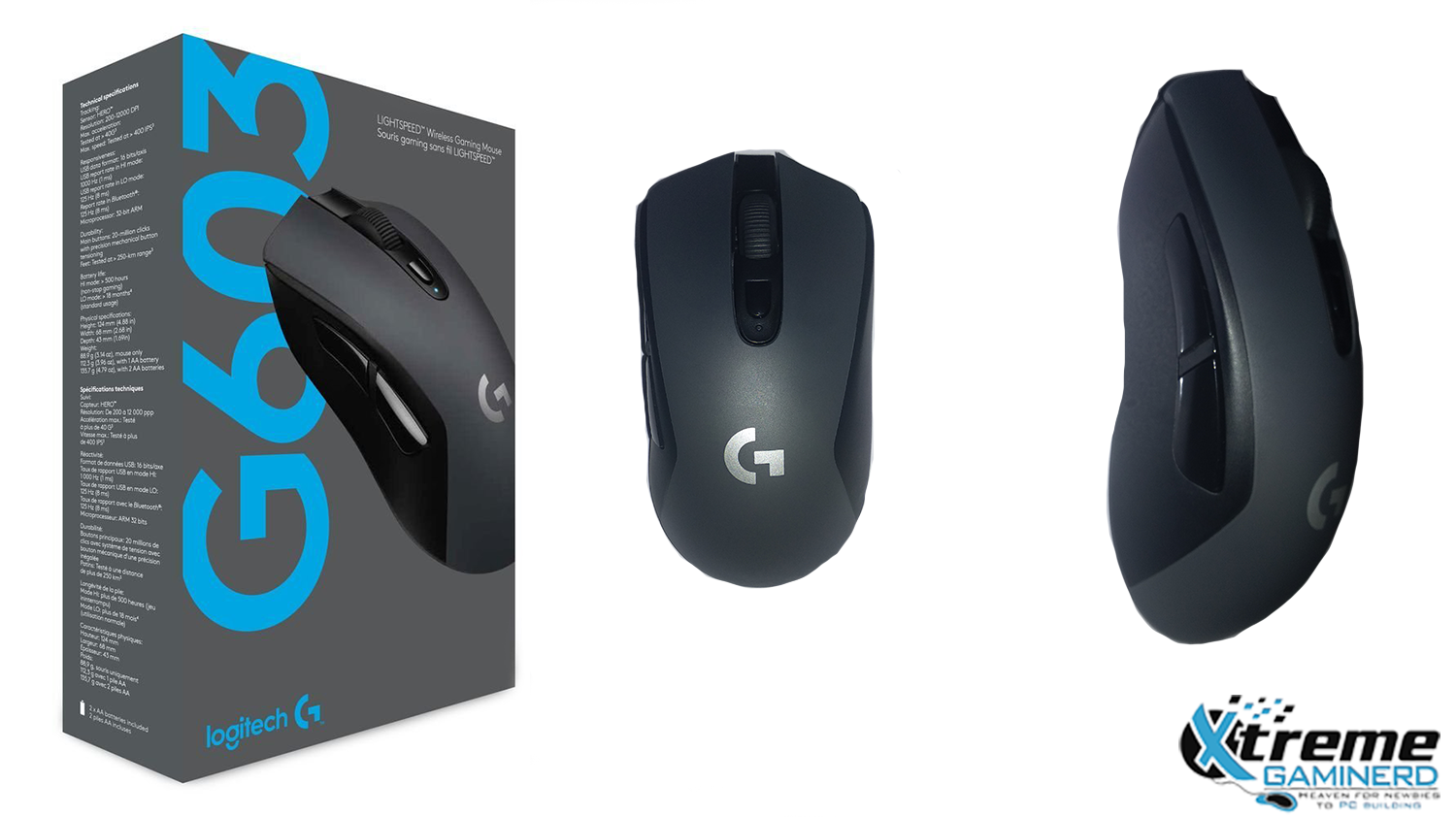 The mouse comes in a nice package that contains the mouse itself along with two AA Batteries, an extender cable, a wireless receiver, and user manuals. The mouse has a magnetic cover which is easy to remove and is needed to insert the batteries. After installing them, I was surprised at the weight of the mouse but the extra weight didn't bother me too much.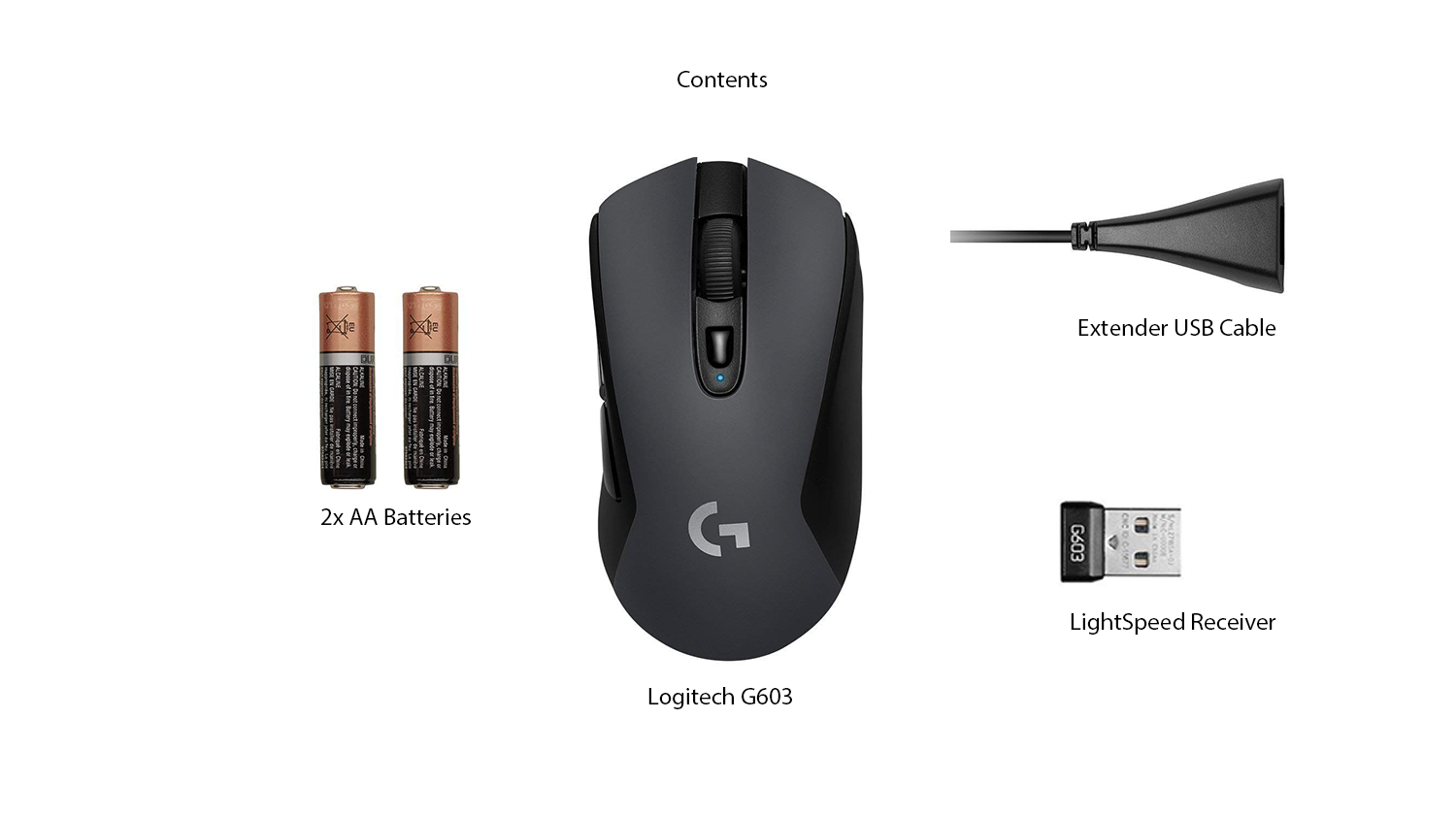 The G603 comes with six programmable buttons including a DPI shifting button and these buttons can be configured according to the user requirement through the Logitech Gaming Software. The on-the-fly DPI shifting key offers up to 5 levels ranging from 200 to 12000.
The G603 comes with an advanced power management button where you can switch between HI and LO mode, selecting the HI mode will make the mouse run on 1ms in LightSpeed allowing swift response and with this setting, one can enjoy up to 500 hours of non-stop gaming. If the setting is set to LO mode then the mouse will run on a report rate of 8ms offering more battery life which according to Logitech is 18months. The most awesome thing about the mouse is that if you remove one battery it will still be fully operatable and will also reduce the weight of the mouse.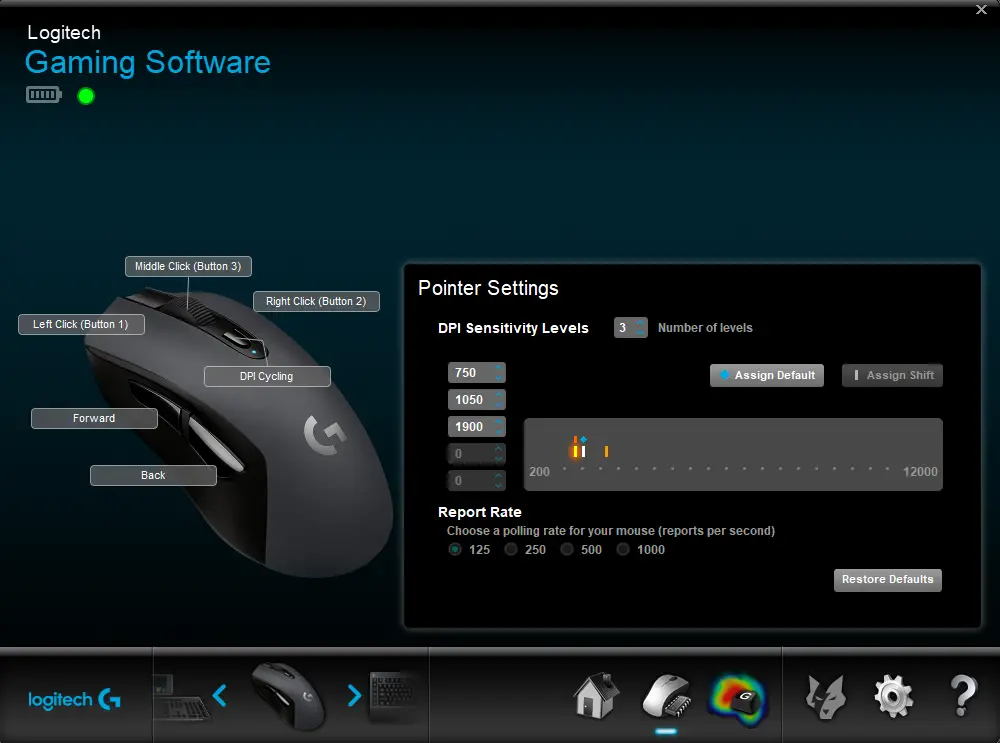 After using it for almost two days both in the case for gaming as well as normal work purpose, I can definitely say that the mouse performs really well and I don't have any issues with its weight. I tried playing Counter-Strike Global Offensive, and it really performed beyond my expectation. However, for users who prefer a light mouse, it will be better for them to look for an alternative. The G603 doesn't come with a charging option but in this price range, the mouse is perfect.
Now let us move on to the Keyboard, the G613 from Logitech. The G613 was also released back in the year 2017 and is priced at $106 which is a bit higher according to me but luckily I was able to get this one for $80 from a local store. The  G613 comes with Logitech's ROMER-G Tactile mechanical switches and they come with 70 million life cycles. The ROMER-G keys also come with shorter actuation of 1.5mm which means they are faster than that of standard mechanical switches but without any compromise on performance.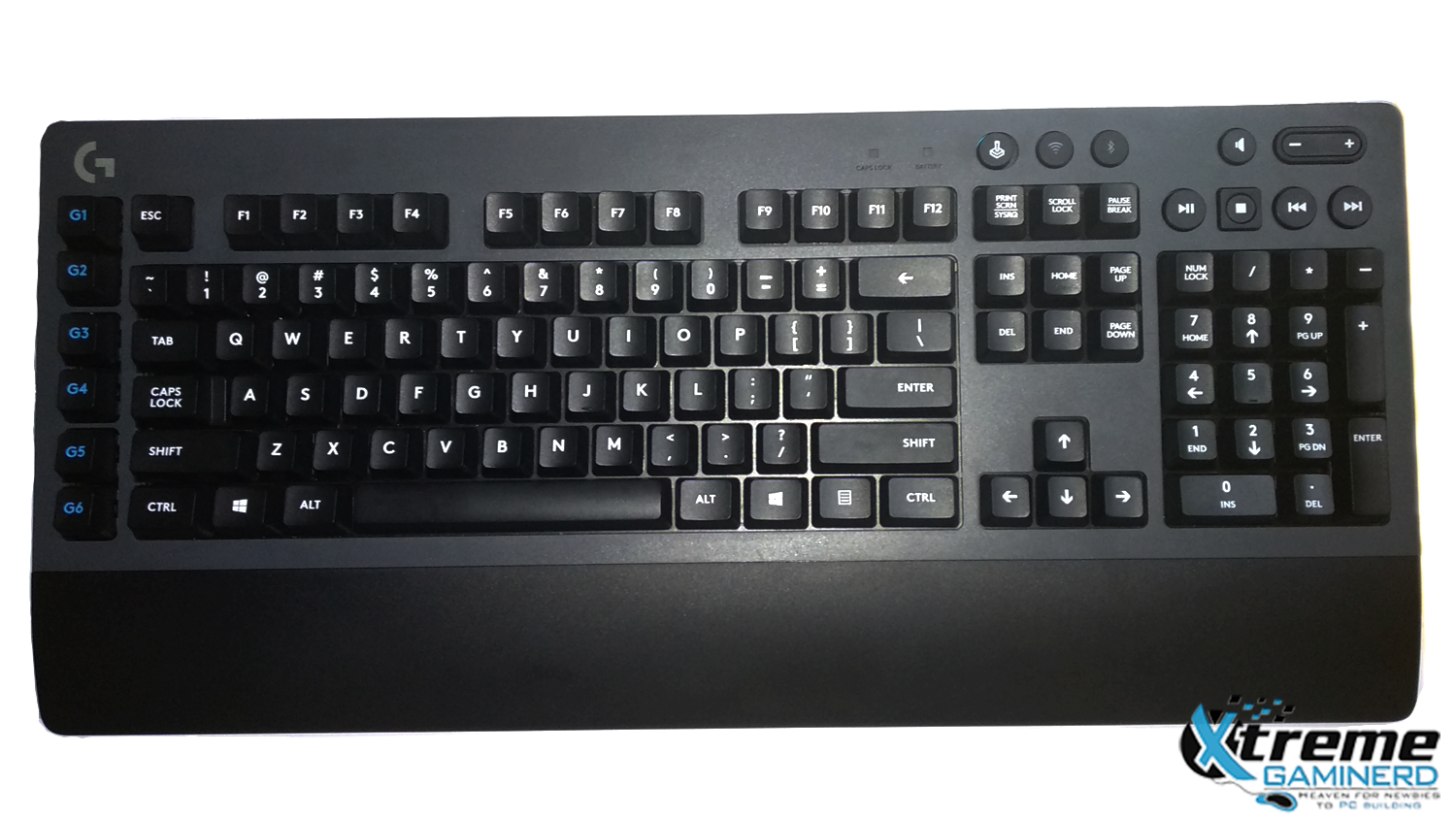 According to Logitech, the ROMER-G switches are the perfect combination of speed, precision, and quiet performance. Like the G603, the G613 keyboard can also connect with multiple devices via LiightSpeed and Bluetooth connectivity which allows one to swap between the devices with the help of a dedicated button. Being connected with the LightSpeed the response time that the G613 offers is 1ms which is indeed good. Apart from these, the Keyboard is equipped with 6 G-Keys that can be programmed via the Logitech Gaming Software.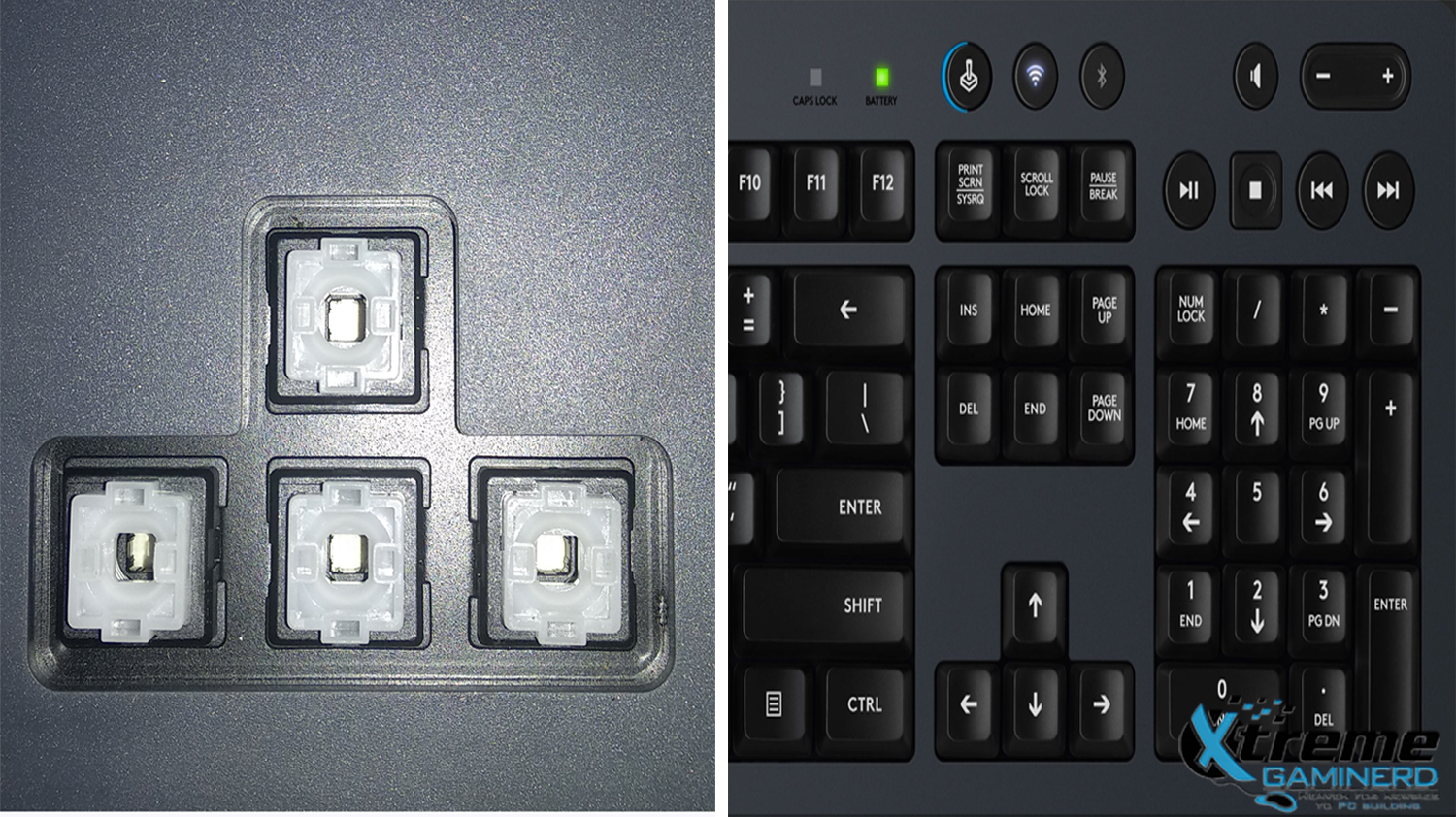 The G613 comes in a huge covering and on unboxing the package, one will find the Keyboard along with a separate box that contains the extender USB cable along with a smartphone stand. Upon a quick look at the keyboard, I was a bit worried due to its massive size as the length of the keyboard is almost equal to that of my 24-inch Monitor. According to Logitech, the G613 has a battery life of 18months and when the battery efficiency level hits 15% both the Battery indicator on the keyboard and the LGS will give you a notification about it so that you will be able to replace them before they drained out completely.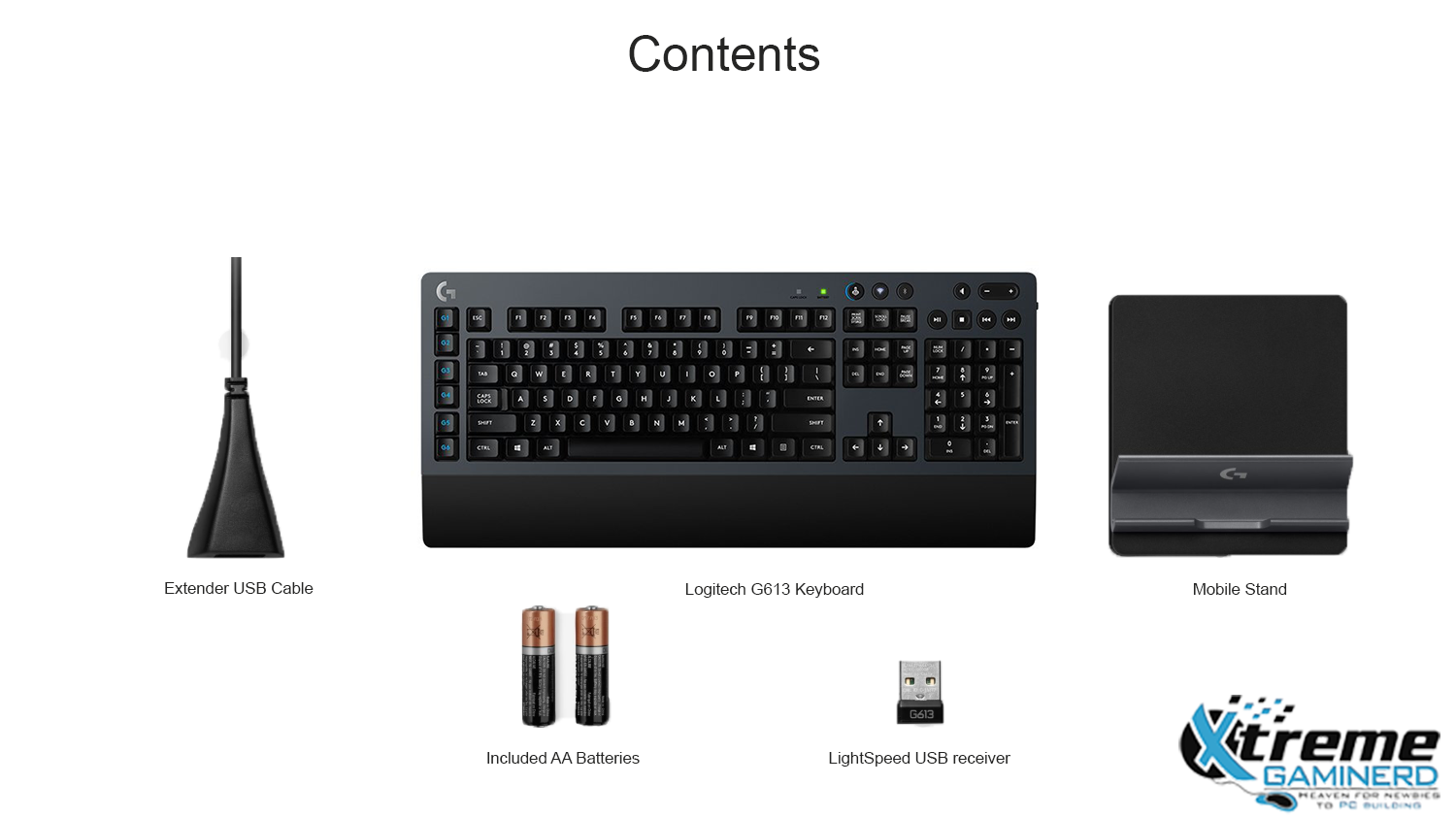 The G613 has a power button on the right side along with dedicated media control buttons and a volume rocker as well as a mute button for your convenience. It also comes with a detachable wrist rest but I would have preferred it more if it was removable. Underneath it is equipped with a rubberized pad to prevent any unwanted movement of the keyboard while you are under extreme action.
The keyboard, if left ideal for a certain period of time, automatically goes to sleep mode which helps to preserve the battery. The build quality of the keyboard is satisfactory however in this price range many of us would like to have some more features such as the inclusion of a USB pass-through, detachable wrist rest, and some little illumination. However, if it would have come with backlighting, the battery life would have been reduced to a much extent and personally, the absence of backlighting never affected me.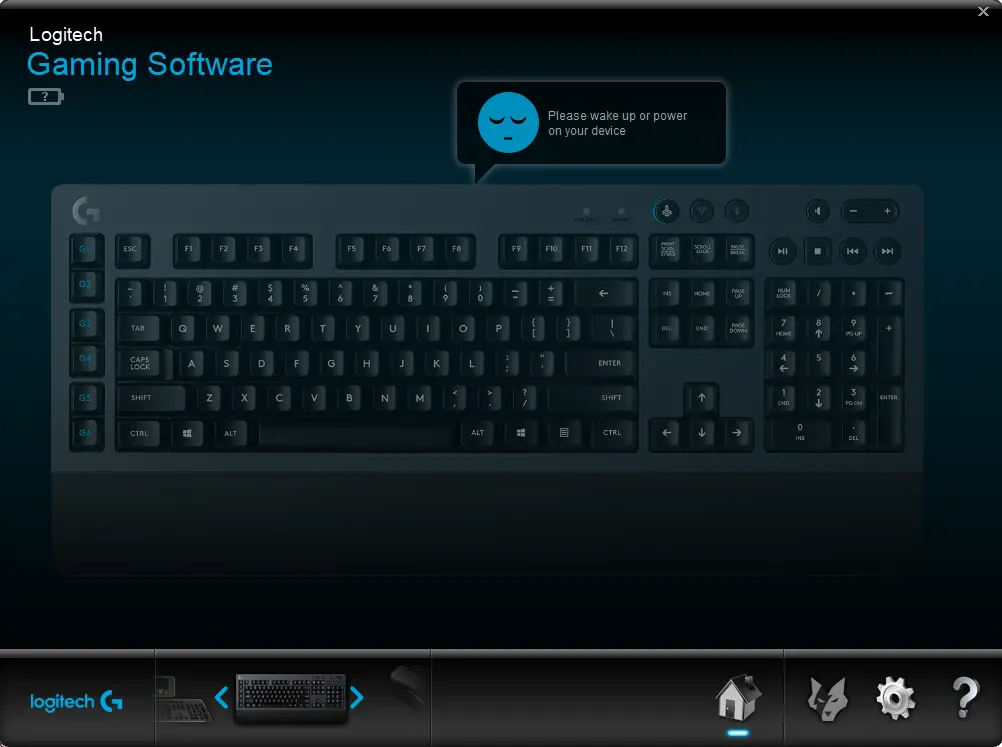 After testing it, especially in FPS games, I am impressed with its performance and I also liked its fast actuation. It is equipped with a special key that will prevent accidental windows key presses while you are playing games. It will be best if you get rid of the pre-installed batteries that came along with the keyboard itself and use fresh batteries instead.

Overall the combo of Logitech G603 and G613 is perfect according to my observation and for those who are looking for a wireless setup, this might be a perfect choice for them. The keyboard is slightly priced higher but there is at present no alternative to this keyboard and mouse combination due to its superior features at a lower price point. A point of concern about the keyboard is that one should need to consider certain facts and to start with it if you are able to get the keyboard at $80 or less that it is indeed a jackpot but at $106, the keyboard is expensive according to me and Logitech should consider the inclusion of a USB passthrough along with a removal wrist rest and also try to achieve more appealing looks due to its massive size.

Now in the case of the G603, there is nothing to complain about as at $65 there is no product that could offer an alternative to this one. It's a bit heavy but it is indeed perfect for me and there is also an alternative solution to address this issue as I mentioned earlier removing a battery will make it light without compromising its performance. Both Logitech G603 & G613 are covered under two years of warranty.

[rwp_box id="0″]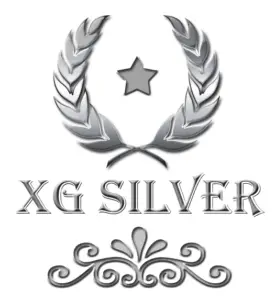 .-Know what these Awards mean