A recent report from WindowsCentral showed that Microsft and Razer are or were working together to bring the keyboard/mouse support to the Xbox One. The support was supposed to be brought in the April update of the Xbox dev kit by Microsoft as discussed between Microsoft and Razer which are present in the leaked documents. We don't know if the developers got the new update or not.
As the leaked documents showed, there were some plans that Microsoft showed on how the developers can bring the support to Xbox. In the documents, Microsoft and Razer can be seen in how they can enable the Chroma lighting support in the games which are very immersive and work according to the games.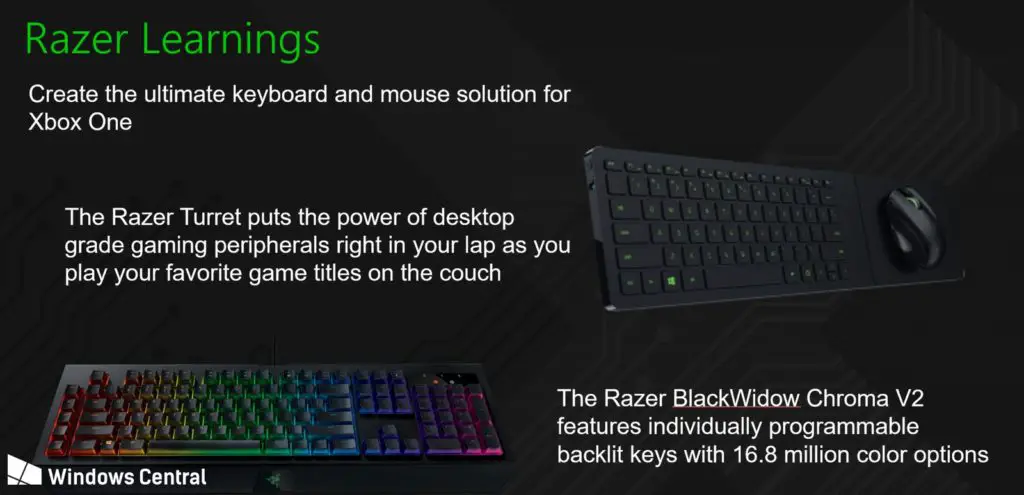 Several gamepads can work together on a single console, however, the mouse/keyboard support is only one for one console. Microsoft wanted the developers to work on the matchmaking feature according to the connected peripherals. Like if a person is playing with a gamepad should be made to play with those who play with gamepad and the same goes for keyboard/mouse user. It's for making the game fair and balanced.

The presentation also showed that all the USB mice will be supported but those which use custom drivers and those which use Bluetooth won't work through the new support. This support for the keyboard/mouse would prove a great benefit to Xbox users because games like Fortnite and Overwatch are very competitive and there is no doubt that a keyboard/mouse combo has an upper hand on a gamepad. We don't know if the new support has been cancelled or delayed but we are positive that it might happen soon.
Meanwhile, you can check out our recommendation for Best Gaming Controllers.
Full Coverage:- WindowsCentral