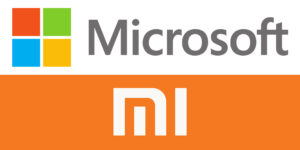 In a joint venture, Microsoft and Xiaomi have collaborated with each other to gain scale efficiencies by combining assets and operations while they are looking forward to emerging globally in the field of cloud, Artificial intelligence and hardware.
Both organizations have joined hands and signed a "Memorandum of understanding" which shows their commitment towards the technology, to access skills and capabilities and move forward on to the next level. Xiaomi in last few years has geared up their business since their overwhelming success in the smartphones market, along with that they have vigorously entered in design and development of mobile apps, laptops. In what could be there finest partnerships with global leader Microsoft, they will mark this collaboration as a stepping stone.
Xiaomi Senior Vice President Wang Xiang recently made a tweet on 23rd February while extending their support to Microsoft.
"We have signed a Strategic MoU today with @Microsoft to collaborate in cloud support, AI and laptop-type devices. This will help accelerate our pace to bring more exciting products and services to our users, and also allow Microsoft to reach more users using Xiaomi products!"
Microsoft and Xiaomi have signed agreements before in 2016 where Xiaomi bought and licensed 1,500 patents from Microsoft. The patents in the agreement aiming at wireless communications plus for technologies including video.
In the present agreement, Xiaomi will use Microsoft Azure for cloud services which can be used for data storage, computing and other software services. On the other hand, Microsoft will co-market Xiaomi laptops and other devices running on windows. Together they will have a discussion on potential AI-powered speakers using Microsoft's Cortana voice assistant.
Through this strategic partnership, Xiaomi will gain a stronghold on western markets whereas Microsoft will be hoping to gain a lost plot in the field of windows mobile and makes a strong statement in Cortana voice assistant.