Xtremegaminerd.com is a participant in Amazon Associate Program and is supported by the readers. The qualifying purchase you make through our links may get us some commission and doesn't cost you an extra penny.
---
The Ryzen 5900X is currently one of the fastest processors available that is perfect for content creators and enthusiast gamers. Unlike the older generation processors, it is priced reasonably well and has ditched most processors into the dustbin for its price.
While it is an overkill for gamers, if you are a professional who likes to game in the free hours, the 5900X will never disappoint no matter what the game is. It comes with 12 cores and 24 threads with a base/boost clock speed of 3.7GHz/4.8GHz. The total cache memory available is 70MB and TDP is only 105W. We already know how Zen 3 is improved to utilize all the cache memory directly and adds 19% more performance over Zen 2 based processors.
Considering the specs of this chip, you can expect uncompromisable performance in CPU-oriented applications and gaming at high resolutions. As the processor is also overclockable, you can increase the clock speeds to 5.0GHz if you know how to do it correctly. For doing this properly, I don't recommend going with any random X570 motherboard as it will be tantamount to limiting the performance.
12 cores are a lot and a decent amount of heat generation should be expected. A motherboard with solid VRM should handle it properly and currently, there are a dozen of great high-end X570 motherboards to choose from. I listed a few among them which I believe should do the task in the best way possible giving you ample headroom for overclocking and additional features on top.
Best value- MSI MEG X570 Unify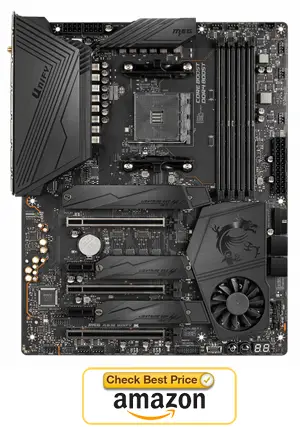 MSI MEG X570 Unify stands out among all the X570 boards due to the value for money it has to offer. It can be a perfect combination for 5900X due to the availability of handy tools required for overclocking. Generally, the handiest tools for overclocking are onboard troubleshooting features which include LED code display, Debug LEDs, and Power/Reset buttons. All of these can be found on it that helps in trial and error while overclocking.
Also at the I/O, you will find a Clear CMOS button for resetting the Bios and a Flash Bios button to upgrade to a newer version along with 8x USB ports most of which are USB 3.2. The board luckily also has inbuilt Wifi adapter which is the latest Intel Wifi 6 AX200 that supports up to 2.4Gbps of internet speed and a Realtek 2.5G LAN near it for those who prefer going wired.
It features a robust PCB layout with a solid 12+2 power phase VRM with IR3555 60A power stages for handling higher currents. Over the VRM are grooved heatsinks that allow proper airflow and won't need additional care. There are 3x PCI-E x16 slots for graphics cards which support SLI as well as CrossfireX and 2x PCI-E x1 slots allow installation of expansion cards.
For storage, there are 3x M.2 connectors for fast SSDs but there are only 4x SATA ports which are comparably fewer than most X570 boards on the market. Generally, most users don't require a lot of SATA ports and with the current trend of using fast SSDs, it's more likely that the use of SATA ports will only decrease.
Recommended- Asus ROG Strix X570-E Gaming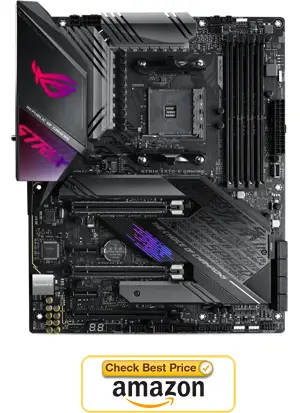 There is no doubt that Asus has been making one of the best overclocking boards for high-end processors for ages and currently has a couple of enthusiast-level boards for overclocking CPUs like 5900X. This is an exceptional board for overclocking due to the high number of power stages it contains and the rugged design it features comes with RGB lighting too.
It uses 16 power stages using the doubling method with the IR3555 60A power stages that are capable of handling strong overclocking without breaking a sweat. Heatsinks on the top feature RGB ROG and STRIX logos while doing the job of controlling VRM temperature perfectly.
At the I/O are 7x USB 3.2 Gen 2 ports and a USB 3.2 Type C port for connecting your peripherals. For wireless internet connectivity, Asus has equipped it with Intel Wifi 6 adapter which supports high data bandwidth and if you opt for reducing the input lag you can go with the Intel Gigabit 2.5G LAN.
For detecting errors or malfunctions, you can utilize the Asus Q-Code and Asus Q-LED and to upgrade the BIOS, a BIOS Flashback button is available on the I/O. Unfortunately, there are no onboard buttons such as Power/Reset buttons which I believe are one of the most important things for an overclocking motherboard like this but if you prefer switching On/Off the system from the chassis front panel, then there is no need of those.
Related:- Best motherboards for Ryzen 7 5800X
Enthusiast- Gigabyte X570 Aorus Master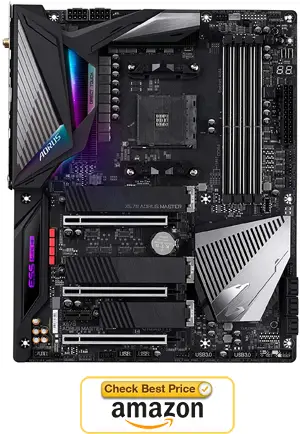 X570 Aorus Master is a top-class Tier 1 choice for overclockers under $400 that is packed with every feature an overclocker would require. It is robust in design and contains distinguished heatsinks over the VRM that are limited to a few motherboards.
The VRM consists of 14 real power stages without any doublers and uses IR3556 MOSFETS rated at 50A. The heatsink over the VRM is what makes it special for overclocking as it allows a lot of air to flow to avoid heat build-up. Over the VRM is an I/O cover which features RGB lighting that extends to the Audio section and the board is also rid of unwanted chipset heatsink.
At the top, you will find Power and Reset buttons for handy use and also 2x BIOS switches as it features dual BIOS that is another great addition and very helpful for overclockers. To detect the causes of malfunctions, there are Debug LEDs and a LED Code display as well which completes the onboard troubleshooting requirement.
For upgrading the BIOS, you can use the Q-Flash Plus button at the I/O and in case something goes wrong, you can hit the CMOS Clear button beside it. The board just like the above ones, come with Intel Wifi 6 adapter but with dual LAN ports supporting 1G and 2.5G speed respectively.
No-Compromise- MSI MEG X570 GODLIKE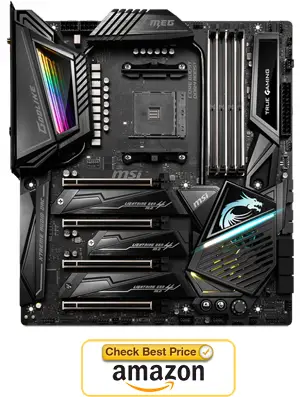 MSI MEG X570 GODLIKE is a killer board in performance and comes with a premium cost of $700 as the features are too superior compared to the Tier 1 and Tier 2 motherboards. This board is enough even for a Ryzen 5950X having 16 cores and can take 5900X to its full potential.
It features an 18 power phase VRM that is achieved using Infineon IR3599 doublers and TDA21472 MOSFETS rated at 70A which means the board can support very high current for stable overclocking. The VRM heatsinks are although not very big but use copper heat pipes beneath for passive cooling.
The board has so 4x PCI-E x16 slots that support 2 way SLI and 4 way CrossfireX which adds to the upgradable capability of this board which looks great but frankly isn't recommend unless necessary for various reasons. As the board is capable of supporting high-end components, you can try whatever highly clocked memory you want to, either to reach a new record or to take your system to its full potential.
For aesthetics, it has RGB lighting almost everywhere and an OLED display panel beside the DIMM slots that can show the system status and custom logos or animations. For internet connectivity, it provides the best of the technology with Killer 2.5G Gigabit LAN, Wifi 6 adapter, and Killer Xtend. The board also comes with additional peripherals such as Wifi antenna, 10G Super LAN card, M.2 Xpander Z, Corsair RGB LED expansion cable and RGB cables.
This board is overkill and in my opinion, you will be ok with any of the boards above it but if you truly need or want all the additional features that come with this board, then you are most welcome with your choice.