Intro
Xtremegaminerd.com is supported by the readers. The purchase you make through our links may get us some commission and doesn't cost you an extra penny.
---
MSI is not into making CPU coolers but it has started recently and has provided a great CPU cooler for all Intel and AMD platforms including AM4. The cooler is a mid-end budget CPU cooler which costs $50 featuring good aesthetics and differently designed heatsink than its rivals from Cooler Master. Let's see if this unique designed heatsink can deliver some good performance or not.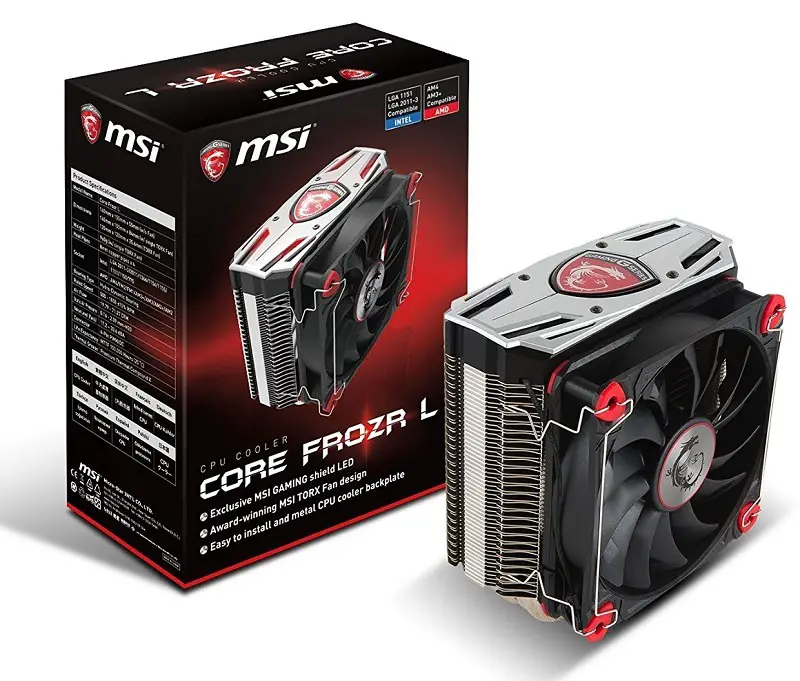 SPECS:-
WEIGHT
960 g (w/ single TORX Fan)
DIMENSIONS
140mm x 155mm x 55mm (w/o Fan)
140mm x 155mm x 84mm (w/ single TORX Fan)
120mm x 120mm x 25.6mm (TORX Fan)
SOCKET INTEL
LGA 2066/LGA 2011-3/2011/1366/1156/1155/1151/1150/775
SOCKET AMD
AM4/ FM2/ FM1/ AM3+/ AM3/ AM2+/ AM2
BEARING TYPE
Hydro-Dynamic Bearing
RATED SPEED
500 – 1800 ±15% RPM
AIR FLOW
19.79 – 71.27 CFM
STATIC AIR PRESSURE
0.16 – 2.09 mm-H20
NOISE LEVEL (FANS)
17.2 ~ 33.6 dBA
CONNECTOR
4-Pin PWM/DC
LIFE EXPECTANCY
MTTF 150,000 Hours (25℃)
THERMAL GREASE
Premium thermal compound X
Seeing its specs it appears to be a fine CPU Cooler with a wide range of fan speed and a normal range of noise levels. The cooler is compatible with every type of socket from Intel and AMD.
Packaging and Unboxing
Packaging was the best I have ever seen of an Air cooler and it was well organised. One plastic packet contained the CPU heatsink with pre-installed fan and came with a separate box for accessories that contained the brackets, screws, thermal paste, manual etc. The accessories box contained a foam container with dedicated sections for each material. Even the screws had their proper places. The packet contained:-
1x Mounting kit for AMD/Intel socket
1x Mylar film sheet for the mounting kit
1x Metal backplate
1x Mounting plate
1x Black cover for the top
12cm Fan clips
1x Black plate cap
8x Rubber
1x MSI chill factor thermal paste
1x CPU fan
All the necessary screws and washers.
In short, the accessories provided were up to the mark and there is no need for any improvement. Additional things like a separate top black cover for the heatsink is a great pro and two extra fan clips are required things to easily add a second fan.




Taking a close look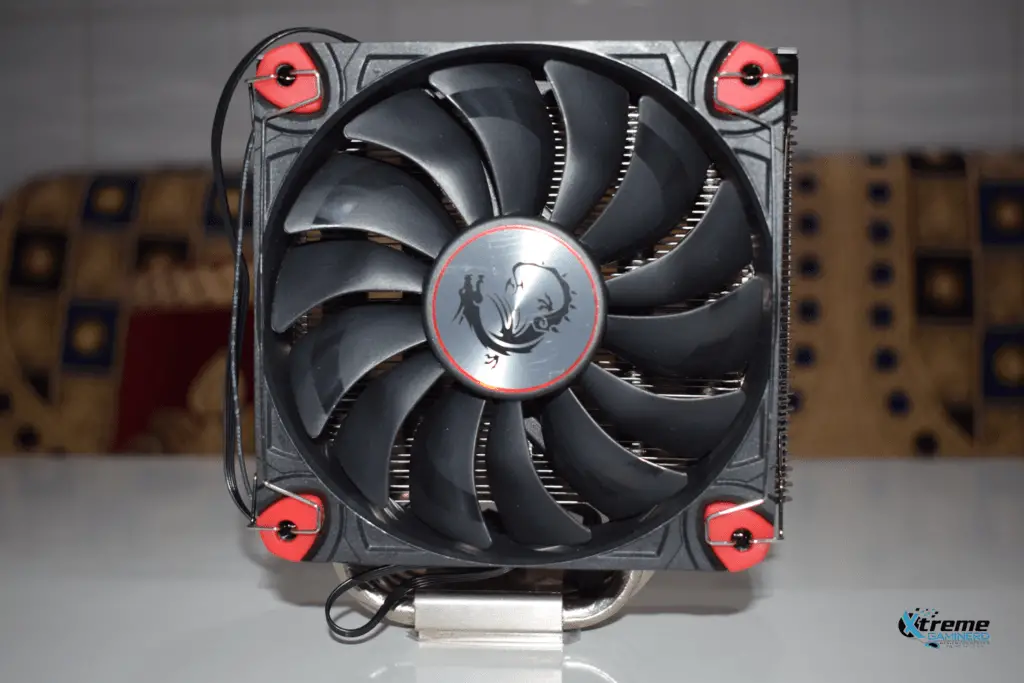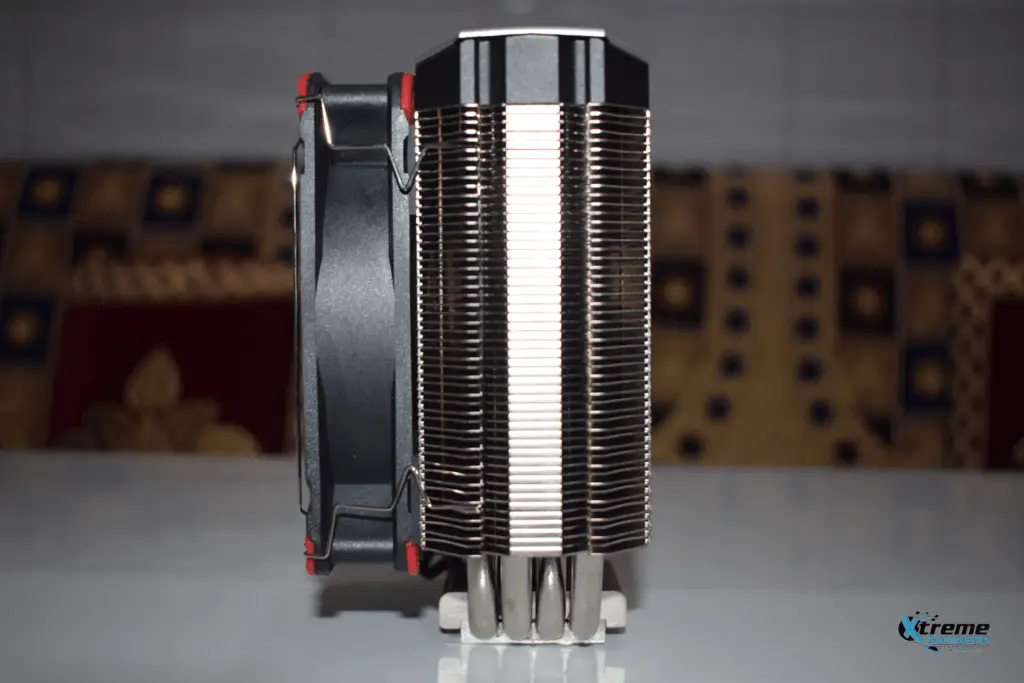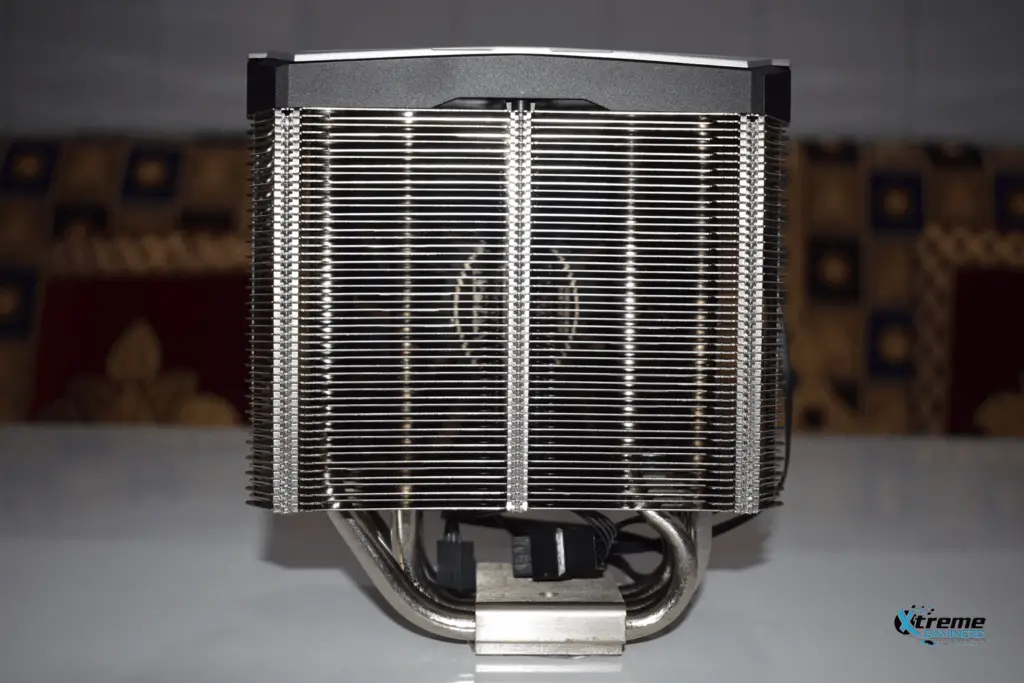 I have already mentioned the dimensions of the heatsink in the specs table and here is a close look at how the CPU cooler combined with the CPU fan looks like from all sides. The cooler is slightly wider from one side and the heatsink is a somewhere between a budget heatsink and a full tower. It definitely looks like a mid-tower because of its size. The fan is secured at its place with two metal clips which can be adjusted to a little up or little down. It's flexible for adjusting according to the memory on your motherboard. However, the height from the ground is not enough to install a tall memory stick in the 1st slot if you let the fan secured at its original place. However, we will see this issue when the installation process is done.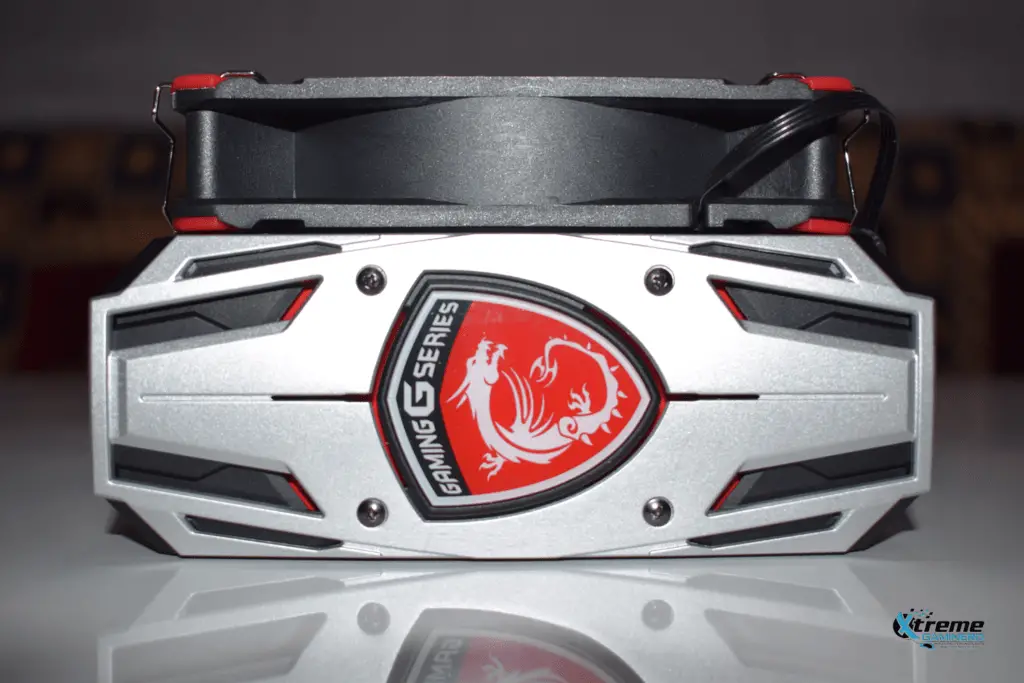 The top has an MSI GAMING G Series LOGO in a shape of a shield that is at the centre of the plastic cover finished in silver colour secured with 4 screws. The aesthetics look great and I will let you take a look at how the bare heatsink looks soon. But let's take a look at its connection first.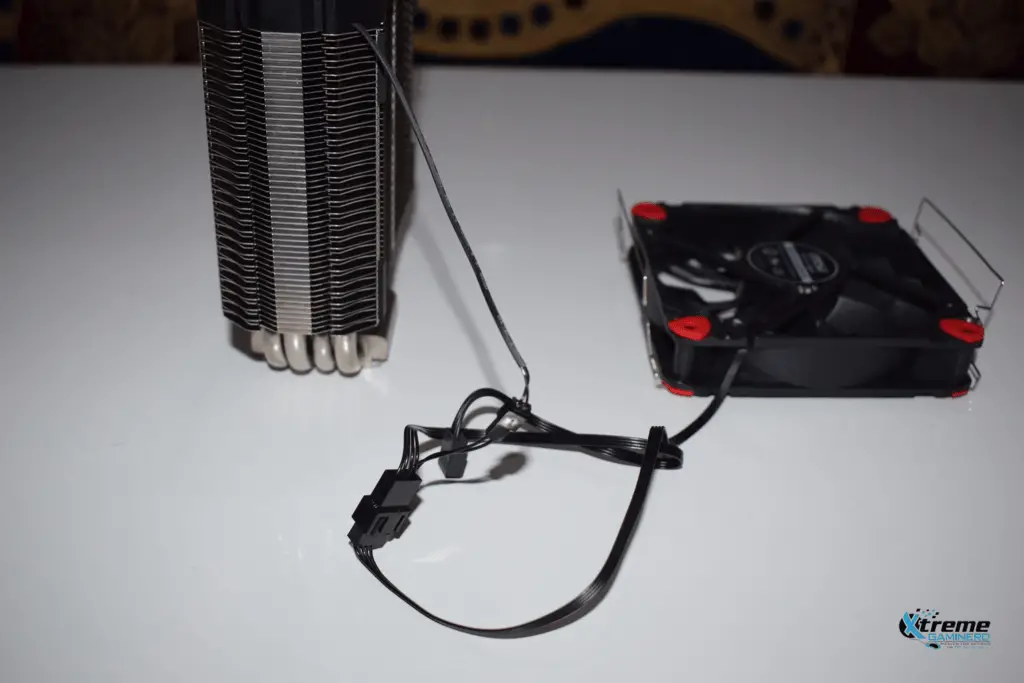 When I saw the fan, it seemed to be connected to a separate cable splitter that came from the top of the heatsink and the 4 pin power connector of the fan was connected to it. The main connector was left over to be connected to the motherboard. First I thought what is the use of this until I disassembled everything.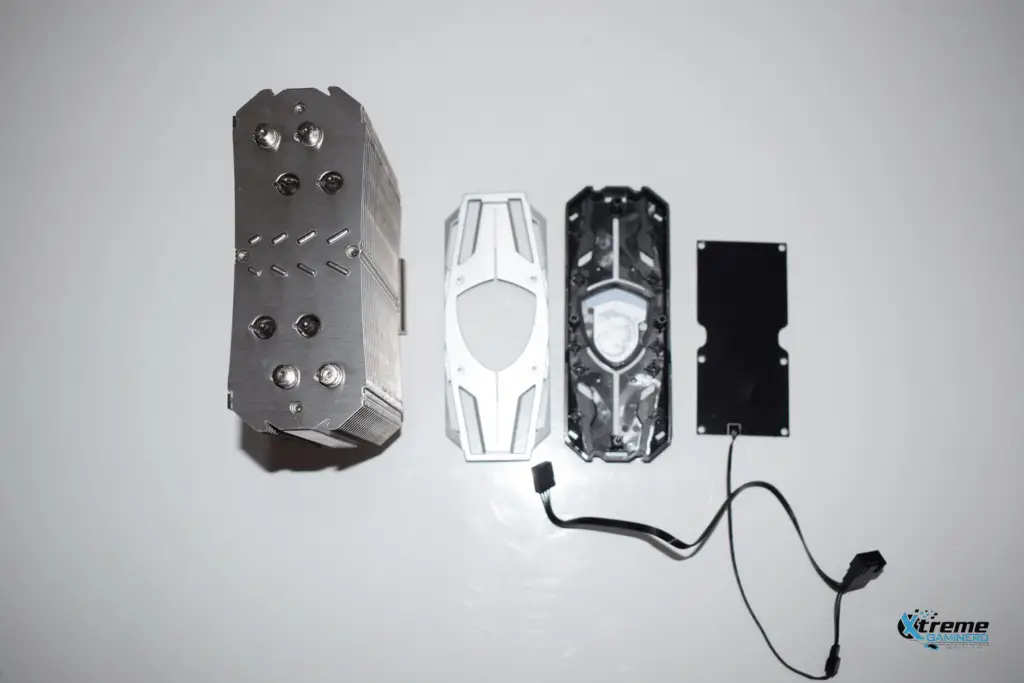 So, there were 4 pieces. One was heatsink and the other three were the covers at the top for aesthetics. The top cover is made up of plastic which you can misunderstand as aluminium or some metal because of its looks. This cover can be interchanged with the black cover provided in the accessories box to match your theme. But I didn't replace it to match my white RIG. Under it was a cover with an MSI LOGO which can be seen from outside and it was secured with 4 tall screws to the heatsink and a plexiglass embedded with LED with 8 small screws to this cover. The plexiglass is Black on one side and completely Red from the other side to give Red illumination. A cable is connected to it to power the LED and that's why there is a cable splitter: to power both the LED and Fan by one port.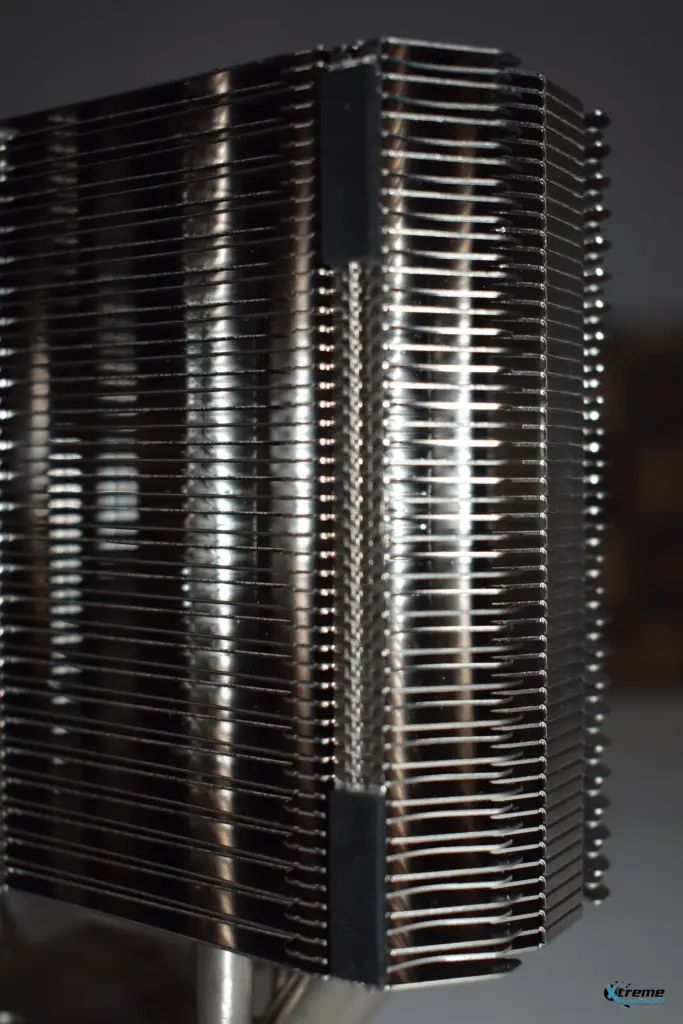 The heatsink is definitely a thing which one can admire. You cannot find a better heatsink than this. It's very strong and the fins can't be bent easily unlike the other budget air coolers. Fins are straight and are made to provide maximum airflow to the heatpipes as MSI stated and there are a total of 4 heatpipes 8mm thick each which are nickel plated to match the colour of the heatsink passing through the heatsink to different areas to dissipate maximum heat to the heatsink. There are also rubber pads at the sides of the heatsink. I think they serve some purpose like controlling the Fan vibration or something similar to it.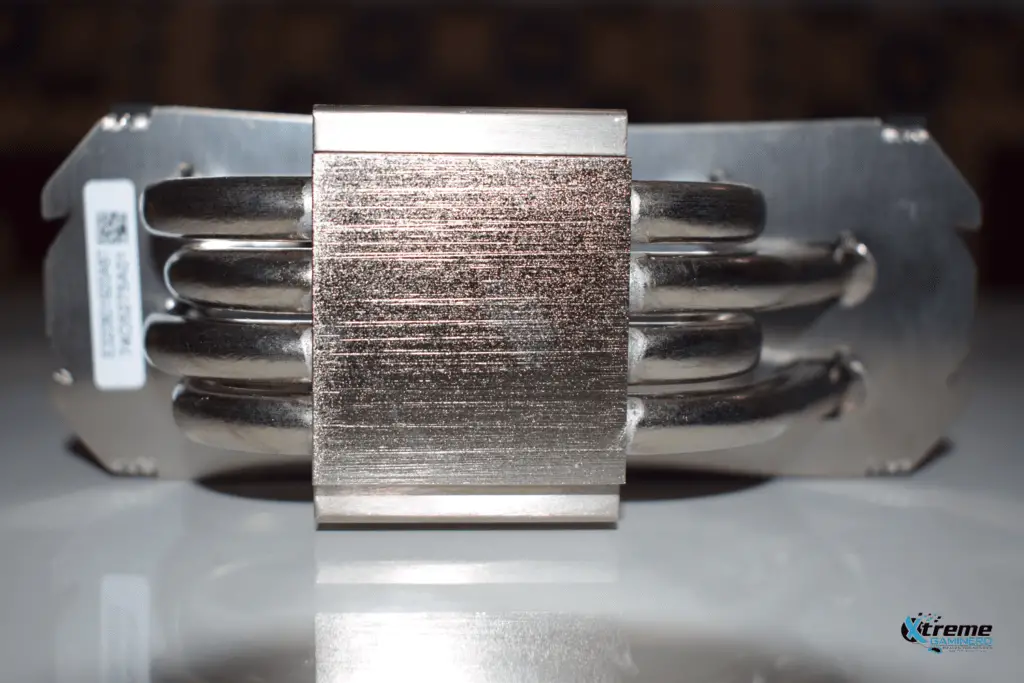 The base is also nickel-plated Copper base which is common in most of the good heatsinks. Most of the budget heatsinks feature aluminium heatsinks with copper pipes exposed at the base just like the Cooler Master Hyper 212 Turbo.  The cooling of a copper base with copper pipes embedded inside is better than the latter one as copper has better conductivity and also provides a smooth base. Although the base is not completely smooth, there are some little imperfections but it's where the thermal paste will come into action. Overall, the heatsink is something which I couldn't complain of. 
The fan is 120mm which is made for high air pressure as you can easily tell by looking at its blades. They are traditional and there is nothing special design for advanced airflow but a total of 14 fan blades is more than enough to generate some good air pressure. The fan blades are slightly curved just like any other static pressure fan and the mounting frame comes with rubber pads to control vibrations. The Dragon LOGO of MSI at the centre with Silver and red accents along with the red rubber pads give it a complete MSI look. This fan as told by MSI should operate between a speed range of 500-1800 (+ or _ 15%)RPM which we will see in testing. The fan is supposed to provide up to 71 CFM of Airflow and up to 2.09mm-H20 of Air pressure. That's a good spec for a static pressure fan.