You must have read about Nvidia's GPP at many places that they want their partners to work exclusively for them and not produce graphics cards from another brand which is, of course, indicating to AMD. Now, as the report has been widespread, thanks to the investigation by Kyle Bennet which made us know that this is anti-consumer practice. Now look at the screenshot below:-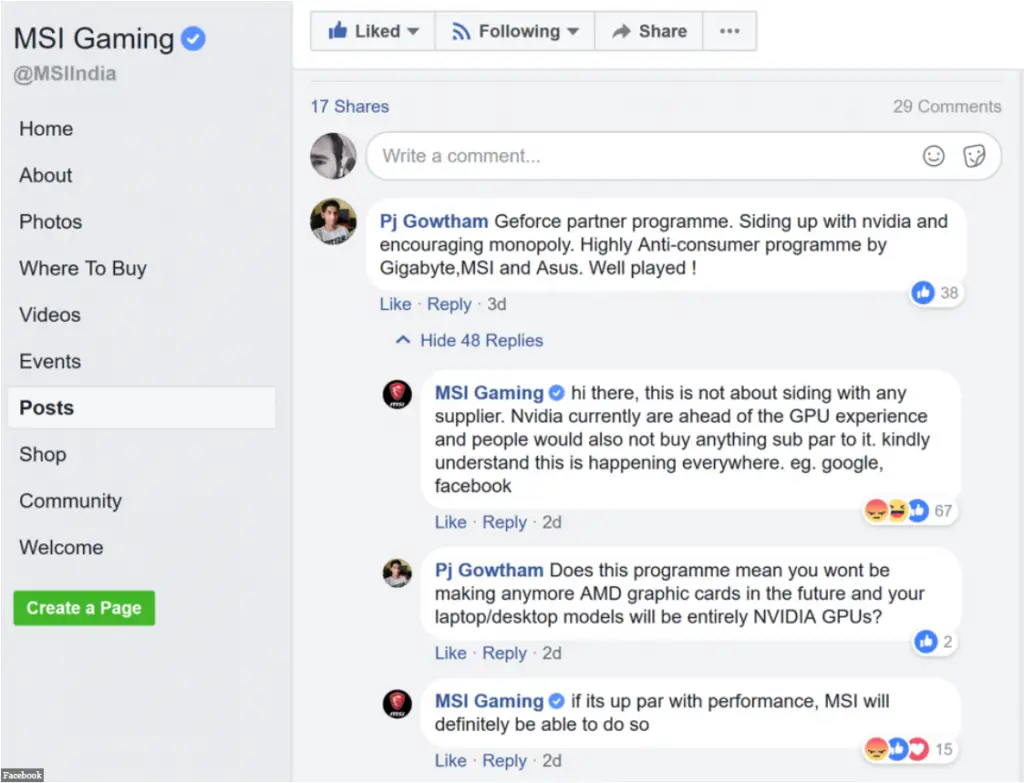 But the report became stronger when MSI was asked about it on their official Facebook page where a user asked about it, MSI stated that "Nvidia currently ahead of the GPU experience and people would also not buy anything sub par to it" indicating that AMD GPUs are very much inferior to the Nvidia GPUs which is totally an incorrect statement because we know that AMD's RX series graphics cards are doing well, although Nvidia's Pascal GPUs are more power efficient and are currently covering more than 90% of the gamers on Steam, it is still totally misleading to say that AMD GPUs are nowhere near to the Nvidia GPUs. But MSI really made this statement which clears one thing that they are not interested in making AMD GPUs which is again a tactic of MSI to comply with the GPP.
Related:- Good Cheap Graphics Cards
Anyways this statement remained there for 2 days until it got deleted and now MSI has apologized for its statement and said, "We apologize for making an inappropriate comment. It did not represent MSI's official views". So, what was that actually? Was it a joke and who wrote it in the reply? Of course, that would have been an official of MSI who manages the Facebook page but now MSI is trying to cover the truth because of the number of Angry reactions it got.
But hold on there is another reply from MSI there in the thread which is very childish, "MSI is the only true gaming brand. it's not just being cheapest that's the criteria". Hahaha. I don't know what MSI is trying to convey there.