MSI has prepared a brand new series for the AMD Radeon Polaris architecture based RX series graphics cards which is called MECH. However, on the box, it is MECH 2 written instead of just MECH but it really doesn't matter what it will be called because what is more important is to look what MSI is bringing with its new series.
MSI previously two months ago said that AMD graphics cards are not comparable to the Nvidia cards and are far behind in performance. This made it receive a lot of hate from around the world and it is surprising to see that they have started to make the Radeon cards again after ending their Gaming X edition cards from AMD. Possibly they are starting the Radeon graphics cards manufacturing again because Nvidia a few days ago ended its GPP which was supposedly said to be using anti-competitive practice.
Related:- Best budget graphics cards
MSI has made MECH series for the RX series graphics cards and will be starting with the RX 570 and RX 580 which are the most popular mid-end cards from AMD right now. The new design is much similar to the MSI Armor edition cards with a smaller heatsink and a smaller shroud but the new heatsink design is much better according to what MSI states.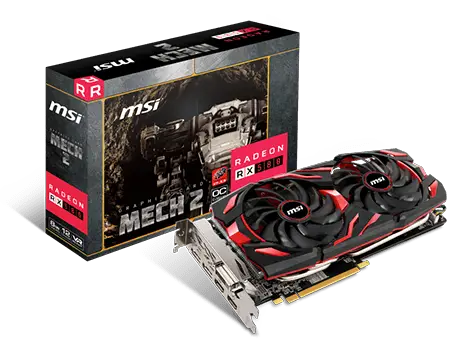 The MECH series cards will offer a black and red themed heatsink shroud along with a black backplate. The heatsink is equipped with an RGB LED MSI Dragon Logo on the top. We didn't get enough pics from MSI, so it's hard to tell everything about it except what MSI itself states about the card. The card uses the MSI Torx fan 2.0 that is the enhanced version of the patented MSI Torx Fan and generates 22% more air pressure along with reduced noise.
The heatsink is made up of aluminium with a nickel-plated copper base and there are 6mm copper heat pipes that go through the heatsink for improved cooling and are connected to the base plate. These new cards are also compatible with the MSI Gaming APP which can be used for tweaking the clock speeds of the cards and can also be used for customizing the LED lighting effects.
We don't have the pricing and availability information of the cards but it is said that the company will let the new cards hit the market in July.