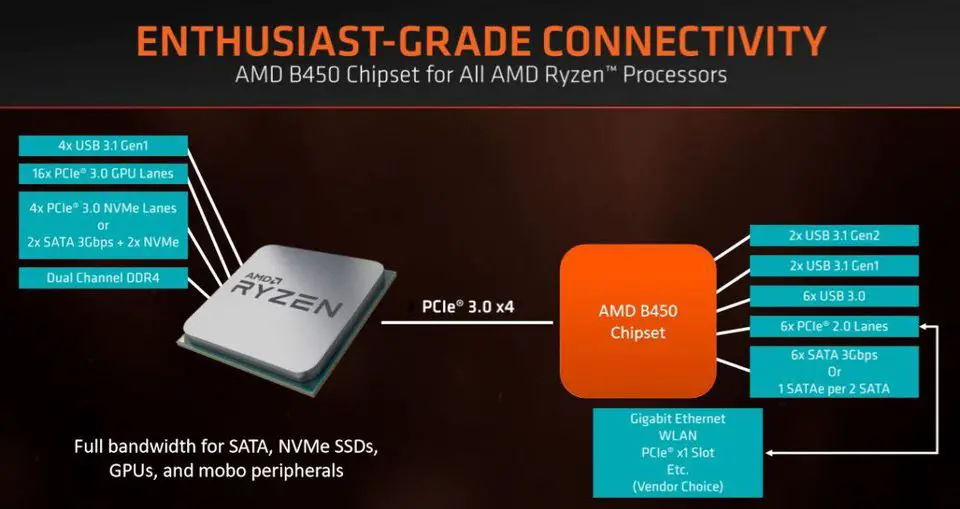 Earlier today AMD released a new chipset for its Ryzen 2nd Generation CPUs and the new chipset is going to be the successor of its popular B350 chipset motherboards. At this point in time, the X470 is the only chipset that offers support for Ryzen 2nd Generation processor's new StoreMI technology as well as Precision Boost Overdrive which is an overclocking feature responsible for better performance with two or more cores without compromising the other features provided by its improved frequency boosting algorithms.
Related:- ASRock releases B450 motherboards
The latest chipset B450 will be cheaper and is aimed at budget-oriented users and definitely offers more advanced features than its predecessors which comes with more or less similar features but a little higher price point. However, the main features which provide a difference between these two chipsets are the presence of the StoreMI and Precision Boost Overdrive in the new chipset B450 whereas it is not available in either X370 or B350 chipset.
The StoreMI combines two hard drives of different types such as a traditional HDD and an SSD into a single storage volume and moves your regularly used files and data on the SSD offering you faster access and also gives you the option of storage in the conventional HDD.
The Precision Boost Overdrive is a new feature that helps you to overclock 2nd Gen Ryzen CPUs with an easy setting from BIOS and at the same time offers better multi-threaded performance without any loss to the lightly-threaded performance boosting from AMD's new boosting algorithms which is pretty common issue you will face if you try to overclock manually. Moreover, a user might experience a faster response while running the 2nd Generation Ryzen at stock frequency due to the same reason.
Therefore choosing the new chipset B450 motherboards will be best if you are on a tight budget or want to spend some extra cash on other hardware equipment.