Intel Coffee Lake processors are designed completely different from the previous generations. Now, every i3, i5 and i7 processors in the Coffee-Lake series are having more cores and more threads with better clocks. Also, the architecture has been improved for fast processing and power efficiency. There are already a few processors in each Core series from Coffee-Lake series which are available on Amazon as well as other retailers like i3 8100, i5 8400, i7 8700K etc.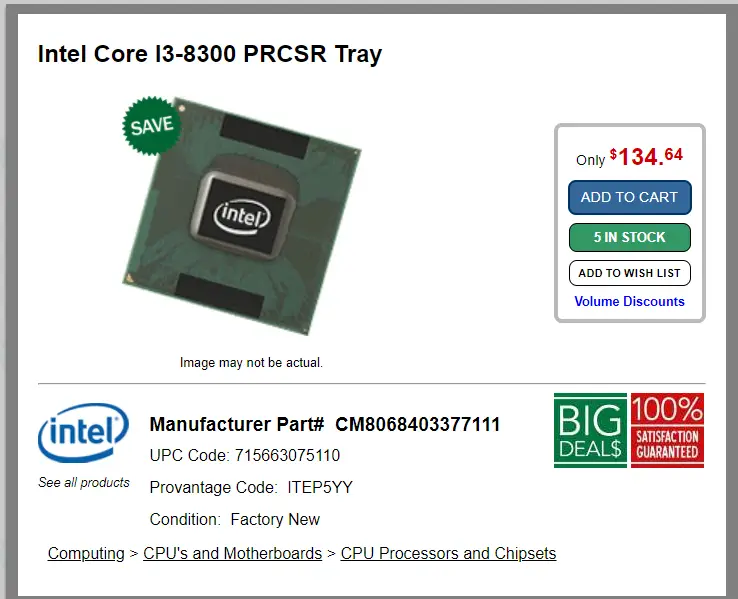 But now three more processors in two Core series are available on an online store called Provantage. These are the i3 8300, i5 8500 and i5 8600. All of these are non-K chips which means they aren't meant for overclocking but they will be fully compatible with the Z370 chipset of motherboards. Currently, we don't have any locked chipset from manufacturers like we have for the Skylake and Kabylake processors. So, we may have some new chipsets as well after some time.
The i3 8300 features 4 cores and 4 threads having 3.7Ghz as clock speed and 8MB of cache memory. This will be fast enough for any day to day task as well as gaming. The processor is listed for $134.64 which is a little more than the previous generation i3's as well as a little more than the i3 8100.
The i5 8500 and i5 8600 are having 4 cores and 8 threads similar to the previous generation Core i7 processors having boost clocks up to 4.1Ghz and 4.3Ghz respectively which are good specs for locked processors. Games and rendering applications love higher clock speeds and these should be enough for any high-end gaming. The cost of i5 8500 is listed as $199.35 and for i5 8600 it's $217.08. Both of these are having 9MB of cache memory.