Xtremegaminerd.com is supported by the readers. The purchase you make through our links may get us some commission and doesn't cost you an extra penny.
---
Even though recent reports came that predicted that cryptocurrency will fall down to zero but as right now mining has scope for a while, some companies are trying to take advantage of this new business by entering into the market making products useful for mining.
Gigabyte has now introduced a motherboard GA-B250-FinTech which is dedicated to mining and support up to 12 graphics cards which is insane in itself. Generally, a mining motherboard with support for 6 GPU's is common but having support for several GPUs puts only one concern in front of you. Will you be able to get 12 GPUs? right now?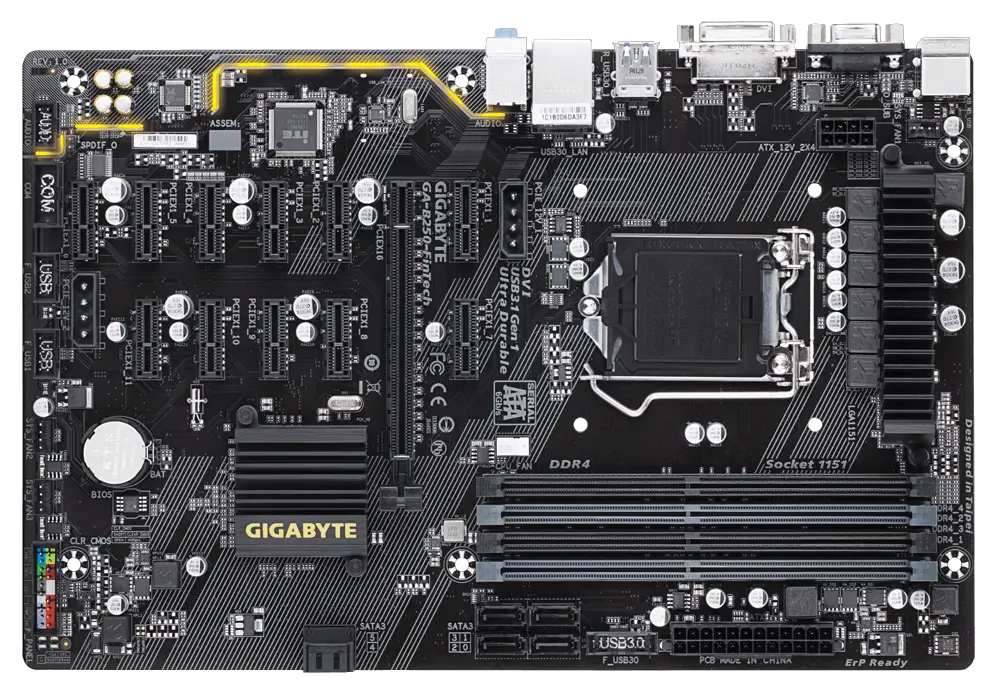 The board uses an LGA 1151 socket that supports Skylake and Kabylake processors. There are a total of 12 PCI slots out of which one is a standard PCI-Ex 16 slot and the others are PCI-Ex 1 slots spaced up from each other. All the other features except this everything is standard and nothing exceptional. But the main advantage of this board will be that it will save a lot of cost for those who use 6 GPU's on each motherboard that increases the overall cost including that of CPU's, Storage, Memories etc.
The board has been equipped with 2x PCI-E 12 V power connectors that will help in providing more power to the board if insufficient. The board is also said to have the Gigabyte Mining Kit which will allow you to power on or off the system from the board itself as most of the mining racks don't have this feature.
The board has a special option that is Mining Mode in the BIOS and several other things like that which are only for "Mining" supposedly.  Let's see how much Gigabyte will price it although, I don't recommend mining ever as this site only supports Gaming and recommends parts for the same.