Xtremegaminerd.com is supported by the readers. The purchase you make through our links may get us some commission and doesn't cost you an extra penny.
---
Gigabyte made a mining motherboard which I posted about a few weeks ago now it looks like MSI is getting into the business. Although, the bitcoin rate is currently not so high as it was in the previous month but it hasn't died and we don't know if it will rise or decline. GPUs are still out of stock in most places and miners are buying most of the graphics cards.
MSI the brand which produces graphics cards and motherboards has now made a new motherboard for mining. The MSI H310-F Pro is an entry-level motherboard for mining which is just enough for a miner as it has an insane support for graphics cards. There are 12x PCI-Ex 1 slots and 1x PCI-Ex 16 slot that can handle 13 graphics cards at a time. There are two Molex connectors also for powering the graphics cards if more power needed. Along with these PCI-Ex 1 slots, you can clearly see that there is empty space for 5 more PCI-Ex 1 slots but as the chipset H310 doesn't support that much, they are left with printed circuits only.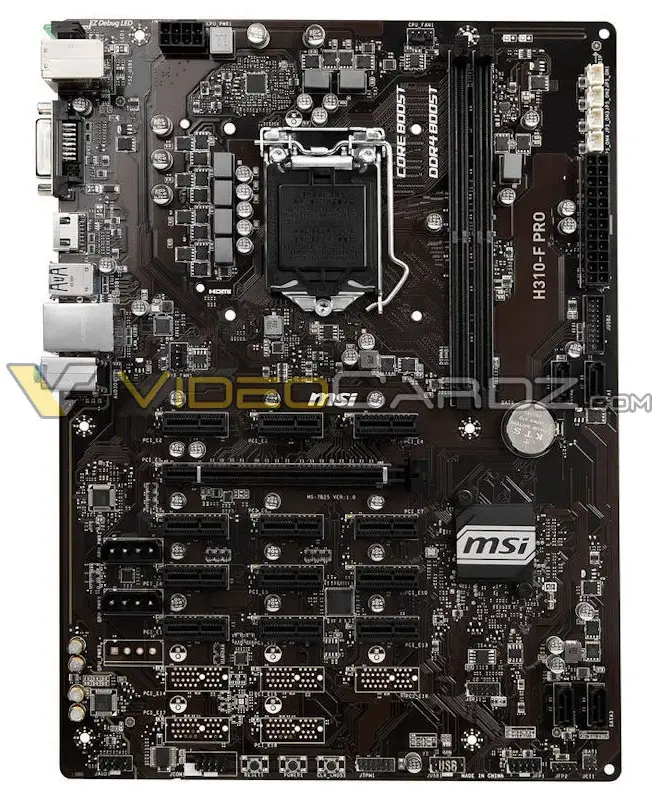 The board is LGA 1151 socket and will support the Coffee Lake SKUs. For memory, there are only 2x DIMM slots but no information is available on much RAM it can support. This board was first revealed by VideoCardz and no further information about its pricing and availability is known.