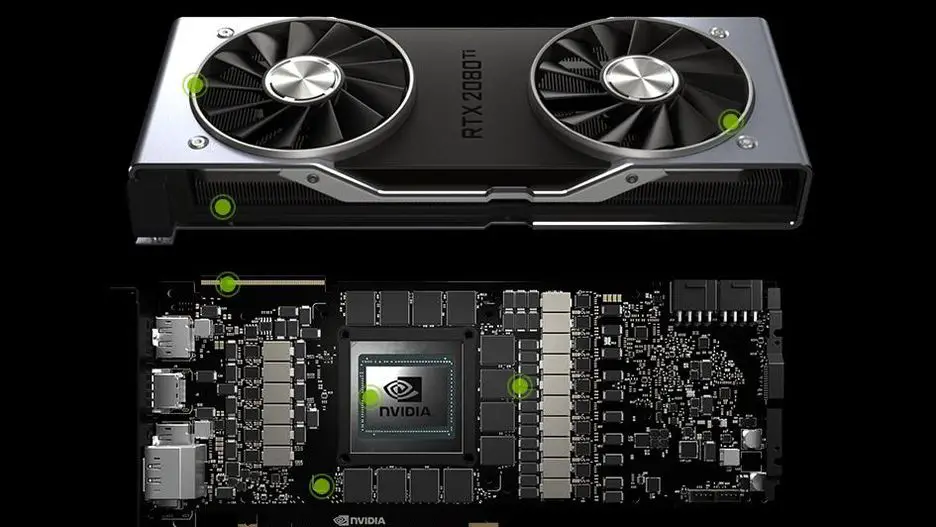 In a long presentation with minute details of the different technology used in the RTX GPUs at Gamescom 2018, Nvidia's CEO Jensen Huang finally showed what the new RTX series graphics cards are bringing to the table. The new RTX GPUs are made so fast and powerful that nothing has been seen like this before. These GPUs are designed to provide outstanding graphics with the Real-Time Ray Tracing that helps in making the reflections look too real that were very complex and difficult to make before with the existing GTX graphics cards. "The NVIDIA RTX platform and GeForce RTX 20-series GPUs bring real-time ray tracing to games 10 years sooner than anyone could have ever imagined," said Tony Tamasi, senior vice president of Content and Technology at NVIDIA. "Thanks to the AI and hardware light-ray acceleration built into GeForce RTX GPUs, games using these futuristic features are right around the corner."
"Turing opens up a new golden age of gaming, with realism only possible with ray tracing, which most people thought was still a decade away," said Jensen Huang, founder and CEO of NVIDIA, speaking before Gamescom, the world's largest gaming expo. "The breakthrough is a hybrid rendering model that boosts today's computer graphics with the addition of lightning-fast ray-tracing acceleration and AI. RTX is going to define a new look for computer graphics. Once you see an RTX game, you can't go back."
GeForce RTX — New Family of Gaming GPUs
The new GeForce RTX 2080 Ti, 2080 and 2070 GPUs are packed with features never before seen in a gaming GPU, including:-
New RT Cores to enable real-time ray tracing of objects and environments with physically accurate shadows, reflections, refractions and global illumination.
Turing Tensor Cores to perform lightning-fast deep neural network processing.
New NGX neural graphics framework integrates AI into the overall graphics pipeline, enabling AI algorithms to perform amazing image enhancement and generation.
New Turing shader architecture with Variable Rate Shading allows shaders to focus processing power on areas of rich detail, boosting overall performance.
New memory system featuring ultra-fast GDDR6 with over 600GB/s of memory bandwidth for high-speed, high-resolution gaming.
NVIDIA NVLink, a high-speed interconnect that provides higher bandwidth (up to 100 GB/s) and improved scalability for multi-GPU configurations (SLI).
Hardware support for USB Type-C and VirtualLink, a new open industry standard being developed to meet the power, display and bandwidth demands of next-generation VR headsets through a single USB-C connector.
New and enhanced technologies to improve the performance of VR applications, including Variable Rate Shading, Multi-View Rendering and VRWorks Audio.
Broad Game Adoption of Real-Time Ray Tracing
Games that will feature real-time ray tracing include the following, with more to come:
Assetto Corsa Competizione from Kunos Simulazioni/505 Games
Atomic Heart from Mundfish
Battlefield V from EA/DICE
Control from Remedy Entertainment/505 Games
Enlisted from Gaijin Entertainment/Darkflow Software
Justice from NetEase
JX3 from Kingsoft
MechWarrior 5: Mercenaries from Piranha Games
Metro Exodus from 4A Games
ProjectDH from Nexon's devCAT Studio
Shadow of the Tomb Raider from Square Enix/Eidos-Montréal/Crystal Dynamics/Nixxes
Broad Game Adoption of DLSS
Games that will use DLSS include the following, with more to come:
Ark: Survival Evolved from Studio Wildcard
Atomic Heart from Mundfish
Dauntless from Phoenix Labs
Final Fantasy XV from Square Enix
Fractured Lands from Unbroken Studios
Hitman 2 from IO Interactive/Warner Bros.
Islands of Nyne from Define Human Studios
Justice from NetEase
JX3 from Kingsoft
Mechwarrior 5: Mercenaries from Piranha Games
PlayerUnknown's Battlegrounds from PUBG Corp.
Remnant: From the Ashes from Arc Games
Serious Sam 4: Planet Badass from Croteam/Devolver Digital
Shadow of the Tomb Raider from Square Enix/Eidos-Montréal/Crystal Dynamics/Nixxes
The Forge Arena from Freezing Raccoon Studios
We Happy Few from Compulsion Games / Gearbox
Availability
GeForce RTX graphics cards, including the NVIDIA Founders Edition, will be available worldwide, across 238 countries and territories. They will be sold by partners including ASUS, Colorful, EVGA, Gainward, Galaxy, Gigabyte, Innovision 3D, MSI, Palit, PNY and Zotac.
Pre-orders on nvidia.com  and at over 100 participating partners starts today for GeForce RTX 2080 Ti and GeForce RTX 2080, with availability starting on Sept. 20. GeForce RTX 2070 will be available in October.
Pricing
| | | | | | |
| --- | --- | --- | --- | --- | --- |
| GeForce GPU | Ray Tracing | Performance* | Memory | Starting At | Founders Edition |
| RTX 2080 Ti | 10 GigaRays/sec | 78T RTX-OPS | 11GB | $999 | $1,199 |
| RTX 2080 | 8 GigaRays/sec | 60T RTX-OPS | 8GB | $699 | $799 |
| RTX 2070 | 6 GigaRays/sec | 45T RTX-OPS | 8GB | $499 | $599 |