Xtremegaminerd.com is supported by the readers. The purchase you make through our links may get us some commission and doesn't cost you an extra penny.
---
PUBG has been growing insanely over the past year and its early access was a huge success bringing in millions of players alone. The game currently has around 3 million concurrent players and the rise is going on. But not to forget that the main reason was its Early Access due to which it got exposure to gamers worldwide. So, how much did it achieved from the Early Access? see the infographic below which the Player Battlegrounds provided on Twitter today-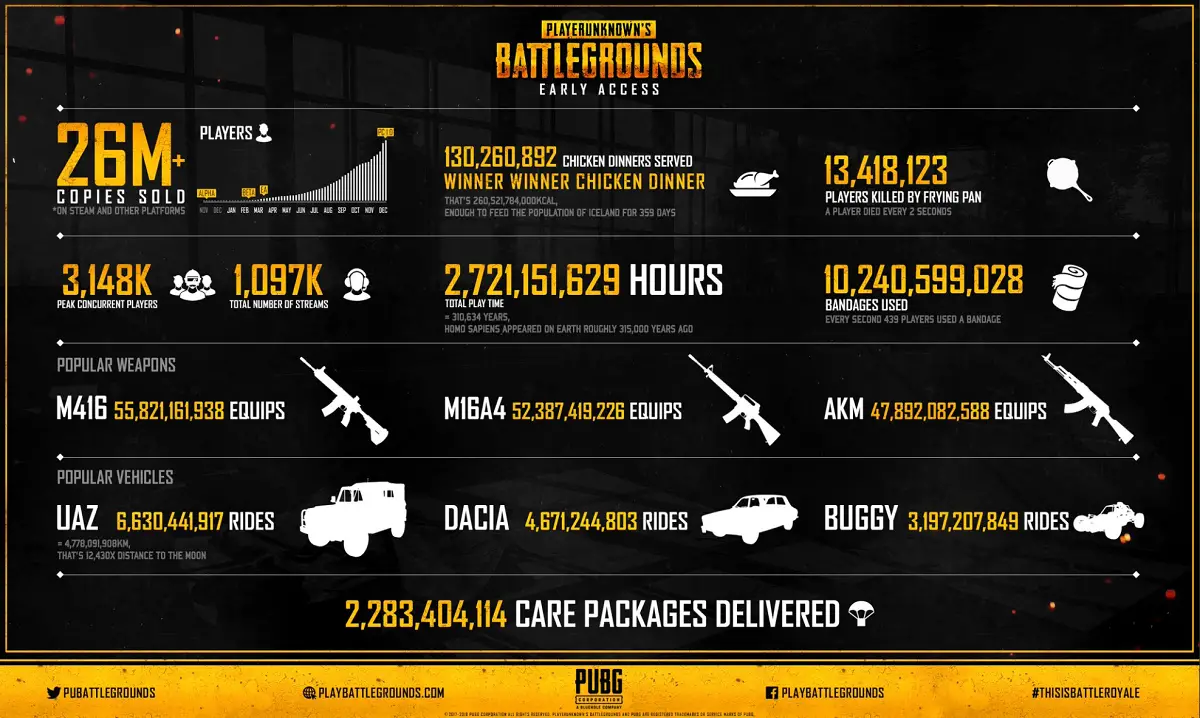 The Early Access alone brought more than 26 Million players out of which hundreds of thousands player were banned because of hacking. The Concurrent players reached around 3 Million alone at its peak. The total amount of hours, wins, kills, rides are astonishingly too high.
The infographic shows that the most popular weapon remains the M416 because it's one of the most accurate weapons you can find in the game followed by M16A4 which is generally very easy to find and then comes the AKM traditional rifle. Vehicles like UAZ and DACIA are the most used ones because they protect players much better than the three-wheelers and two-wheelers.
The game as now in its full version, it is being updated on a regular basis for better gameplay. The intro menu, theme,  maps are not being added continuously to provide different environments. PUBG Corp has really worked hard to make it a successful game by adding anti-cheat measures and a new anti-cheat update is soon going to be applied to the live servers once it is tested.
The game has been expanded and brought to consoles to allow cross-platform multiplayer experience. Though the game requires some good specs to run properly, people are still enjoying it with their budget rigs.
Want to play PUBG smoothly? Here is the $600 Gaming PC that will run it smoothly.