Rainjintek has announced two computer components namely Antila D5 and CWB-RGB CPU block for enthusiast cooling and both of them are perfect for overclocking. Raijintek may not be a very famous manufacturer of CPU coolers but there are some decent low profile coolers from the company that provide good value for their price. This new addition will provide one more option to the enthusiasts who want lower temperatures along with appealing aesthetics.
The Antila D5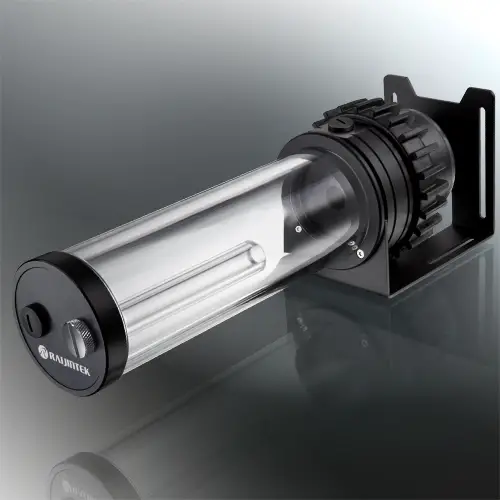 Antila D5 is a D5 level pump by Raijintek accompanied by a reservoir that measures 87.4×280.6×91.2 mm (with bracket) and weighs 790 grams. It has G/14″ screw threads at the top and uses Ceramic bearing for operation. The pump has a working of maximum discharge of 900 Litres per hour with 4 metres maximum head. It is designed to work in a speed range of 1800-4500 Rpm with a maximum noise of 30dBA.
The reservoir is at the top while the pump is attached to it at the bottom like in most of the pump/reservoir combos. The Antila D5 comes with a support bracket to provide a sturdy and easy installation with connections in multiple locations.
CWB-RGB Cpu block
While the Antila D5 comprises of pump and reservoir, you can't forget the CWB-RGB Cpu block without which you can't cool your processor. This CPU block is a thin water block made for good performance that features attractive aesthetics with RGB LED lights at the borders. It also uses G/14″ screw threads just like the Antila D5 and comes with an easy installation process.
Dimensions of this water block are 94×77×26.1 mm and it weighs 180 grams. The block is made up of a nickel-plated copper base and uses PMMA material. It is compatible with all the popular Intel and AMD sockets including Intel LGA 775/115x/1366/201x/2066 and AMD AM4/AM3+/AM3/AM2+/AM2/FM2+/FM2/FM1.