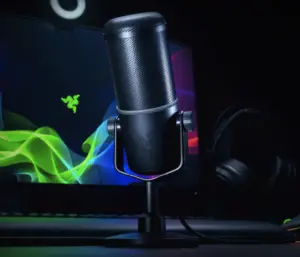 Razer has recently introduced their own microphone made just for streaming called "The Seirēn Elite." If you are a streamer, engaging with your audience is essential. Whether you are sharing your emotions, voicing your strategies or just talking with your viewers, your voice is key. Razer claims to elevate your broadcast and take it to the next level by providing professional audio through this microphone.
The Razer Seirēn Elite includes a high grade, a single dynamic capsule which ensures the least amount of possible electronic interference for a richer quality audio. A built-in high-pass filter removes any unwanted low-frequency vibrations such as footsteps so that the sounds come out as clean and clear as possible. The digital/ analogue limiter helps adjust during heated up moments to reduce and or prevent audio distortion and voice clipping so that you always sound of high standards.
"Most professional-grade microphones require additional recording equipment, like mixers and converters, that you need to get your sound onto your PC," says Min-Liang Tan, Razer co-founder and CEO. "The Razer Seiren Elite solves that problem, letting broadcasters focus on their content and letting the Seiren Elite handle their audio."
To sum it up, it is a dynamic microphone made for professional streaming. With its single dynamic capsule and high-pass filter switch, it will surely deliver rich quality and ultra-clean audio. A digital/ analogue limiter is included to reduce distortion and it has flat frequency response for accurate recordings. Let's check some technical specifications of the microphone provided by Razer from their website.
Specs:-
Sample Rate: min 44.1kHz / max 48kHz
Bit Rate: 16bit
Capsule: Single Dynamic Capsule
Polar patterns: Cardioid
Frequency response: 20Hz-20kHz
Connectivity: USB only
Max SPL: 120dB
The Seirēn Elite is now available on the Razer website for $200.