Xtremegaminerd.com is a participant in Amazon Associate Program and is supported by the readers. The qualifying purchase you make through our links may get us some commission and doesn't cost you an extra penny.
---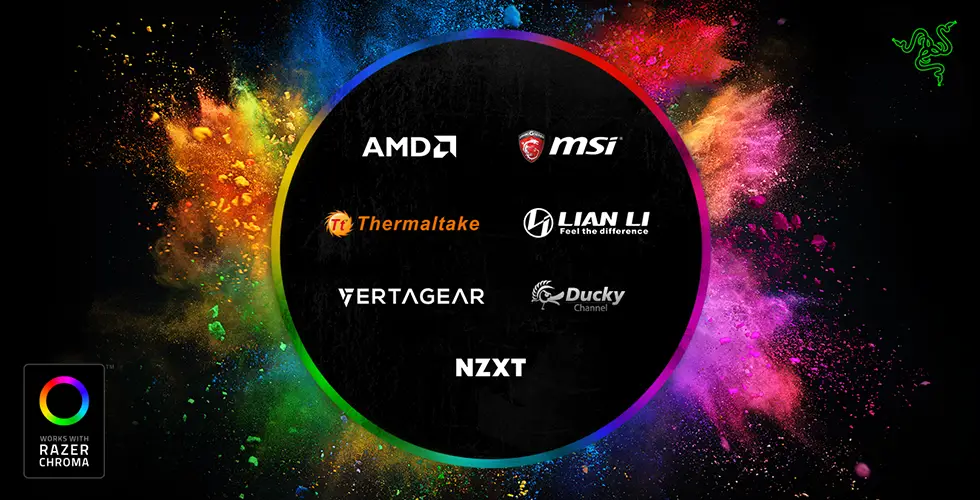 Razer is one of the leading manufacturers of computer peripherals and its Chroma lighting is very popular because of making your setup look appealing. Last year Razer announced that it will soon bring the Chroma lighting to third-party devices and have queued some of its partners to expand the Chroma so that the third party devices can be Synced in with the Razer peripherals.
A few days ago, Razer has finally extended its support of Chroma lighting to those partners which are:- NZXT, AMD, MSI, Thermaltake, Lian Li, Vertagear and Ducky. Now with the help of an API, these partners can tap into the Razer's lighting protocol and enable the Chroma lighting from their software. As of today, many gamers use multiple RGB devices, most of them aren't compatible with each other if every device is from a different brand but with this new expansion, gamers will be able to sync their devices to create an immersive gaming room.
Razer Co-Founder and CEO Min-Liang Tan says, "For the first time ever, we're letting our partners tap into the Chroma ecosystem so we can bridge that gap for the benefit of all gamers."
Razer's Chroma is already a part of several AAA titles which use the Chroma natively. Games like Overwatch, Diablo, Fortnite etc. use the Chroma lighting. Not only that Razer's Chroma is also equipped with Philips Hue smart lights which help you customize each individual bulb to make your room aesthetically appealing.
This Chroma support for these partners will launch in Q4 2018 meanwhile you can check the full press release here.