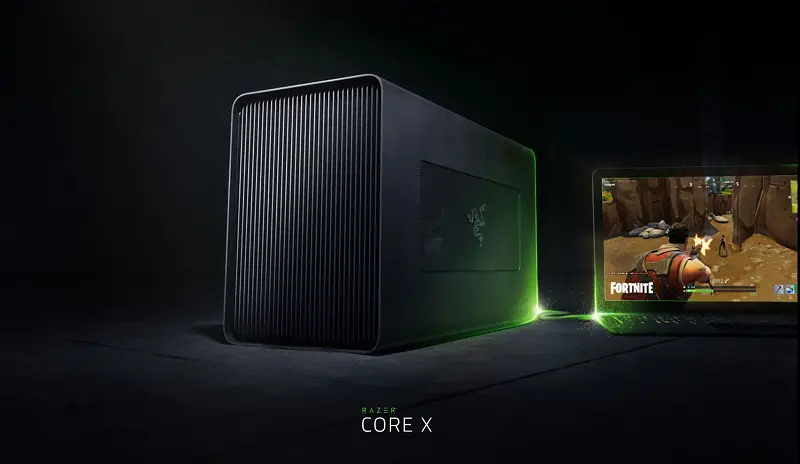 Razer has launched another external GPU enclosure through which now you can enjoy gaming on a laptop without having a dedicated graphics card inside your laptop. That means if you have a desktop size graphics card and want to take advantage of its power then you can use this Razer Core X GPU enclosure for getting the performance which you can get on a desktop.
Razer has previously launched its Core V2 GPU enclosure which is a little more expensive but also provides more features but the new Core X GPU enclosure is made for budget gamers who don't want to spend too much. This enclosure will cost you $299.99 which is almost half the price of the Core V2 GPU enclosure but there are some specs differences which are a better upgrade from the Core V2 despite being cheap such as more capacity power supply. The Core V2 has a 500 Watts power supply whereas the new Core X features 650 watts of PSU which means you can put in a power-hungry high-end graphics card in it and you will be able to future proof your system for a long time.
"Check out the budget graphics cards you can use with Core X enclosure"
The new enclosure is said to be compatible even with the Mac OS however, Razer says that you can only use AMD graphics card to make this work on a Mac OS. This new enclosure supports Nvidia and AMD mainstream GPUs as well as Nvidia's Quadro workstation graphics cards if you want more horsepower for your work. The enclosure also comes with a Thunderbolt 3 USB-C connection that provides speed up to 40Gbps between the enclosure and the laptop.
The Razer Core X is currently available for purchase on the official Razer site for $299.99.