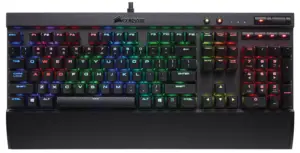 In the last year, the world of PC has evolved a lot and all of us has experienced the RGB Trend on pretty much everything. So if you are currently bored with your present RGB pieces of equipment then there's good news for you. Corsair is currently revamping the RGB trend by releasing a new software which will allow you to sync RGB lighting on certain products with Far Cry 5 on your PC.
The software is scheduled to release on March 27, which is the same day Far Cry 5 is hitting the market.  It is the latest utility from Corsair which works with Corsair's RGB keyboards, mice, headsets, fans, and case lighting. In the upcoming days, the latest versions of the utility will add more of Corsair's RGB products to its supporting list though no detailed specific were provided by Corsair. It may indicate that Corsair has some bigger plans in their hands for later days.
The functionality of the lighting will significantly adjust to various in-game scenarios in Far Cry 5. As per Corsair, there are more than 35 events where the in-game lighting effects and changes will trigger.
In short, suppose you are exploring the vast land or have been spotted by enemies and fighting for your life having some leisure time by fishing the software will tweak the lighting effects of its supported hardware matching your gameplay.
As the storyline of the game goes, the plot is set in a fictional place named Hope County, Montana which is suppose to be home of a fanatical doomsday cult known as Eden's Gate.  You as a gamer need to stand up to cult leader Joseph Seed & his siblings and spark the fires of resistance for liberating the community.
Additionally Corsair is planning to gift copies of Far Cry 5 with purchases of select RGB products of more than $150 from the brand's website and the promotion will be kick-started on March 23 and is going to runs till April 30th.
Source:- PCGamer