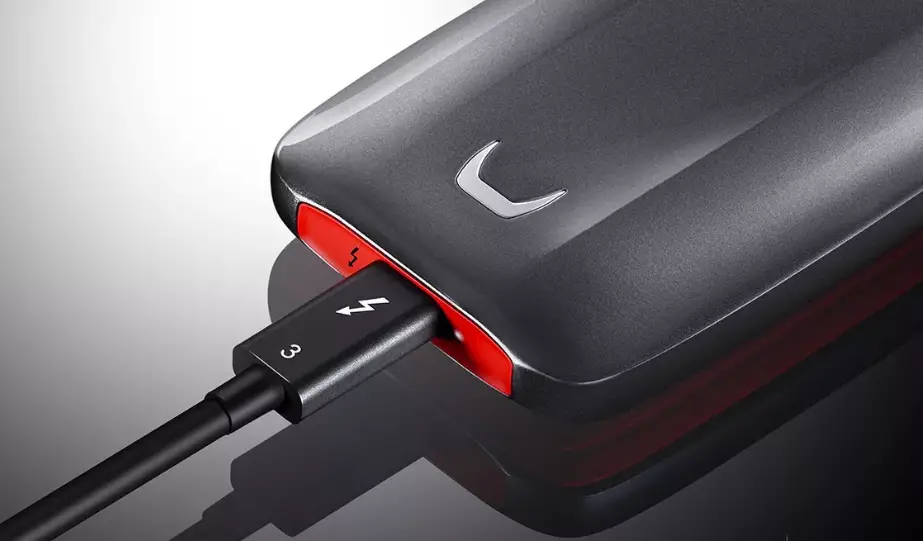 Samsung is already known for its ultra-fast SATA and NVME SSDs with popular SSDs like 850 Pro and 970 Pro respectively. Samsung has now once again contributed to the computer industry by bringing a new innovation which should help the users around the world seeking portability.
Portable SSDs having speeds equal to the SATA SSDs are not new but what if you want the transfer speed equivalent to an NVME SSD that is used in an M.2 Slot?  Samsung has just produced its first NVME portable SSDs for computer users that can now utilize transfer speeds up to 20GB in just 12 seconds as reported by Gadgetsnow. The new SSD is named as Samsung Portable SSD X5 which is equipped with the Thunderbolt 3 technology.
According to the reports from different sources, it's capable of transferring a 20GB 4K video file in just 12 seconds which is insane. That's why I feel that now it's getting more important to have at least one external port on your PC or Laptop as Thunderbolt 3 port. Currently, a lot of high-end motherboards both from Intel and AMD feature at least one Thunderbolt 3 port and it's not a new thing to the motherboards but we weren't able to utilize it fully. I didn't see a fair reason before to cry over not having this port but now it looks much more practical.
Fortunately, I have thunderbolt ports on all of my PCs(As I have invested a lot of money on them). To get this much speed will increase the overall performance of my desktops and also let the games boot fast if I install the game in this portable NVME SSD. The new SSDs are set to launch on 3rd September 2018 and they will be available in 500GB, 1TB and 2TB models. Their prices are high sitting at $400, $700 and $1400 respectively but this is something which is revolutionary in the computer industry. As Samsung has started this trend, more and more companies would likely be joining it in the race.