The memorable adventure of Randi, Primm, and Popoi is reborn as the game Secret of Mana, originally released in 1993, is the most popular title in the "Mana" series and after a such a long time it is remade and made available for PC, PlayStation, and Vita which was officially announced back in August 2017 about its official release date which is 15th February 2018. The game, however, is already up for pre-purchase and those who will purchase the game now won't be able to play it until the launching date.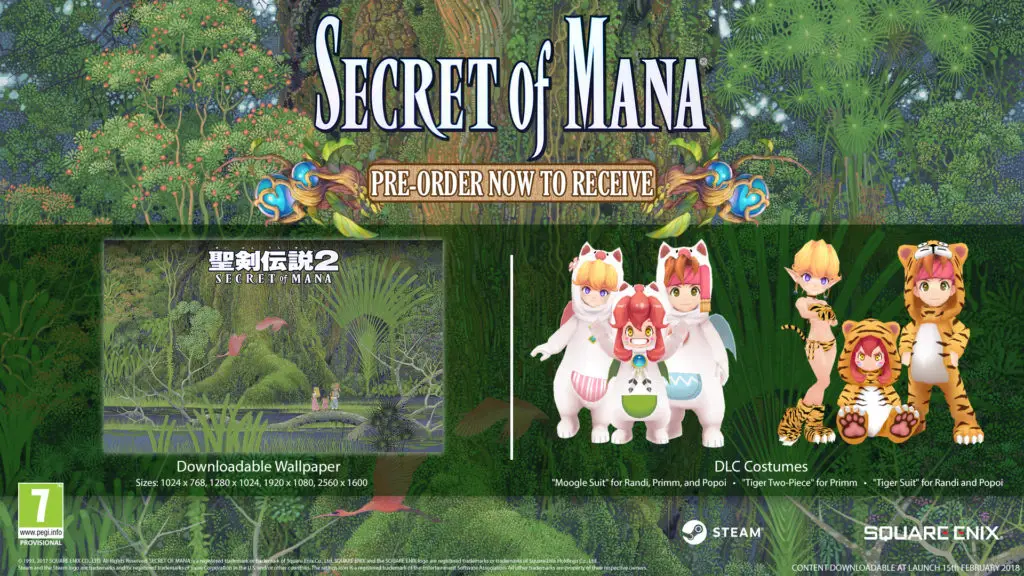 The game will tell a beloved story along with modern 3D graphics and controls and will boast a newly arranged musical score, voiced characters and new content. Furthermore, it also includes the adventure of Randi, Primm, and Popoi is reborn in the new. The Game has some nice feature along with it:
The Game will have a special equipable armour that comes as a DLC named as Moogle Suit and will change the appearance of the characters.
The game will have another DLC which is named as Tiger Two Piece which is also an equipable armour and changes the appearance of PRIMM.
The appearance of Randi and Popoi can be changed via an equipable suit named as Tiger Suit.
The game also offers downloadable wallpaper of HD Resolution.
The 3D Graphics of the game has been revamped for increasing visuals for the entire game.
The gameplay has been reworked to make players feel like a modern age RPG.
System Requirements:
The game doesn't need any high tech gaming computer to perform well, a normal PC along with Windows 7/8.1/10 64Bit, Intel Core i3 or equivalent processor from AMD, coupled with 4 GB of RAM and with a GPU of GTX 750 or R7 260x which is cable of Direct x 11 will be able to handle the game with breeze. You can check out its official Steam page.